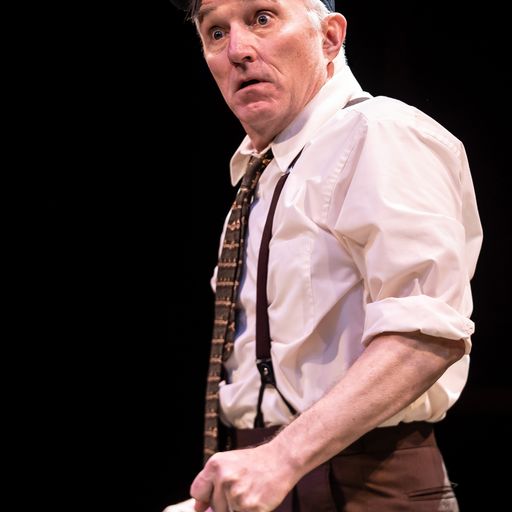 Despite the National Football League and National Basketball Association surpassing baseball in fan popularity. America's favorite pastime is still considered baseball, the historic Godfather of American sports. Spring is the perfect time to relish in the classic Damn Yankees Musical, a Faustian Baseball Fanatics dream that the Washington Senators finally beat those Damn Yankees. Opening night for the famed All-star starting line-up is April 19 through June 4. Douglas Wallop wrote the 1954 novel The Year the Yankees Lost the Pennant during the heyday of baseball heroes unyieldingly loyal to their teams. Damn Yankees is the musical comedy based on his book.
Joe Boyd, a savvy middle-aged businessman played by Ron E. Rains, is so desperate for his team, the Washington Senators, to win the pennant he is willing to sell his soul to Mr. Applegate, portrayed by the devilish charming stage commanding Sean Fortunato. Andrew Alstat convincingly transforms from a middle-aged businessman into a wunderkind long-ball baseball hitter, Joe Hardy, who looks like he can save his baseball team. In collaboration with famed director, screenwriter, and producer George Abbott, with music and lyrics by Richard Adler and Jerry Ross, George Wallop opened the musical comedy Damn Yankees on Broadway at the 46th Street Theater on May 5, 1955. In 1956 it became a Broadway mega-hit and winner of seven Tony Awards, including Best Musical. Due to its enduring popularity, it became a film in 1958 with a premier cast including Tab Hunter, Ray Walston of My Favorite Martian fame, and Jean Stapleton, a three-time Emmy award winner, as Edith Bunker Archie's wife on All in the Family sitcom.
James Vasquez, a graduate of Julliard and resident artistic director of the Old Globe Theater in San Diego, makes his directorial debut at Marriott Lincolnshire, scoring an out-of-the-park home run hit with the all-star line-up cast of Damn Yankees. Vasquez says, "I'm continually drawn to the underdog stories. This show is about hopes and dreams and the lengths we'll go to achieve what we want – but ultimately, it's a story about love winning. A reminder that a strong team can be nine on a field or just one special person by your side."
Michelle Aravena, in her Marriott Theatre debut, is Lola, the sensual, seductive temptress determined to sabotage Joe Boyd's exit strategy. Daniella Dalli, a Marriott Theatre: Jeff Award winner, portrays Meg, the wife and love of Joe's life. Her endearing lovely voice and wifely devotion shine brilliantly in her performance. Erica Stephan is Gloria Thorpe, the astute nosy investigative reporter trying to prove Joe Hardy a fraud. Lydia Burke as Doris and her sidekick Heidi Kettering as Sister are a comedic dynamic duo. There are lots of twists and turns in this story. The musical kept the audience in twitters and out-loud guffaws yet balanced this with sweet, warm moments recalling a time of innocence with just a bit of spicy sin.
Jonah D. Winston as the owner of the Senators, exhibited just the right amount of bluster and bravado. Lorenzo Rush Jr. aptly portrays a gruff coach with heart. My favorite song numbers were "Heart", "Shoeless Joe from Hannibal, Mo.", and "Whatever Lola Wants". The ensemble was extraordinary, with phenomenal singing and dancing. Ben Broughton was a stand-out with his amazing athleticism, acrobatics, and jump roping talents. He is a five-time world champion jump rope artist. You could hear an audience collective gasp as he performed his tricks.
As always, the grounds crew artistic team has done a bang-up job with this production featuring set designer Regina García, costume designer Theresa Ham, lighting designer Jesse Klug, sound designer Michael Daly, wig designer Miguel A. Armstrong, properties designer Sally Zack, stage manager Jessica Banaszak, assistant stage manager Richard Strimer, intimacy director and associate choreographer Katie Johannigman, conductor Noah Landis, and orchestral reductions by Benjamin Roberts. You will surely enjoy this fun, joyful, foot-stomping, exuberant, high-energy, exhilarating production. I am pleased to report the audience gave a rousing, sustained standing ovation to the cast and orchestra, demonstrating their enthusiastic approval of Damn Yankees.
DAMN YANKEES runs Wednesdays at 1 p.m. and 7:30 p.m., Thursdays at 7:30 p.m., Fridays at 8 p.m., Saturdays at 4 p.m. and 8 p.m., and Sundays at 1 p.m. and 5 p.m., with select Thursday 1:00 p.m. shows. Ticket prices start at $54 (excluding tax and handling fees): a live entertainment bargain. Student, senior, and military discounts are available by calling (847) 634-0200. On Wednesday and Thursday evenings, a limited number of dinner-theatre packages are available for purchase through the Marriott Theatre Box Office. To make a restaurant reservation, please call 847.634.0100. Reservations are strongly recommended. Free parking is available at all performances. Valet parking is also available for $7.00, and fast easy in-and-out parking is $14.00. To reserve tickets, please call The Marriott Theatre Box Office at 847.634.0200 or go to tickets.marriotttheatre.com. Please visit www.MarriottTheatre.com for more information.
Photos courtesy of: Liz Lauren and Heron Agency