Broadway in Chicago presents Tina Turner's biography from the darkness of abandonment and abuse to global success achieving an international spotlight sensation with a dozen Grammy Awards. Dubbed the Queen of Rock and Roll, Tina Turner's early life began November 26, 1939, in Unincorporated Nutbush, Tennessee, next to Brownsville. She was born Anne May Bullock to Zelma Priscilla (née Currie) and Floyd Richard Bullock. Her father, a sharecropper supervisor, abused her mother and put Anne May to work at an early age picking cotton alongside her family.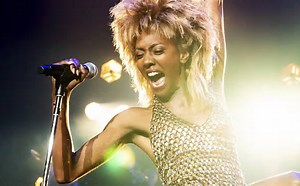 Anne May's mother, deftly played by Roz White, abandons her at the tender age of eleven. She takes her older sister Alline played sublimely by Paris Lewis, to live in St.Louis. Anne May, two years later, is sent to live with her deaconess maternal grandmother, Ann Nesby, the nurturing Gran Geogeanna, and deacon grandfather as her father, the domineering, angry Kristopher Stanley Ward, also leaves Anne May. He gallivants off to marry another woman in Detroit. Her grandparents were very religious and raised Anne May in Nutbush's Spring Hill Baptist Church. She sings in the Gospel choir, where her mother was once embarrassed by her loud voice and chastised her. As a teenager, Anne May Bullock works as a domestic servant. Her older sister and grandmother finally encourage her to move to reunite with her mother in St. Louis. At age sixteen, despite the fact her mother never really cared for or wanted her, Anne May moved there. Alline, her sister, takes her to the St. Louis Blue's Clubs and introduces her to Ike Turner. He insists she is billed as Tina Turner stealing her very name from her. Ike discovers Anne May's raw talent and grooms her performances with his Ikette Revue. Aliyah Caldwell, Reyna Guerra, Takia Hopson, and Paris Lewis reign supreme as the Ikettes. 
The young Anne May Bullock is portrayed engagingly by Ayvah Johnson, a child prodigy with a powerful voice. Zurin Villanueva has Tina Turner's moves and voice down pat. She has tremendous presence on stage in such a challenging role. Garrett Turner, as Ike Turner, displays very impressive talents in dance and song. He evokes both evilness and charm necessary for the player, abuser, and villain that was Ike.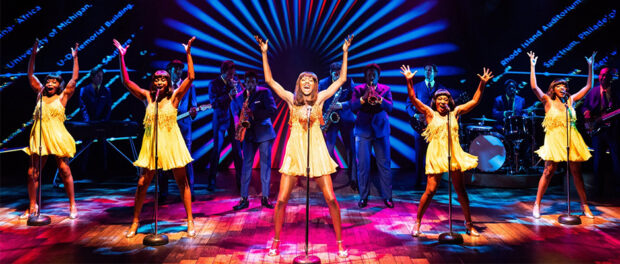 The first act is difficult to watch with all the angst, pain, humiliation, and violence Tina suffers for more than sixteen years. I have heard that she collaborated with Katori Hall with Frank Ketelar and Kees Prins on the shocking book but was unable to relive her horrors by viewing the musical. I loved that the audience was energized and verbally engaged in this drama and Tina's subsequent success. My only criticism was that the face slaps seemed artificial, but the clanging sounds of throwing objects as weapons made up for that and was very effective in instilling fear.    
 The second act is a triumph with Tina finally separating from Ike and finding her voice in Rock and Roll. The dancing, singing, stage lighting, and band all put on phenomenal performances. This wow show is not to be missed. The audience was on its feet, singing and swaying, accompanying the mighty performances at the finale.
 I have never left a theater as exhilarated as I was with this musical. My heart was pumping, my epinephrine soaring after the Mega Mix of Tina hits following the final curtain. Debbie, our helpful usher in Aisle Three, shared her reviews with us before we entered the theater. She told us to ensure we remained after the first curtain call to hear the added ten-minute medley performance. It was Vegas, Baby! Patrons were singing and dancing in the aisles, exiting this high-energy production.
As Tina Turner says, "It has been years since I toured the U.S., and I am very excited that my own musical can now bring my music and story to my fans in their home cities across America. It is a homecoming, and that is very special to me."
Photos: Courtesy of Broadway in Chicago/Murphy