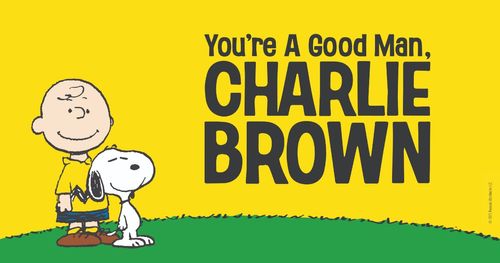 Amazingly enough, this delightful musical romp through Charles Schulz's Peanuts Comic Strip was almost never to be. Its inception was a song recording by American composer Clark Gesner. He wrote songs based on Peanut's comic strip characters. United Features Syndicate was unwilling to give him permission to use the characters in his songs. Just like Charlie Brown, he persisted in sending demo recordings of some of the songs directly to Charles Schulz. Gesner received the o.k. from Schulz. In 1966 he recorded the songs with Orson Bean singing Charlie Brown, Clark Gesner singing Linus, Barbara Minkus singing Lucy's part, and Bill Hinnant singing out loud the beagle, Snoopy's inner thoughts. Gesner was encouraged by Arthur Whitelaw to turn his album into a musical. Lucky for us, he reluctantly did so. In 1967 You're A Goodman, Charlie Brown premiered off-Broadway in the East Village at Theatre 80. From 1998 through 1999, a Tony Award-winning Broadway Revival American tour began in Skokie. Ever since, its popularity has been ensured because of its popular songs, small cast, and minimalist staging.
Marriott Lincolnshire's production will make you smile, no matter your age. Although the audience is invited to sing along with the cast in the opening, it did not happen. I believe they need some device to assist us in doing so since I doubt anyone of us was familiar enough with the lyrics to join in the chorus.
Schulz, a phenomenally successful cartoonist and merchandiser earning an estimated one billion in his lifetime, puts much of his own childhood angst into Charlie Brown's character. Charlie is a lovable loser who is unbearably shy and withdrawn. He is unable to punt a football, successfully manage a baseball team, approach a girl he likes, or maintain an optimistic attitude. Despite his bad luck, Charlie never quits. He is an optimistic pessimist.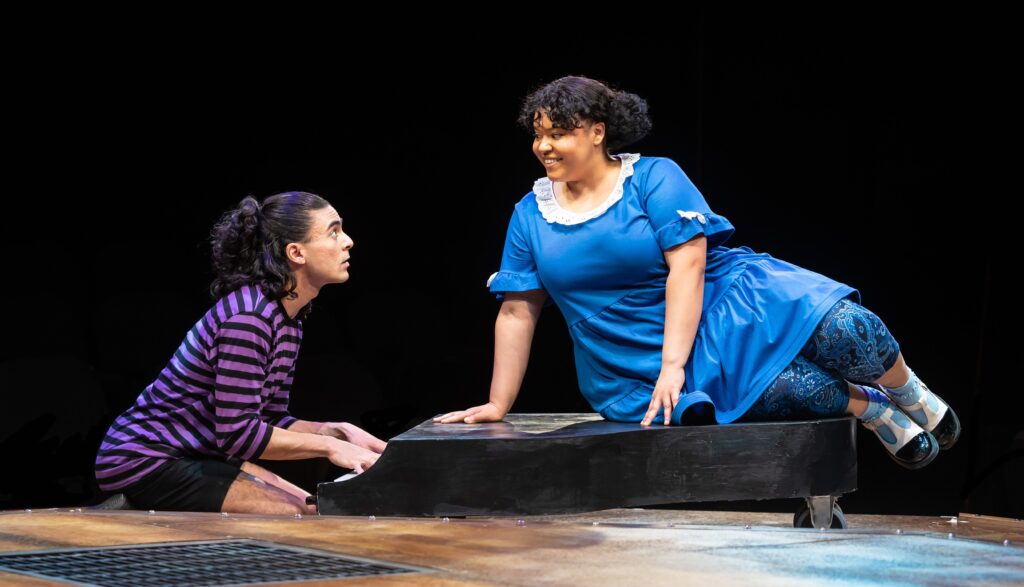 Lincolnshire's casting is stellar. You believe the six characters are the Peanuts gang. Patrick Michael Tierney plays a convincing Charlie Brown. Tafadzaw Diener is perfect as Charlie's perpetual bully and Linus's big sister, Lucy. Her brutally honest sardonic comments and unrequited love for Shroeder, the Beethoven pianist, aptly portrayed by Matthew Bettencourt, add to the humor of this musical. Playing a dog like Snoopy, I would imagine, is not an easy task, but Andrés Enriquez does it spectacularly with flair and panache. As Linus with his security blanket, Jackson Evans has an elastic silly putty face allowing us to read his every emotion. He is a marvelous Linus. Amanda Walker plays Sally, Charlie Brown's younger sister, with entertaining, lovely simplistic charm and wit. The fantastic musical direction credit goes to Rick Bertone, and the lively, joyful choreography and direction are thanks to Linda Fortunato.
We saw the marvelous opening production of You're A Good Man, Charlie Brown, on Saturday, February 25, at 10:00 a.m. I always experience trepidation seeing a musical that I know will attract a predominantly children's audience. Our group of four were all adults, yet we enjoyed this musical as thoroughly as the children, who were enamored with the live entertainment. The music was delightful, and the dance numbers were terrifically joyful. My favorite number was Linus's jazz routine, along with the cast performance of Beethoven Day.
At the closing of the one-hour show, Jackson Evans acknowledges the behind-the-scenes performers who rarely are credited. He thanks the runners Jenny and Bella, who make sure the props are available to the cast. Nick, the sound engineer, is applauded. I was so impressed with the technicolor stage lighting. The ushers are thanked along with the audience. Who, I believe, was awesomely well-behaved. Patrick Hamm, we found out, built some of the props, including Snoopy's dog house and Lucy's psychiatric kiosk. The two man and one-woman orchestra received resounding applause. The children are then invited to introduce themselves and ask the cast members questions. One of the questions asked if the performances ever changed. Jackson explained that the audience and actor dynamics sometimes reveal a different vibe in live theater. This is a show that will leave you smiling all day.
Marriott Lincolnshire seating is so comfortable, with ample leg room and great sight lines. Free parking is available at all performances. To reserve tickets, please call The Marriott Theatre Box Office at 847.634.0200 or visit www.MarriottTheatre.com for more information. Masks are optional. (847) 634-0200.
Photos: Courtesy of Marriott Theatre and Heron Agency