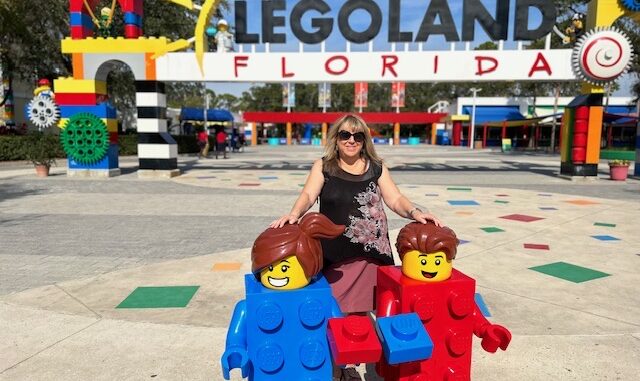 Haven't been to Kissimmee in a while? Check out the new venues that have opened and some exciting additions have been added to your favorites. What I like about the area is that you can enjoy the mega theme parks as well as get back to nature with serene lakes and eco-friendly habitats in Central Florida. Here's just a small sample of the 4-1-1. Read on and then make plans to bring your family for a visit to this exciting destination this year.

New at Universal Orlando Resort

Let's start with the grandaddy of movie adventures, Universal Orlando Resort. At their CityWalk at Universal Orlando, "the Epicenter of Awesome" you can experience its first Escape Room called "Universal's Great Movie Escape." The story is based on the "Jurassic World" and "Back to the Future" films. It's challenging and fun as you figure out how to navigate your way out using high technology and movie clues.

At Universal Orlando Resort, they've just introduced a new street dance venue called "¡Vamos! – Báilalo." Join in as 12 high-energy Latin dancers go loud and proud and you can jump in with your own dance moves.

It's always great to go back and see your favorites. I loved the Jimmy Fallon "Race through New York" as we try to beat him in a virtual race. High speed, lots of crashes and a whole lot of fun ensue. Plus it's always interesting to see clips of Jimmy's many celebrity guests as you're waiting in line.
I read about the "Bourne Stuntacular" when it opened a few years ago. But seeing it in person takes this 30-minute performance to a whole other level. A cutting-edge stunt show blends live-action, special effects, and virtual reality on a huge screen. Special effects like feeling the heat from fire scenes or getting sprayed with water adds to "being in the moment." Don't miss it.

"Despicable Me Minion Mayhem" continues to delight kids and adults alike with the adventures of Gru and his three little girls; Margo, Edith, and Agnes. Can Dr. Nefario and his Minion Gun turn Universal riders into Minions? Join the adventure and find out!

We loved Ripsaw Falls and got drenched, but they now have "Human Dryers" that soak up most of the water. The sun does the rest!
LEGOland Continues to Build
There is so much to do at LEGOland with a theme park, rides, and shows. Cool off at the water park. Stay at one of three hotels; LEGOland Hotel, Pirate Island Hotel, and the Beach Retreat. New at Legoland is the Pirate River Quest that lets big and little captains navigate the waters with a rowdy pirate crew, brick by brick. This 25-minute boat ride meanders through the historic canals of the former Cypress Gardens amusement park. Watch the LEGO pirates fight it out and recapture the lost treasure of Captain Redbeard on this family-friendly boat ride. Our favorite adult-oriented ride was the "Lost Kingdom Adventure" where you ride in little cars and try to score points with your built-in laser shooter.
The first ever Peppa Pig Theme Park, located right next door (requires separate admission) brings the popular Peppa Pig and her family to life with rides, shows, and attractions. For kids that like to jump in "muddy puddles" like Peppa, this is the ultimate place to go.
Go Wild at Safari Wilderness
The thing that I like best about exploring Safari Wilderness is all the ways you can enjoy this 260-acre ranch, filled with Asian water buffalo, ring-tailed lemurs, llamas, zebras, pigs, ostriches, and other animals. Get up close and personal with the 40 different animal species (over 450 animals) in an open-air safari bus, take an ATV, ride on a camel, kayak or drive through in your own vehicle as you listen to commentary about the habits of these animals from an expert guide. We learned a lot about the animals like, did you know no two zebras stripes are alike? Some stripes completely cross underneath their stomach, while others don't. After feeding a camel, I discovered they were really soft, and kind of sweet.
You can add-on feeding the lemurs or guinea pigs, and try a premium cheetah encounter. For a real treat, spend the night in one of their glamping tents in safari base camp. See the night full of stars. Wake up in this natural paradise with a warm cup of coffee in hand and welcome the day with a new perspective. Reservations must be made in advance online only at safariwilderness.com.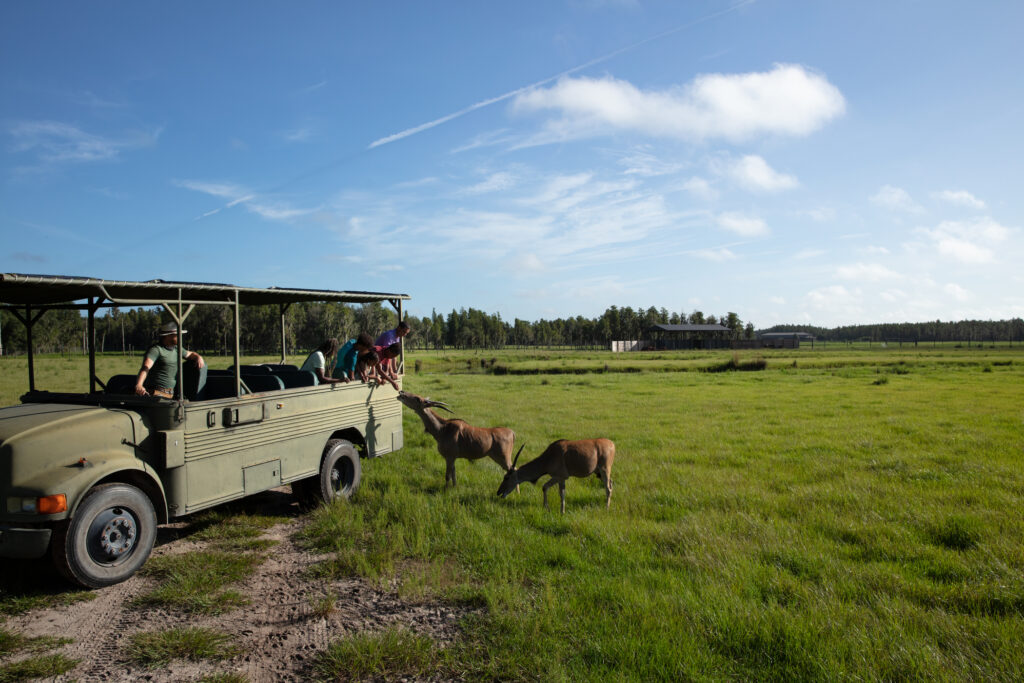 With drink in hand, ride in style with Captain Stitch and his crew in St. Cloud aboard the Toho River Boat Adventures. It's a delightful, smooth ride on the water. Choose from an afternoon day cruise, sunset cruise or karaoke with your friends or family, even an adventure to Goat Island.
New Dining Options
My favorite place to hang out is the Promenade at Sunset Walk in Margaritaville. There's so much to see, do and dine. Opening soon from Texas is Cowboy Chicken with slow-roasted rotisserie chicken, healthy sides, sandwiches and salads. I also love Ford's Garage for their great burgers and salads.
"Kissimmee; The Big, Bold Heart of Florida" is their new theme that really captures the spirit of what visitors will find this year. Make your plans to visit Kissimmee in 2023 or go to visitcentralflorida.