This New Year I needed a break from the overload of picking back up a manuscript in progress while also starting a very high-stress "day" job, and doing both while trying to get myself rehoused after leaving an abusive housemate. Without funds for a vacation- or, even, the time off given the newness of my job- I was despondent until a friend proposed I do a "stay-cation": going to spend New Year's Eve weekend by myself in a local hotel where, my plan was, I could hole up and rest, heal, reflect, plan for the coming year, and, if luck was with me, get some quality writing done. Fortune smiled upon me as I landed at The Best Western Corte Madera Inn.
When I walked in to the office to make last-minute general inquiry, I was bowled over by the coziness that greeted me- blazing fireplace and glimmering Christmas tree, sure, but also the warmth of welcome of night attendant/concierge Diana to this "walk-in." Diana was professional yet down to earth: efficient, knowledgeable, and can-do insofar as helping me salvage my impromptu New Year's get-away. I had to come clean on the fact that, although I would normally wish to be in a second floor (or higher) room for security purposes, this time around I would not be able to be at peace without instant access to my manuscript cases and office gear I was carting around in my car. No problem for Diana and hotel manager Raul! They made available a room that provided not only a nice desk for working and a dining table for snacking, but also first floor level for ease of access to vehicle.
The Best Western Corte Madera Inn is only five miles north of scenic Sausalito, and only a short, twenty-minute trip over the Golden Gate Bridge to San Francisco. It's also a perfect location for day tripping to Wine Country, shopping, and Farm Trail visits northward in Sonoma and Napa Valleys.
Traveling southward on Highway 101, one need be on the look-out for the backside of of the building housing world-famous author events bookstore Book Passage. Immediately overhead one will see the sign for the Madera Boulevard exit. A right turn yields a Chevron station open 24/7 on one's left and the Best Western- both on-site breakfast restaurant and hotel office- on one's right. Across the highway (northbound) is one half of upscale Town Center, one half of the beautifully- and artfully designed- "book ends" of shopping plazas on either side of Highway 101. A short drive across the highway any Best Western Corte Madera guest can enjoy this boutique collection of eateriesm premium brand stores, and eclectic surprises including a brick-and-mortar Etsy-like shop, Homestead. The side of Towne Center Mall closest to the Best Western (Highway 101 southbound) offers many opportunities to enjoy cooked-to-order meals, including a fishery, and burger, pizza, charcuterie, French Vietnamese, Chinese, and other restaurants. The inclusion of both a Starbucks and Phylz coffee shops, a book store, and even a famous California-borne chain chocolates shoppe (offering a free sample upon visit!), make it easy to see how a simple Staycation can turn into a fun shopping vacation should the weather, somehow, keep one away from hiking, biking, wine country and other day trips or sightseeing. If the shops on the southbound side of Highway 101 lose their appeal, a short drive- or even a walk- across the highway affords many other retail choices, also the home of Restoration Hardwares' new boutique eatery and flagship store, a Cheesecake Factory, and many other shopping options, including the Bay Area's local Talbots, a unique upscale women's wear shop now celebrating its 75th anniversary.
The Facility
The Best Western Corte Madera Inn complex boasts a secluded 5-acre resort-like campus which includes an Olympic-sized pool, jacuzzi area, basktball hoops court, shuffleboard, ping pong table, barbecue pit, and even a putting green. Despite the main building's unassuming view from the road, its 110 luxury guest rooms are horse-shoed around the pool and other shared amenities. Since I was in occupancy for three days during a terrible winter storm with frighteningly gusting winds and constant heavy downpour, I appreciated the security of this outdoor arrangement if not the amenities, themselves. I also found the proximity of office and restaurant to the guest rooms both convenient and well-designed: walkways in alcoves are available to cover the trip from room to eatery as well as over room entryways, so that at times during any stay with inclement weather one can leisurely fumble in one's pocket seeking for card key without getting drenched.
The street-level rooms, opening right onto the well-lit and secure parking areas, allow a guest to have their vehicle right in front of their doorway yet not get a feeling of being in some cheap motel. This, of course, I appreciated due to the inclement weather as well as not having the stress and strain of having to go up and down any stairways. As mentioned, the buildings design plan is much appreciable as the first floor rooms are nicely situated with entry ways on either side of pass-throughs to the central courtyard. This is highly effective for not only noise control but also logistics needed by, say, a film crew traveling with lot of expensive gear in their vehicles, anyone mobility impaired, or anyone- like me- who might be traveling with a lot of "stuff" (manuscript cases, recording equipment, printer, etc)
The Room
All rooms at the Best Western Corte Madera Inn are non-smoking (very much appreciated!) and come with complimentary high-speed Wi-Fi and HD television with over 150 channels, including HBO; a desk and work area; a Keurig coffee brewer; a refrigerator (generously-sized); an iron and ironing board; and a hair dryer. The well-appointed room I enjoyed provided a wet bar with refrigerator (great for my yogurt and even a little bottle of champagne), a deep tub for an excellent bath, a King-sized bed (which I used for sorting chapters and doing filing!), a goodly-sized flat screen television with cable TV (I'll admit: I never watch TV but it sure was fun to have the luxurious treat of catching up on some movies for research), a Keurig coffee maker (which I never used since the breakfast coffee in the hotel's restaurant was so delicious), and with all this goodness, a parking spot right outside my door affording me easy access to the heavy things I needed.
Safety and security are paramount at this facility: lights surrounding the place are illuminated all night long, making the area significantly unappealing to car and petty thieves- an important feature as we are hearing more and more lately about private vehicles- and parts of vehicles- being stolen in surrounding towns while homeowners are asleep.
Amenities
All guest rooms also include a full spectrum of complimentary toiletries. The moisturizing lotion is a delicious concoction that smells (and also, now that I think of it, has the texture of) vanilla pudding or a custard. The soap is wonderful- both facial and body- neither drying nor lacking cleansing quality. One might ask "What's the big deal about soap and shampoo?" For me, having something a little bit different to and "special" after hours of hard work of writing felt like being transported to a spa. Sometimes it can be the littlest of things that can make the biggest of impacts. A side note to anyone with a bigger budget and seeking an actual spa treatment beyond an excellent bath in a deep soaking tub or quality hot shower: the famed Bay Club, Marin's finest athletic club, is only a short walk across Madera Avenue from the hotel and into Town Centre, and that location partners with this Best Western offering a "Heart & Soul" package which includes a Day Pass to the Club to enjoy their spa. As far as other conveniences for anyone enjoying an extended stay, the hotel also offers a sparkling clean and efficient guest coin-laundry area, complete with laundry supplies available for purchase. Nothing like doing laundry while writing… multi-tasking to the max!
I ventured out on New Year's Eve morning to enjoy complimentary full breakfast and to get a chance to see who else might be saying there on this holiday weekend. The demographic of visitors was mixed- from families with children, to seniors, to singles traveling anywhere from, maybe, Telluride to Los Angeles, to a few visitors speaking another language.
Inside, the dining area reminds me of a combination of Perkins Pancake House ("back East") and Max's in Opera Plaza (San Francisco) but with a pleasant- and incredibly CLEAN- upscale Cracker Barrel-like décor: there are curved red leather booths throughout the center of the space alongside a pastry bar with self-serve muffins and bagels to be toasted and slathered with cream cheese, butter, and jelly, and comfy duece tables lining the walls. I could imagine individual jukeboxes on tables there like the ones I used to see in diners back on the East Coast.
Pondering this, I inquired of Paolo, one of the hard-working, warm and welcoming "dynamic duo team" hosts overseeing daily breakfast food service: she tells me the structure might once have been occupied by a Peppermill restaurant.  A stand alone operation, the place is quite large, and features aADA-complaintramp entry  as well as steps to the inside.  I marvel at how well the Best Western Corte Madera Inn has made use of this space; every detail considered, even keeping the original décor which features rustic Western-style lanterns, horse shoes, and other "barnyard" motif, including stylized paintings of cows and pigs (adorable!) and- perhaps my favorite- a very unique bronze plaque of a pig reminding of a favorite expression: "When  Pigs Fly."  
Again, the Best Western Corte Madera Inn demonstrated the importance of attending to the little things: a boutique dispenser served up sturdy plastic dining utensils so as to keep the premises well within Covid-19 prevention protocols and still look "cool." As for the little things concerning food, not only was the facility team serving up goodness from a make-your-own waffle station along with a full egg and bacon breakfast and design-your-own oatmeal breakfast, but they also offered Gevalia coffee, premium brand teas, and milk substitutes on the beverage station and locally-produced baked goods on the pastry bar.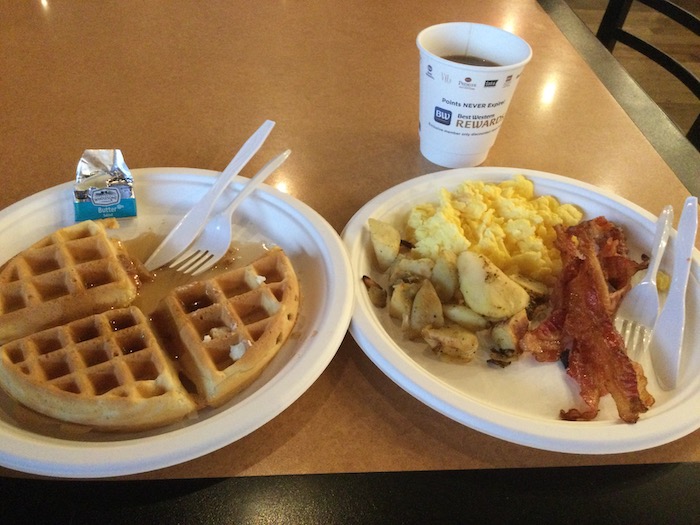 The full-serve and self-serve breakfast stations were a nice surprise. Staff could not have been more pleasant or helpful even at an early hour of the day! And food choices are abundant, including make-your-own waffles! I have to admit that there's something very special here regarding this comfort food- harkeningw back to a childhood love- when making one's own waffle: pouring the batter, turning the handle, then waiting and watching the steam rising from the machine until the finished waffle emerges to enjoy.
The facility offers both choices of a comfy place to sit and enjoy food and also the convenience of take-away for anyone without much time. It's a great perk for anyone running off to early morning meetings who might still wish to have a full breakfast to start their day with all tanks "full." I'll admit, though, even this introverted writer, intensely focused on getting stuff done, loved lingering since the breakfast shoppe is a warm and welcoming place to sit, people watch, and even enjoy an impromptu conversation or two.
One Staycation highlight for me was lounging in one of those red-leather-covered booths and enjoying a toasted bagel slathered with cream cheese and strawberry jam with some very good coffee- while getting an update on the weather from a flatscreen TV mounted in the dining area, the wind howling and rain pouring down outside. I also discovered, once the wind and rain had stopped, the eatery location afforded a premium view of the mall across the street with a gorgeous sunrise backdrop.
As for Covid protocols, one can read on the hotel's web site about the scrupulous cleaning and laundry practices in effect. There were a few guests in the restaurant who, like me, were still wearing masks. However, staff who were preparing and serving food were consistently wearing masks. I'll admit that, in this day and age, it DOES feel good to see food servers masked up- whether a requirement or not, it's an added level of trust and safety that this "stay-cationer" truly appreciates!
Another important thing to share is that this place is scrupulously clean. Nowhere- and at no time, and I'll have to say this is some kind of a record- did I find a speck of dust or first; whoever is in charge of Facilities Maintenance and the Cleaning Team should be highly commended. Along with being clean, depending upon the location of one's room- even with such close proximity to Highway 101- the location is quiet. Even with the hotel being on the Golden Gate Bridge/San Francisco-bound side of Highway 101, my first-floor room was very quiet.
If you wish to explore the San Francisco Bay Area at any time of year- for a trade show, a business meeting, a romantic get-away, or simply a pleasure or sight-seeing trip- but would like to stay outside of- but not too far from- the City, then this IS your first choice. Corte Madera- and the Best Western Corte Madera Inn being right on the Highway leading into the City- is only a short hop across the Golden Gate Bridge, maybe a fifteen minute drive into the City, yet this place affords all of the niceties of Marin and the San Francisco Bay Area (hiking, shopping, sight-seeing) without any of the snarl of traffic and dearth of parking or logistics difficulties one might encounter in the City. If you'd like to visit "Wine Country" but also want good comfort and value, this is your place, too.
While adults traveling alone or in pairs (or teams) will fully appreciate the amenities the Best Western Corte Madera Inn offers, this place is perfectly suited for those traveling with children or dogs (or both) since the facility is both kid- and dog-friendly. During my stay I was gifted with a visit by a cute cocker spaniel and the heart-warming views of a giant white dog being walked by the breakfast shoppe and a Standard gray poodle prancing around on the green while its keepers had had takeaway breakfast on their porch.
It is no surprise to me- only now just discovering it- that this place is used by film crews while filming in San Francisco… And while I did not avail myself of any of all of the fun things the hotel offers to do outdoors because of the gusting wind and torrential rain- nor did I even want to move from my comfy and beautifully-appointed room to go and explore nearby Muir Woods, Point Reyes National Seashore, or Angel Island State Park, I thoroughly enjoyed just "staying" put.
All in all, it could not have been any nicer staying at this particular Best Western, Best Western Corte Madera Inn: both desk attendants Diana and Christina were friendly, extremely helpful, and very kind- a most appreciated combination. Staff was cheerful, courteous, and helpful. Manager Raul was prompt in returning phone calls as we made arrangements for logistics and, in my book, in my busy world of "rush, rush, rush" that is something very much appreciated.
I think these best describe my experience at the Best Western Corte Madera Inn and under the care of the hospitality team there: welcomed, comfortable, privacy respected, but well attended when needed, and all needs met. For this working writer in transition, the delivery of utility with luxury was invaluable. I would highly recommend Beat Western Corte Madera for both travellers and stay-cationers- and any of us who just need some peace and quiet with touches of both comfort and elegance to rest while also getting stuff done…
Note that each Best Western branded hotel is independently owned and operated. The Marin County Best Western Corte Madera Inn is located at 56 Madera Blvd, Corte Madera, CA 94925.
For further information about the Best Western Corte Madera Inn, either to book your own "stay-cation," a business or other gathering, or other reservations, please visit the hotel's web site at cortemaderainn.com or phone and speak with a reservationist at 415/924-1502.
Photos are courtesy of Ariel J. Smythe
# # #