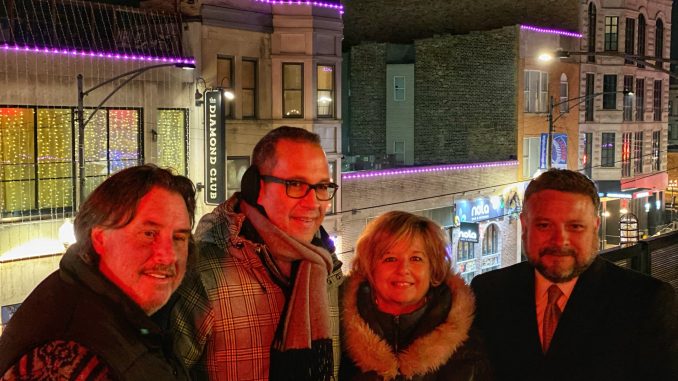 One of the biggest indicators that the holidays are here are the lights that hang and glow in every color brightening the streets and buildings as you walk by. Many Chicago neighborhoods install lights around this time of year and I had the opportunity to attend the lighting in one of the most popular neighborhoods in Chicago. 

On November 15, 2019, Lakeview East Chamber of Commerce, SSA17, local businesses and property owners launched "Light Up Clark Street" What makes this lighting unique is that while it happened for the holidays, they are not here just for the season. The lights will draw attention to whatever events are taking place year round.

"With more than 3000 feet of lights, purchased from Principle Lighting and installed by The Decor Group, These lights bring attention to this district and celebrate new businesses as well as businesses that have thrived in the Lakeview neighborhood for decades. We can also celebrate any holiday, draw attention to special events and support charities based on the color of lights that are shown on these 27 businesses," said Lakeview East Executive Director Maureen Martino.

Maureen Martino, Todd Hyatt (Owner of Trader Todds), Marc Engel (Board President of the Lakeview East Chamber of Commerce; Owner of CRAM Fashion), Sam Sanchez (CEO of Samco Enterprises) were at the event, chatting and speaking to the attendees about what they hope to bring to the area with these lights.

Sam Sanchez, CEO of Samco Enterprises (John Barleycorn, Moe's Cantina, Old Crow Smokehouse, Chen's Chinese & Sushi), is very pleased with the new lighting and said "There has been a lot of change to the Wrigleyville area over the past twenty years – especially as of late. Until recently, area businesses dreaded the end of baseball season because it inevitably meant a steady decline in sales. Thankfully, business owners south of Addison have always been able to band together in an effort to bring a fun, safe, unique atmosphere to the neighborhood. And what better time to showcase that than the holidays? With Light Up Clark Street, we're able to bring a year-round attraction and that's what makes this most exciting. Thanks to the Lakeview East Chamber of Commerce and the hours of hard work from the staff we're lighting up the street to welcome everyone to a winter wonderland and will continue to enjoy the lights year-round." 

While the Wrigleyville area is very popular during the summer months with residents, tourists, and visitors coming to watch a Chicago Cubs game, there is lots to do in the neighborhood during the rest of the year. Whether coming for the lights, food or events, there is something for everyone. Do you like holiday pop-ups? Clark St. is home to 20 pop-up bars this season. Come enjoy the wonderland of lights, decor and fun of this iconic street this season.

Visit the Lakeview East Chamber of Commerce for more information on events and all of the holiday pop-up bars.