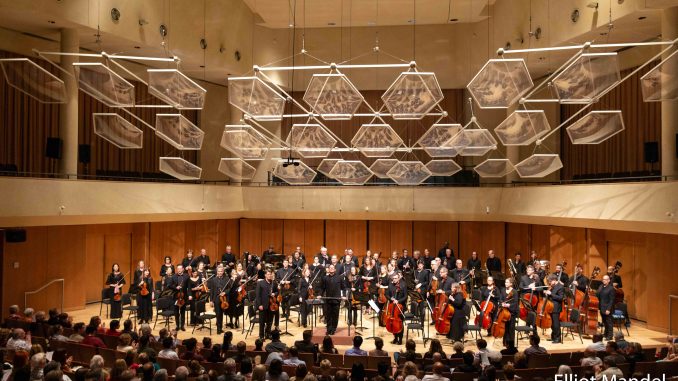 On Sunday October 6, 2019, Chicago Philharmonic opened their 30th season, Family, with a concert entitled LIFE: TCHAIKOVSKY 6 at Pick-Staiger Hall, 50 Arts Circle Drive, on Northwestern's Evanston campus. 
Conducted by Music Director Maestro Scott Speck, the concert featured Jeremy Moeller, trombone, soloist. 

THE PROGRAM:
– Harrison Collins Young Voices, 2019
Prior to the season opener, the Philharmonic hosted a Fanfare Competition to promote and support both established and emergent composers; among the 50 entries submitted, 19 year old Illinois State student Collins' vivid, fresh piece was selected as the winner of the "Under 23" age group.
 Dedicated by the composer as " a short portrait of youthful determination" in the face of "the unsettled political climate in the United States", the convincing, competent piece began with an introductory horn motif, and was triumphant, upbeat, filled with colorful brass and percussion, almost martial in its bravado.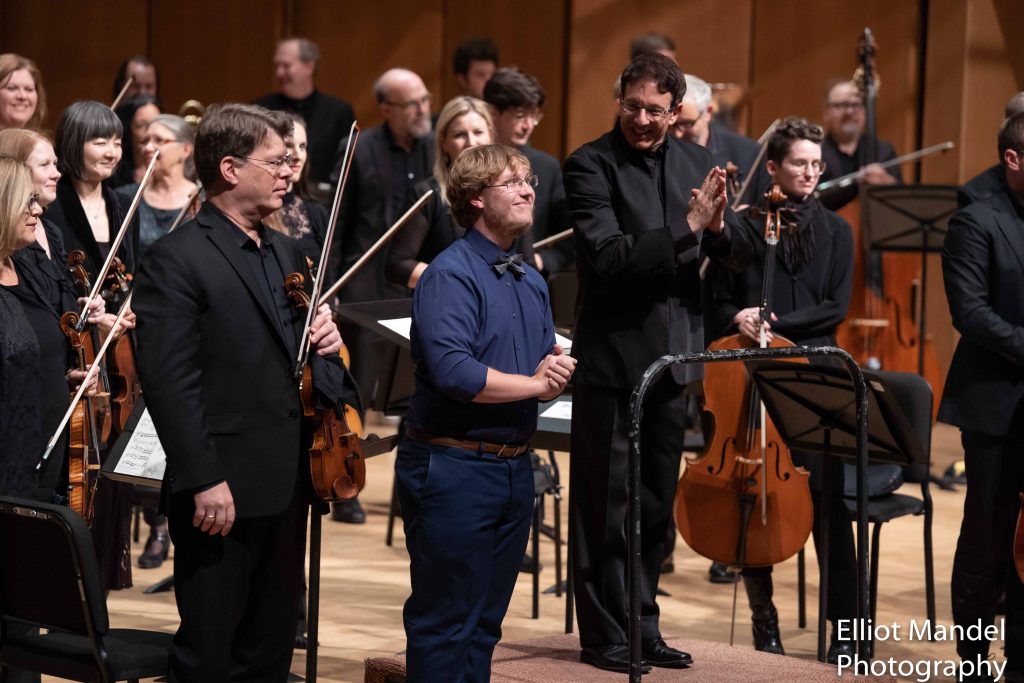 – Anna Clyne Masquerade, 2013
 This piece has been described as a work of "Innovation, imagination and audience appeal" and  "a snippet of rollicking music for a large-scale modern orchestra". 
Masquerade, by U.K. composer Clyne, was an immediately engaging energetic piece reminiscent of the spirit of a masked ball. The brief yet memorably diverse work paints a rich and impressive aural portrait, filled with brilliant trumpet/percussion interplay.
– Ferdinand David Trombone Concertino, 1837
This lyrically beautiful and rhythmical piece allowed the virtuoso Moeller to exhibit a wealth of trombone expression, from soft and sweet to stylish and filled with brassy bravado.
A spectacular showcase for the enormity of this instrument's not-always-appreciated range, the Trombone Concertino ends its first movement in almost operatic phrase, seguing immediately into a second movement ("funeral march") that is alternatively sentimental and dark yet sweetly reflective. Moving again without pause into the third movement, the piece ended in a triumphant coda, and a welter of applause for Moeller.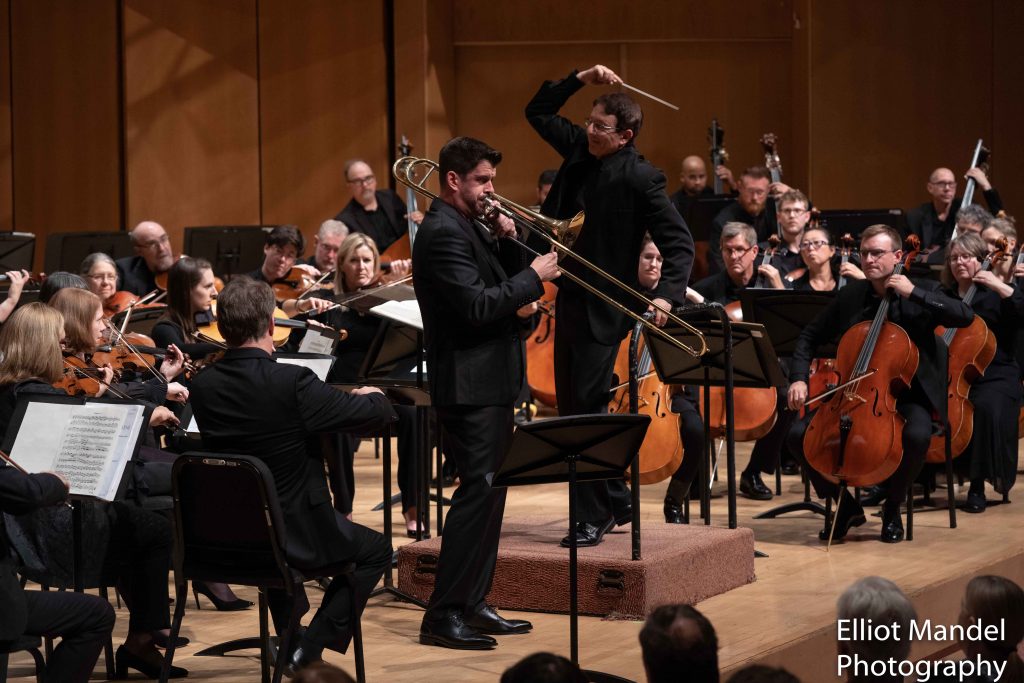 – Pyotr Ilyich Tchaikovsky, Symphony No. 6 (Pathétique), 1893
After the intermission, Speck, a marvel at conducting Tchaikovsky, drew from the Philharmonic an outstanding rendering of the great 6th Symphony- bold, bright, uncompromising. There was much more effected than the typical unfortunate A-Z of overblown emotions.
Speck pushed the orchestra through in the development sections, drew them back in recapitulations, controlled the tempo changes. Adding subtle shades of chiaroscuro in the opening Adagio, similarly bringing forth brilliantly subtle degrees of color in the final Adagio lamentoso, he filled the hall with emotional nuance.
With a complete conviction by the conductor in his ability to discern the composer's intent, the Pathétique performed this afternoon was unbelievably persuasive.
For information and tickets to all the great programming of the Chicago Philharmonic, go to www.chicagophilhatmonic.org
All photos by Elliot Mandel