Hip and happening is how I would describe Anaheim, California. It's not just the home of the always-expanding Disneyland, but a metropolis that continues to grow and evolve. Since my last visit in 2014, the city has developed a unique food scene with one-of-a-kind retail stores. The city's new slogan, "Uncommon Character," reflects the destination's new energy with unexpected hot spots, trendy culinary/craft beer experiences and revamped neighborhoods.
The Packing District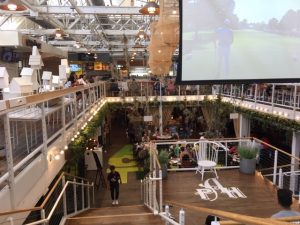 Once home to citrus packing warehouses in 1919, the Anaheim Packing House has been historically preserved and retrofitted into a great American market hall. Its expanded offerings now include new vegan and organic restaurants. There's also a new Radisson Blu Hotel opening in 2020. We dined at Cultivation Kitchen which touts itself as a "Shovel to Fork Eatery." The Acai Bountiful Bowl was filled with yogurt, fresh fruit and granola for a delicious snack. Try "Shovel to Straw Smoothies" or "Shovel to Cup Coffee." It's all fresh and dee-lish!
Meet F.R.A.N.
This new, free, micro-transit system gives you Free Rides around the Neighborhood in electric Polaris GEM Cars. Install the app on your Smartphone and the shared vehicles arrive on demand to take you to restaurants, shops in the CTR City area.
Star Wars – Galaxy's Edge Takes You to a Land Far, Far away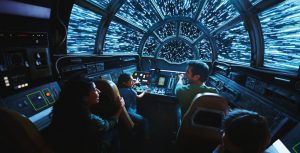 It was Walt Disney's vision in 1955 that Disneyland would never be completed. It would always keep growing and changing. Star Wars – Galaxy's Edge is the new, 14-acre land that just opened, fulfilling that promise. When you enter Galaxy's Edge, you're immediately transported to Planet Batuu where two forces are battling. Hop on the Millennium Falcon: Smugglers Run. The cockpit seats 6 and everyone plays a role — pilot, gunner, and engineer — as you race through space like the ultimate video game come to life. Now you can build your own custom lightsaber at Savi's Workshop, sip on a Galactic beverage (like blue or green milk) or bring home a cape from the Black Spire Outpost. Star Wars: Rise of the Resistance opens in January 2020 as an advanced and immersive ride where guests join a climactic battle against the First Order.
There are two separate parks at Disneyland Resort – The Magic Kingdom and California Adventure Park. In between is Downtown Disney where you'll find restaurants, stores and other entertainment venues.  There's no charge to walk through Downtown Disney, so go have a good time!
My favorite rides in California Adventure Park were the Toy Story Midway Mania where you zip through an exhilarating 4D game starring Toy Story characters—and blast away! You shoot your virtual gun to score points. Really, I could do this all day! I also loved "Soaring over California," another virtual reality ride where you're lifted off the ground and you soar over California's iconic cities –Palm Springs, San Diego, San Francisco, and LA. What a beautiful, surreal experience.
Jazz it Up in Downtown Disney
We dined at Ralph Brennan's Jazz Kitchen serving classic New Orleans-style cuisine, accompanied by a fabulous jazz quartet. Start with the Southern Garlic Cheese Bread, then go with the French Quarter or Green Goddess Salad. Recommended entrees include their signature Pasta Jambalaya or Blackened Salmon. Enjoy a sweet ending with their famous Double Chocolate Bread Pudding, so decadent. The entire dining experience proved to be a true oasis in the park. Who knew we were dining in Disneyland? Great kids menu, too!
At night, the magic continues with Disneyland Forever, their new fireworks spectacular that will dazzle you with its street to sky experience.
Anaheim Hilton – Convenient to Everything
Staying at the Anaheim Hilton is a grand experience with a great location to so many Anaheim sites. It's just a few blocks walk to Disneyland. Or, if you want to save your energy for the park, the ART (Anaheim Resort Transit) stops right across from the hotel. Buy your single or multi-day tickets at the kiosk in front of the hotel.
With 1,572 guest rooms, the hotel is the largest in Orange County, located next to the Anaheim Convention Center. Start your day at Mix with its delicious buffet breakfast.  Or order Mickey Mouse Pancakes off the menu. Mix is also open for lunch and dinner. Or dine at the pool.
My room on the Disney side also offered a private balcony with a great view of the fireworks at night. We sat outside under the stars with a glass of champagne and toasted to the colorful display.
More fun in the sun!  
Head to Angels Stadium to see the Anaheim Angels play, a few miles from the Hilton. You'll know you're in the right place when you see giant red baseball caps. Once inside the park, awaiting you is a sea of red. The Angels keep the action going on and off the field with a lot of family-friendly games.
Love to Shop? Visit the Outlets at Orange, Orange County's only outlet mall with more than 120 outlet stores, including Last Call by Neiman-Marcus, Off 5th, Nordstrom Rack and more. The mall is just minutes away from Anaheim's popular attractions.
Yo Ho – Pirates Dinner Adventure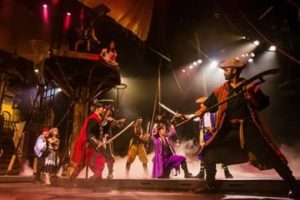 Laugh at the antics of the pirates while you enjoy food, fantasy and fun at this family-friendly show. Watch as they swing across the water, perform gymnastics and have sword fights as you dine on a bountiful feast with lots of royal treats. Start with complimentary appetizers before the show. Then enjoy vegetable soup or salad, roasted chicken and shrimp, mashed potatoes and mixed veggies with a brownie for dessert. Cheer on your favorite pirate for an evening your family will long remember.
Sunny all year round, put Anaheim in your plans for the perfect vacation destination.