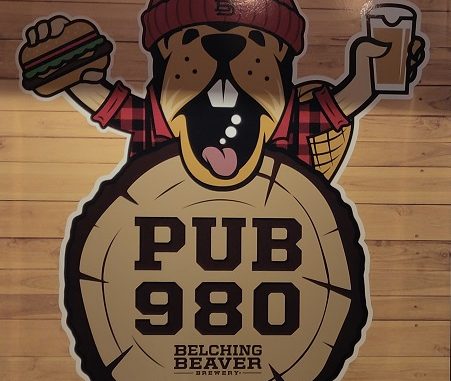 As breweries grow, they can lose some of their intimacy and character. It is a simple fact that trying to brew more beer can come at a cost in a variety of ways. Belching Beaver managed to keep that local, neighborhood feel at Pub980, even as they expanded beyond their original Vista location.
Pub980 is the birthplace of Belching Beaver as well as their now world-famous Peanut Butter Milk Stout. Belching Beaver did rip down a wall since its birth and added on, but you really do get that warm and fuzzy feeling you get from your local brewery. This is still the place you can grab a chair at the bar and get a lesson in not only beer, but also a history lesson. Finding out that not only did Belching Beaver have its beginning at a card game, but the name Belching Beaver came to fruition at that very same card game. This is simply a fun place to hang out and enjoy a beer with a staff that makes you feel welcome anytime of the day.
When you walk into any Belching Beaver location, it is almost mandatory that you start off with a Peanut Butter Milk Stout. It is similar to starting your morning off with a cup of coffee, it just brings your beer taste buds to life as coffee brings your morning to life. If you love a stout, this version will always rank at the top of the list as it brings all those rich flavors together in a rich and flavorful way, while being easy and smooth to drink.
If you are a stout drinker, visiting a Belching Beaver location is just a little bit of pure heaven. The Peanut Butter Milk Stout is the original, but that is far from the only stout they serve. If you are looking for just a hint of spice and a whole lot of other flavors, the Mexican Chocolate version of the peanut butter stout is fabulous. The Overnight Oats is a wonderful oatmeal stout that is leaning more on the chocolate flavor. Save the Super Viva for the end of the night as it comes in at a whopping 12.0% ABV. Maybe share this one like a dessert, as it comes in sweet, powerful and full of flavor. One of these makes for a great substitution for dessert. Belching Beaver is not just home of the stout, they have some great IPA variations and Me So Honey is about as good of a honey blonde as you will find.
The Philly, the name says it all. You get all of the classic Philly cheesesteak flavors, but far superior to the sandwich you will find on the corner of a street in Philadelphia. Very tender, thin sliced beef is smothered with onions and peppers and then you get the real treat, the Belching Beaver beer cheese that finds its way into every nook and corner of the amoroso roll. That beer cheese also takes center stage when it is pair with the giant, just out of the oven, soft pretzel. One of the specialties of Pub980 has to be the grilled cheese. The "Beer Soaked" version is a must try even with heavy competition from the other grilled cheese versions on the menu. The beer soaked sour dough bread is crispy on the outside but keeps that beer soaked softness inside of each bite. Expect to be full after this one as in addition to what might look like an entire loaf of break, you also get four cheeses, American, provolone, Gouda and Swiss. This is the definition of what a grilled cheese should be.
In addition to their many beers on tap, Belching Beaver recently introduced hard seltzers to their beverage lineup. The Belching Beaver version of hard seltzers is different from other brands, as they are made with fresh fruit. The current hard seltzer flavor on tap is infused with real mango and orange, with more fresh fruit flavors to come in the future. Belching Beaver also has a new hard kombucha that is infused with fruit flavors including mango, tangerine, guava and passion fruit. If you are looking for the perfect way to end your Belching Beaver experience, the Peanut Butter Milk Stout float is a true work of art. The Peanut Butter Stout is the perfect beer to pair with ice cream and for good measure they top it off with a peanut butter cup.
Just to give you another reason to visit Pub980, Belching Beaver will begin showcasing the talents of local musicians by building a new outdoor stage. The stage will be completed by the end of June and it will host numerous local musicians throughout the summer months.
Belching Beaver is what craft beer is all about and nothing pays homage to that quite like Pub980. This is truly why the craft beer continues to grow, the setting, the experience and of course the beer. Beer drinkers and just people in general want an experience like this and from the first pour until the time you leave will have a Belching Beaver inspired good time.
For more information, visit: Belching Beaver