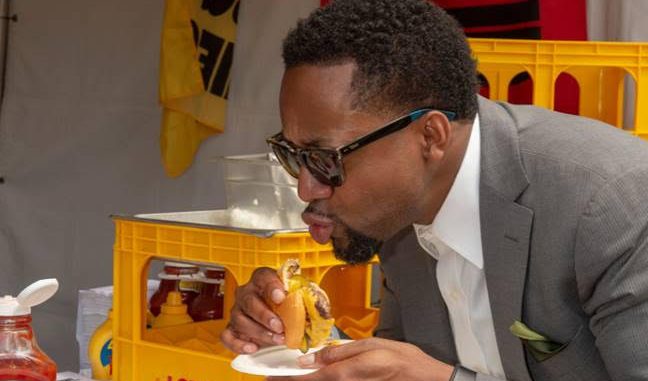 The month of May kicked off the Los Angeles Times Food Bowl, a foodies delight! The annual month-long festival celebrating the city's dynamic and influential food scene, taking place throughout the month of May.
Centered in Los Angeles, the festival will brought together the best in local dining experiences while promoting social awareness about food waste and hunger. L.A.'s largest culinary event to date, Food Bowl will include special programs with internationally renowned chefs during rare U.S. appearances.
This past weekend brought many flavors to Grand Park, in DTLA! The first night of Night Market was Collaboration Lab which celebrated and featured collaborations from L.A's top restaurants and international guests. Collaborations in the special VIP ticketed area included: Bavel x Taco Maria, Kismet x Ciya, Shibumi x Spago, Scratch Bar and Kitchen x Ari Taymor, Fiona x Cicatriz, Chengdu Taste x Jitalda, Openaire x Arlo Grey, The Bazaar x Otono, Otium x Salazar. The Los Angeles Times Food Team announced Bavel as this year's recipient of Restaurant of the Year, and Cassia L.A. received The Gold Award.
The second night of Night Market was Taco Tribute that brought together the cities best taqueros such as Guerrilla Tacos, Sonoratown, Carnitas el Momo, Chichen Itza, Broken Spanish, Tacos 1986, Teddy's Red Tacos.
The third night of Night Market was the delicious Fried Chicken Party that incorporated a variety of different and unique styles of fried chicken with restaurants that included Honey's Kettle, Lucky Bird, Night + Market, Chef Kang Food Rehab, Hotville Chicken, Phat Birds and The Crack Shack.
The fourth night of Night Market was a dual celebration. The afternoon focused on finding L.A's Best Burger while the evening focused on Noodles, Dumplings and Rice (which SOLD OUT). The fifth night and final day of Night Market was a celebration of BBQ from across the states, the All Star BBQ. Many well renowned pitmasters made way to Los Angeles to showcase was true BBQ is all about. Pitmasters and vendors included Burt Bakman, Mutsky Bilivarn, Bill Durney, Aaron Franklin, Matt Horn, Sam Jones, Adam Perry Lang, Dave Marin, Andrew and Michelle Munoz, and Valerie Gordon. What better way to spend your Mother's Day afternoon?
It's a celebration in the culinary space that the late, and respected, Jonathan Gold would be proud of!