The Raven Theatre Company, 6157 N. Clark, Chicago, is currently presenting Anna Jordan's YEN, strategically and unsparingly directed by Elly Green, through May 5, 2019. Two more performances have been added due to popular demand, on April 22 and April 29, each at 8 p.m.
The play features an incandescent cast with Reed Lancaster as the tortured, resilient Hench; Jesse Aaronson as crazy-loyal Bobbie; Tiffany Bedwell  as tough, battered yet still maternal Maggie; and Netta Walker as hopeful ingénue Jennifer. The exceptional production team includes Set Designer Joe Schermoly, Costume Designer Alexis Chaney, Lighting Designer Claire Chrzan, Sound Designer Aaron Stephenson, Props Designer Leah Hummel, Dialect Coach Eva Breneman and Fight Choreographer Sam Hubbard.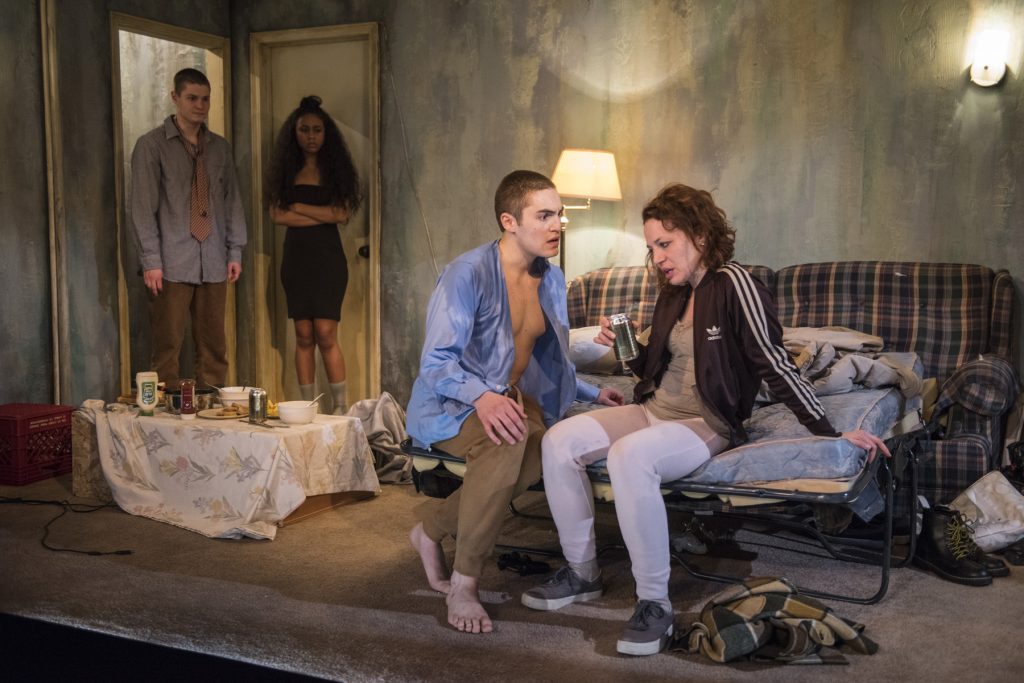 Playwright Anna Jordan's gritty prizewinning play is intense, viscerally wrenching, and almost overwhelmingly dark, deeply stark and affecting. Yet, it is also a story imbued with innocence, family loyalty, wonder, and replete with demonstrations of the redemptive power of love.
 The audience is brought right up close to a seedy tenement studio apartment somewhere in the bowels of Britain. The splendid in-your-face dialogue and the superb way it's interpreted by these stunning actors is immediately engrossing; a close relationship develops between the audience and these vulnerable characters that is almost osmotic- they draw you in immediately. The breadth and depth of Jordan's- and the actors'- emotional range is enormous. 
In a dirty, messy, small room rented by their often stoned or drunken diabetic mother, who lives elsewhere with an abusive lover, 16-year-old Hench and his 13-year-old brother Bobbie live alone together wrapped up in video games and pornography. They share one tee shirt.  Their apparently out-of-work mother visits occasionally looking for something to get high on or something to pawn. She also seems to enjoy any opportunity to spar with Hench or cuddle up too closely with Bobbie. Hench is defended and almost unreachable while Bobbie seems to be emotionally and intellectually backward- although physically affectionate in an indiscriminate way.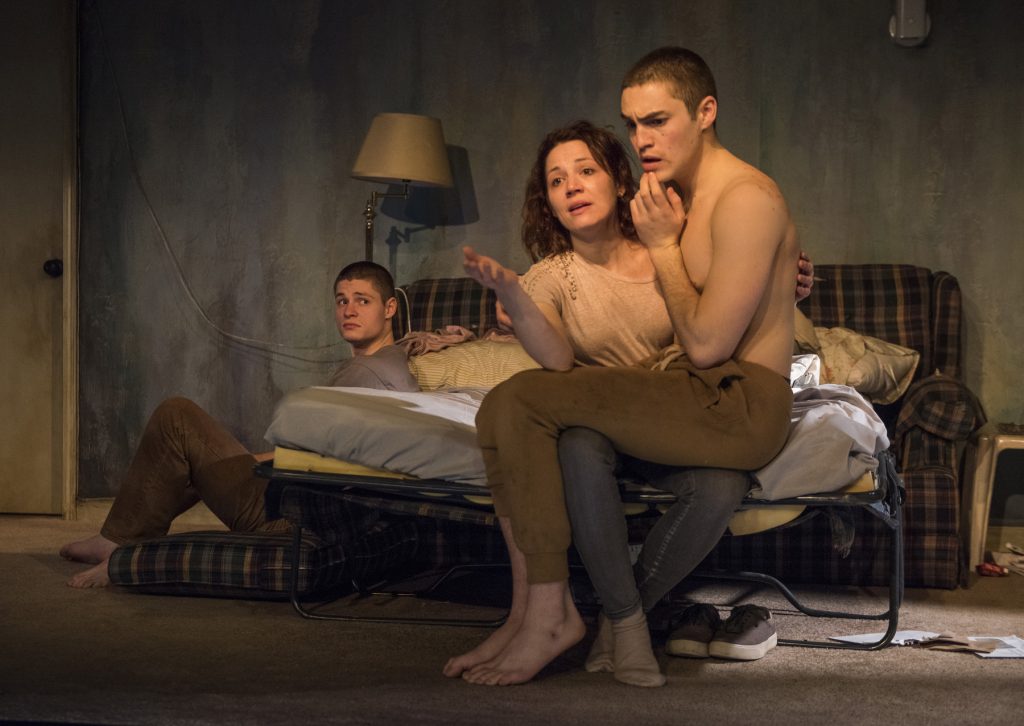 Unseen, yet at the center of our attention, barking away hysterically when emotions run high, is a locked away dog, Taliban (so named "because he's vicious … and brown".) Into the lives of these 2 boys, yearning for feminine affection- and sex- comes Jennifer, 16, a  Welsh girl that Bobbie's been observing out the window. Having heard Taliban barking, she has come out of concern for his plight. She stays to become a tender savior/friend, and to tell in a voice far older than her years her own saga of woe. 
Jennifer, Bobbie and Taliban are all inevitably sacrificed to the escalating violence that is rapidly approaching despite the depth and beauty that is somehow achieved through the innocence of the relationships. The thoroughly engrossing characters could not have come so fully alive without both exceptional writing in the first place and exacting compassionate direction in the second. Much kudos goes to Joe Schermoly for an engrossing set, to Sam Hubbard for choreographing the physicality at which Raven has always excelled and to Eva Breneman for the outstanding, nuanced British accents. The play was hard to watch yet easy to admire.
For information and tickets to all the fine performances by The Raven Theatre Company, go to www.raventhetre.org
All photos by Michael Brosilow.