" TERRITORY FOLKS SHOULD STICK TOGETHER, TERRITORY FOLKS SHOULD ALL BE PALS"!
Indeed, they should. A great many things should be as we wish. This is the seminal musical of American theater, containing an indestructible score of music and lyrics that first opened 81 years ago on the first of April, 1943, when America and its Allies were beginning to not lose a war in which the world was wholly engaged. The Allied invasion of Normandy was more than a year away. Pearl Harbor was a mere year and half in our collective rear view. If ever the American theater could provide an uplifting experience on the Great White Way, the time was perfect for the adaptation of Lynn Riggs' modest success of 1931: "Green Grow The Lilacs" as perceived through the prism of The Theatre Guild . It suggested to Richard Rodgers and the man who penned the lyrics for what was nearly two decades before, the most beloved of American Musicals, "Showboat", with Jerome Kern, Oscar Hammerstein, and create a new experience in our evolving musical art form.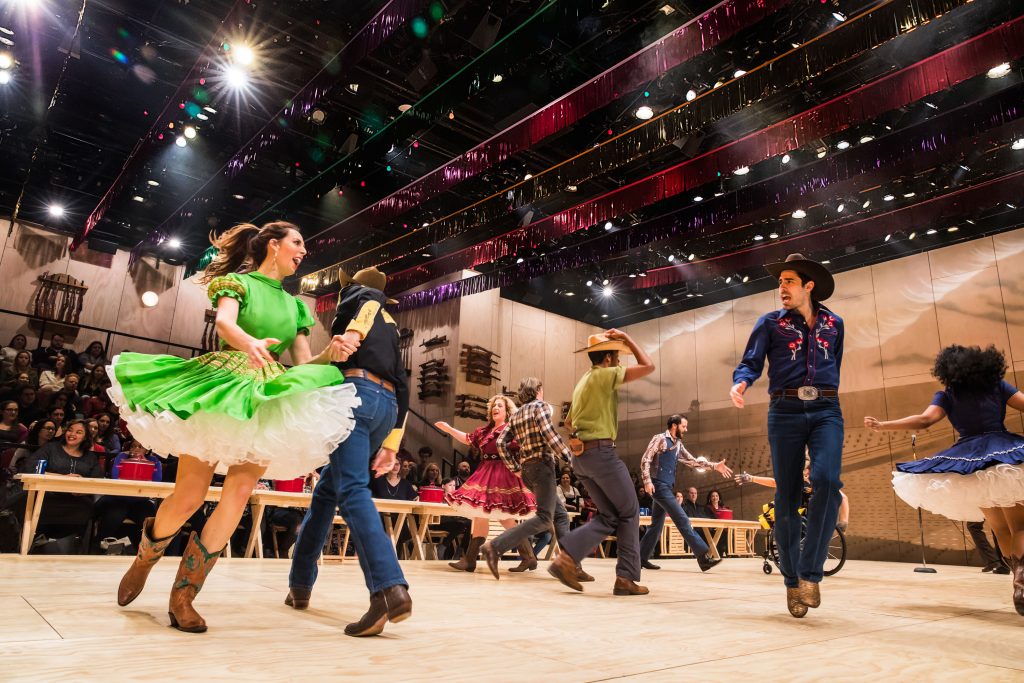 Rodgers was forced to abandon his collaborator of two decades, Lorenz Hart for the making of this new show. for several reasons. Chiefly, Hart knew that it wasn't his style at all. The other factors of Hart's dissolute life of alcoholism, and a perturbing habit of missing appointments, rehearsals, and a number of other proclivities forced Rodger's decision. It's a testament to Hart's innate integrity that when the new show opened, Hart found Rodgers when leaving the theater, hugged him ardently and said "Dick, it's the greatest and will run forever!"
The show the new and enduring duo originally titled: "Away We Go!" had a troubled out of town journey and among the items they discarded on the road was that title.
"OKLAHOMA!" opened at the St. James with little fanfare, plenty of empty seats so that soldiers on leave were led to free seats that April first night and then, of course, all hell broke loose with the critics and history was made.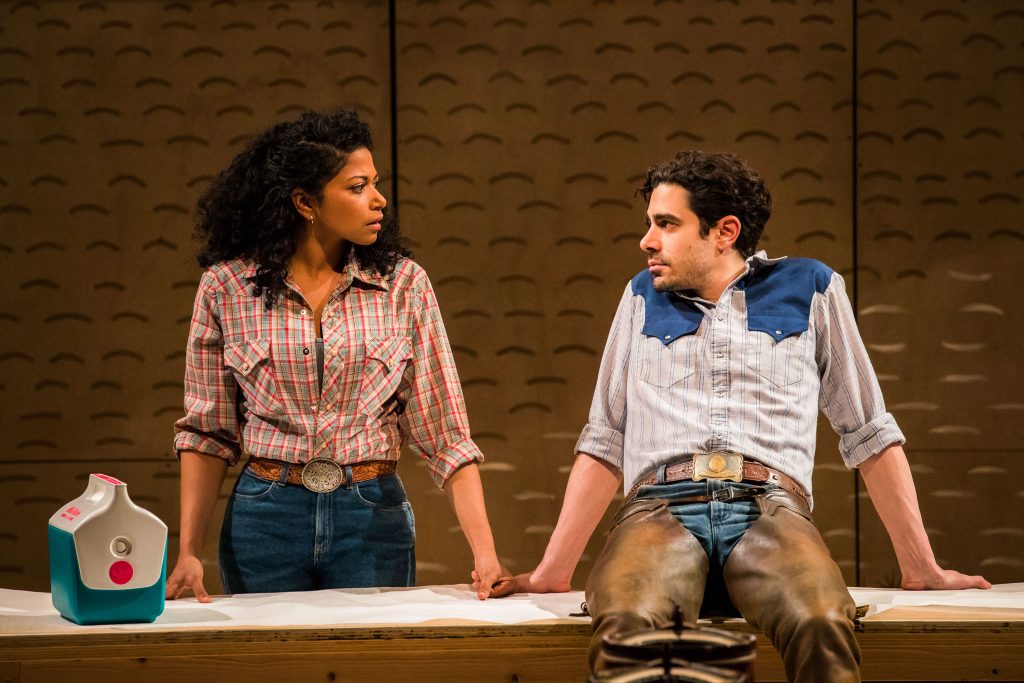 What all of this background has to do with what had played last year at St. Ann's Warehouse in Brooklyn when many a theatergoer and critic went all abuzz and what has just re-opened on Broadway at Circle In The Square is simply, EVERYTHING!  This vision of reevaluating an American classic is a passion project of one Daniel Fish, the director, who first manifested his conception back at Bard College in 2007 and has been honing it ever since, with the scrupulous blessings of the Rodgers and Hammerstein Licensing authority led by Ted Chapin.
With merely the admonition on Chapin's part in revising the revision of Mr. Fish of the story's climax, namely the death of the "adversary, Jud by, the" leading man", Curly, well in a sense, "Away they Went"!
Not two minutes went by into the matinee my theater comrade and I attended, I thought, "Well, this is masterful!" That initial impression merely deepened as the 2 hours and 45 minutes, replete with an intermission that features rather delicious corn bread and chili on stage for all the patrons to share in their School Building Charity Lunch Social of the second act. Each of the performers gives a full-throated authority in this re-instrumented musical. Rather than Light Opera as was originally scored, it's now more befitting a Light Grand Ole Opry!
Curly himself, (DAMON DAUNNO), plays the guitar with acceptable proficiency and sings with a Hank Williams hound dog charm sans the tragic overtones, until perhaps the startling,to say the least, ending. Broadway veteran, MARY TESTA is a feisty and funny Aunt Eller. REBECCA NAOMI JONES is a marvelously conflicted Laury. JAMES DAVIS is an hysterically amusing Will Parker who could not be more "up to date". ALI STOKER (Ado Annie) is a conspicuous presence in multiple ways, as much for her brilliant comic deliveries , vibrant vocal renderings, and the unmissable fact that she happens to be wheelchair bound, yet boundless in sex appeal, humor, and so innate a charm, that her chair disappears before your eyes as you are caught up in her
overall allure as much as it does to Will Parker. WILL BRILL, gives the duo of Will and Ado Annie a run for their comic money with his Ali Hakim Peddler, providing a characterization that probably rivals what Hammerstein first envisioned what the role could be when he conceived it initially for Groucho Marx, before it was ably conveyed by the great Joseph Buloff, of the Yiddish Theatre IN 1943. And then, there is PATRICK VAILL, whose Jud Fry is simply brilliant! :Touching, tender, empathetic, truly tragic, delivered by an actor of serious Shakespearean training all the while providing an Oklahoman of unimpeachable integrity. He is utterly mesmerizing.
Music by RICHARD RODGERS, Book and Lyrics by OSCAR HAMMERSTEIN. Based on The Play: "Green Grow The Lilacs" by LYNN RIGGS. Original Choreography by AGNES DE MILLE. Scenic Design, Laura Jellinek; Costume Design, Terese Wadden; Lighting Design, Scott Zielinsk; Sound Design, Drew Levy; Music Director and Additional Vocal Arrangements, Nathan Koci, Orchestrations, Arrangements and Music Supervision, Daniel Kluger; Choreographed by, JOHN HEGINBOTHAM; DIRECTED BY DANIEL FISH.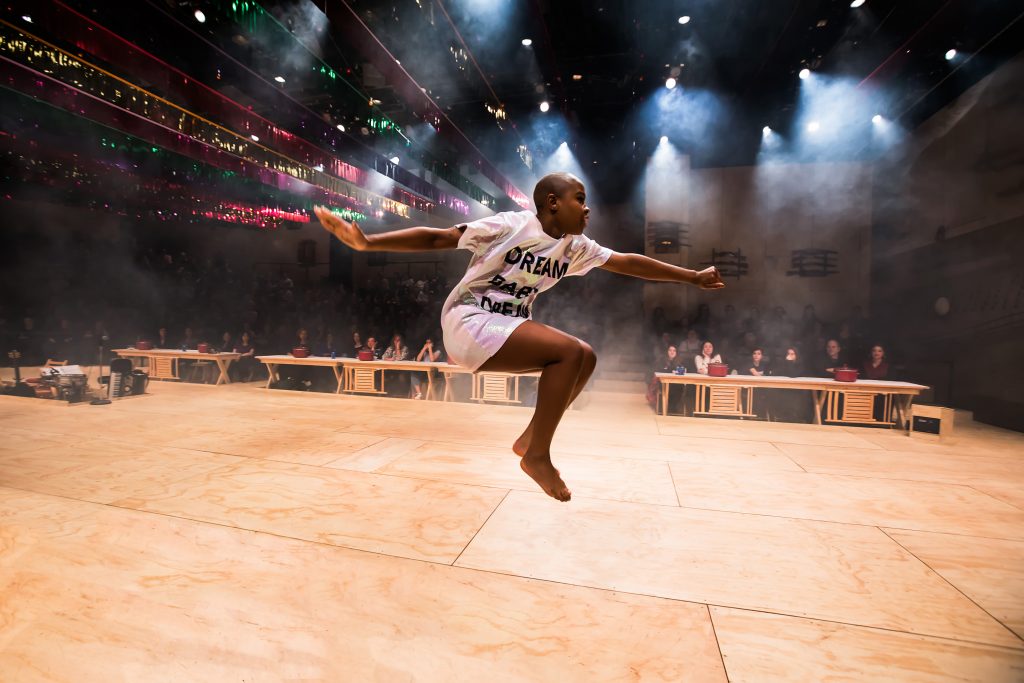 ALL of the aforementioned players warrant Tony nominations, and should any of them win, the New York Theater community in unison, should proclaim: "OK!" As for you, theatergoer, 50th St. by 8th Ave.Circle In the Square…. Now GIT!
The Bard Summerscape Production of RODGERS AND HAMMERSTEIN'S OKLAHOMA !is at Circle In The Square on 50th St. (8th Ave. -Broadway) New York City
Oklahoma!, which opened April 7th as a limited engagement, will now have tickets available through January 19th, 2020. Tickets are available at the box office, www.telecharge.com or by calling (212) 239-6200.