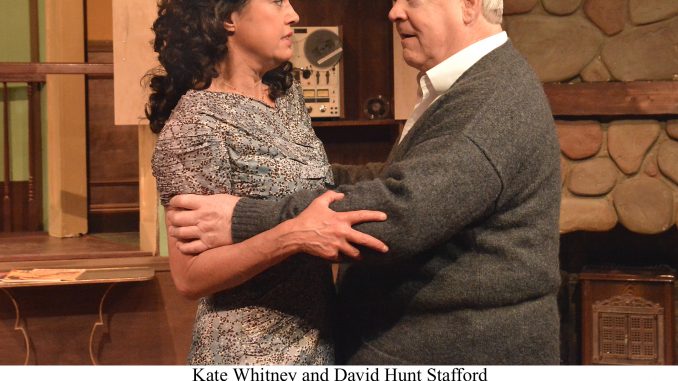 THE SOUND OF MURDER premiered in 1959 in London, where it received barely lukewarm reviews and quietly disappeared from the stage. In the theater atmosphere of the 1950's, a play that wasn't about angry working-class men (a la "Look Back in Anger") just wasn't going to make it. Despite this temporary setback, playwright William Fairchild remained a prolific writer who penned multiple well-received scripts for stage, screen, and television; he also excelled as a director and actor before his death in 2000. One of Fairchild's lesser-known and even obscure works, THE SOUND OF MURDER rises from the ashes to delight fans of mystery almost 60 years after its debut. Courtesy of producer/star David Hunt Stafford, this "hidden gem" is given new life by the Theatre 40 crew.
Charles Norbury (David Hunt Stafford) is a phenomenally successful author of children's books. Although he claims to understand the way youngsters' minds work, the sad fact is that Charles hates kids. In fact, his petty, often cruel personality has set him apart from most of humanity. Only his loyal secretary Miss Forbes (Roslyn Cohn) seems to hold him in any kind of esteem. Charles pretty much hates everybody, especially his wife Anne (Kate Whitney), whom he disdains, mistreats, and even gets physical with on occasion. But Anne would probably tolerate her role in life if only Charles would agree to have children. Given his attitude towards paternity and kids, Charles' response seems a no-brainer. Is it any wonder that Anne seeks affection from a faithful lover, Peter (Gabriel Oliva)? Charles doesn't seem to mind the liaison – until the couple asks for a divorce so that they can marry. Get set for the fur to fly. There seems to be only one way for the loving pair to be together – and that is in a world where Charles Norbury doesn't exist. The couple begin to consider possible ways to make that happen. Is the perfect murder possible?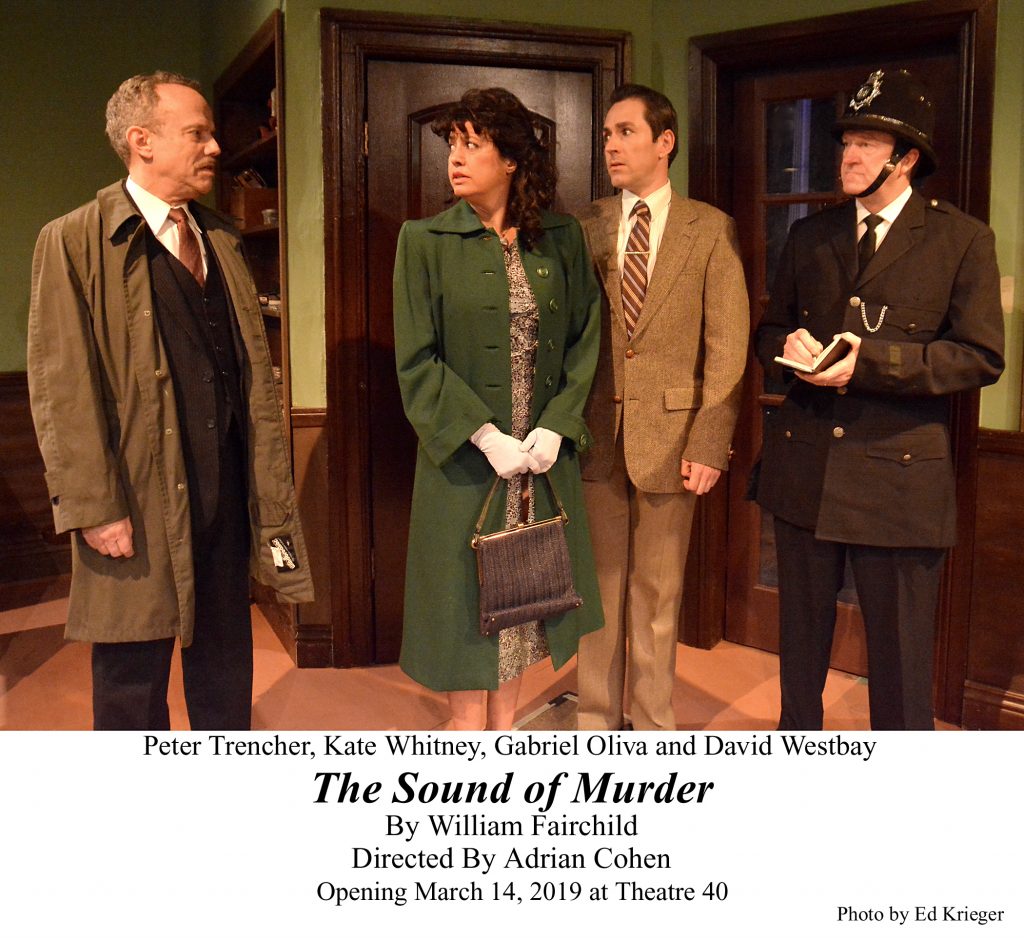 Directed by skilled Adrian Cohen, THE SOUND OF MURDER is a classic English mystery which twists, turns, and explodes with the unexpected. The result is a gripping and fun yarn which will appeal to inveterate mystery buffs as they try to figure out what will happen next. The cast does an excellent job of keeping the story moving to its inevitable conclusion. Special kudos to David Hunt Stafford, a man you will love to hate. Although by today's sophisticated standards, the play may seem a little corny, it's still lots of fun to try and second-guess the author and other members of the audience.
As always, Jeff G. Rack's set design hits just the right note, with Michele Young's costumes and Judi Lewin's hair/wig/makeup design adding to the mood. And let's not forget the consistently excellent lighting by Brandon Baruch and sound by Joseph Slawinski, who has also provided some scary original music to go with crashing thunder and blazing lightning.
THE SOUND OF MURDER runs through April 14, 2019, with performances at 8 p.m. on Thursdays through Saturdays and at 2 p.m. on Sundays. Theatre Forty is location in the Reuben Cordova Theatre, 241 S. Moreno Drive, Beverly Hills, CA 90212. Tickets are $35. For information and reservations, call 310-364-0535 or go online.