With a start in life straight out of an old-time country ballad (born inside a jail to a single mother serving time for a minor offense), Raleigh Keegan was adopted at just a few days old into a loving family in southern Ohio and through hard work and dedication has just kept rising ever since.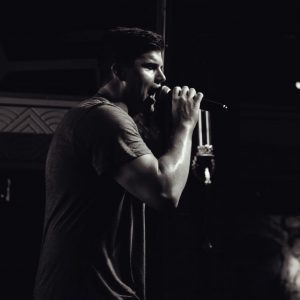 Teaching himself to play the piano at ten years old, he went on to high school and through dedication to music rose to statewide first chair on jazz trombone. At the same time, he played football with the same kind of discipline, earning himself a spot as tight-end for four years at Georgetown College in Kentucky where he got his degree in Exercise Science and winding up as a successful personal trainer.
But despite his success, he just couldn't let music go, and it was the inspiration he drew from Zac Brown Band's Uncaged album in 2016 that convinced him he had to try to make music his full-time career.  A self-taught pianist, guitarist, and singer, he spent a year writing more than 80 songs, while still at his job as a trainer.  He played some one-off shows, sold his house, moved to Nashville, and immediately started co-writing with Nashville songwriters Jason Matthews (Luke Bryan, Billy Currington, Trace Adkins) and Will Nance (George Strait, Brad Paisley, Joe Nichols).
In January of 2018, he released his debut EP, One of These Days. It featured his first single "Lookin' Like That" released this past Summer along with his first music video.
2018 was a great year for Raleigh.  He was featured in Nashville Lifestyles' "25 Most Beautiful People" list in their October 2018 issue alongside award-winning recording artist Kane Brown and James Shaw, the hero who took down a mass shooter at a Nashville Waffle House. He's grown his social following to 100,000 avid fans and his songs have been added to 2,000 Spotify playlists. Raleigh capped off his year in New York playing the New York Stock Exchange's 95th Annual Tree Lighting.
Now Raleigh Keegan is currently in the studio with Ryan Gore (Thomas Rhett, Kacey Musgraves, Sam Hunt, Brett Eldredge) and gearing up to release new music this Spring, but first, he's coming to Chicago for a big show at Firewater Saloon in Edison Park Friday, March 15. You might want to start off your St. Patrick's Day festivities with a little live, original country.  You can get on the Raleigh bandwagon from the very start!
Raleigh was kind enough to answer some questions in advance of his show at Firewater.
Splash: Your background as a musician is in jazz (first chair trombone in the state of Ohio!). Your EP is extremely polished for a first release. Your website says you're working with seasoned Nashville pros.  How do you think all of this has influenced your sound?
Raleigh: Great questions. I think playing jazz gave me a deeper knowledge of music when it comes to slightly more complex chords and bringing some of that to Country. I think working with Nashville pros who have helped me bring my creative vision to has been huge. It's been amazing to put my input into the music and have them be able to translate that into the sound that you now hear.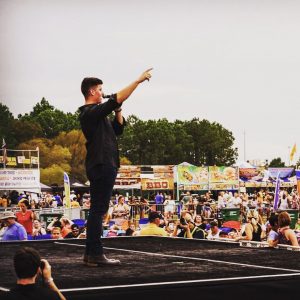 Splash: As a writer are you contributing more to the lyrics or melodies, or both?
Raleigh: Both, but recently I've really been digging deep into lyrics and learning how to say something both creatively and clearly all at the same time. It's harder than you think!
Splash: The songs on your EP are very relationship-focused. What was your inspiration for them?
Raleigh: My wife, she's one of the greatest joys of my life and we were newly married at the time. She's a swell gal.
Splash: Cincy has a great music scene. How did growing up there influence you as a writer and singer?
Raleigh: Really for me, it was my friends who were in the band with me in high school. All of us listened to John Mayer on repeat, and then, later on, I was introduced to Country music so I have been trying to combine some influences to make my own sound.
Splash: You're playing a lot of club dates, what do you enjoy about playing clubs and club audiences in particular?
Raleigh: People get amped up!! We have so much fun on stage and it just feels like everyone's guard is down. We are there to have fun, and people seem to easily join in on that with us.
Splash: Do you notice a difference in Country music crowds in the north vs. the south?
Raleigh: I think that the crowds in the north have a huge appreciation for what we do because they aren't as close to Nashville as the South is. Country music is more of a hot commodity in the north for sure. Great people in both places though for sure!
Raleigh will be playing on Friday, March 15 at Firewater Saloon, 6689 N. Oliphant Ave, Chicago, IL.
For more information, visit RaleighKeegan.com and follow him on Facebook, Twitter, Instagram, and YouTube.
Stream his music on Apple Music, Spotify, and YouTube Music.
Photos by Chrissy Yoder with additional photography provided by Raleigh Keegan.