There's a reason Verdi's masterpiece is such a regular part of most opera companies' repertoires. With its glorious, complex score; memorable, hummable melodies and relatable, human story this opera is the total package.  It's an utter pleasure for dedicated opera lovers who adore the delicate orchestration and the brilliant singing and would make a perfect introduction to opera for someone who might not be sure whether opera was for them.  This crowd-pleaser is for everyone.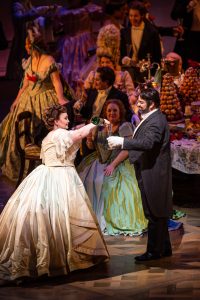 And so is the current production of La Traviata at the Lyric.  It hits on all cylinders. Glamourous costumes, excellent acting and beautiful singing, bring out the opera's dramatic love story based on the real-life eleven-month love affair between courtesan Marie Duplessis and Alexandre Dumas Fils (composer Franz Liszt was another of her celebrated lovers).  Dumas immortalized her after her death from tuberculosis at age 23 in his roman a clef La Dame aux camelias. Five years later, his novel had been transformed into a play and was on stage at the Vaudeville in Paris.  It was there that Verdi encountered her story.  While Dumas called her Marguerite Gautier, Verdi changes her name to Violetta Valery and the rest is history.
Verdi's opera, like Dumas' novel, puts its heroine front and center. Whoever plays Violetta has to carry the opera, as she is in nearly every scene.  The Lyric has hired Albina Shagimuratova to play Violetta, but at the performance I attended, she was unable to sing as she has laryngitis.  While she is certainly wished a speedy recovery, the Lyric provided a seamless production with Emily Birsan as Violetta, stepping in for the ailing Ms. Shagmiratova.  And Ms. Birsan, an alumna of the Lyric's Ryan Opera Center, was so very, very good, I hope Ms. Shagmiratova allows herself a full recovery before attempting to return to the stage so Ms. Birsan can be seen in this role.  She is absolutely mesmerizing as Violetta.
From the moment we meet Violetta at the beginning of the opera, she is already ill with the tuberculosis that will ultimately kill her.  She has been ill and is returning to society with a sumptuous party. Cait O'Connor's elaborate costume designs make a splash in this first scene with Violetta's frothy, angelic gown and all of the party guests in their fabulous, 19th Century fairy tale costumes. Each scene brings a special look, which adds to the magic of this production.   But it's Emily Birsan's fragile sweetness and fluid voice that centers the entire thing from the very first scene.  This opera is about Violetta, and the Lyric has a superb one here.
At the party, Violetta is introduced to a young writer, Alfredo Germont (ably played by Giorgio Berrugi in his Lyric Opera debut), who has been inquiring about her health every day during her illness.  He professes his love for her, and Violetta scoffs.  Alfredo's friend, Gastone has Alfredo lead them in a drinking song, the famed "Libiamo ne' lieti calici". While the rest of the guests go to another room to dance Violetta remains behind because she is feeling faint.  Alfredo joins her and professes his love again. She wavers and gives him a flower telling him to return when it's faded—the next day. He leaves, as do her other guests, while Violetta wonders if true love could happen to her and halfheartedly vows to pursue only pleasure instead.
Act II begins five months later after Violetta and Alfredo have moved to the country where they are living together in bliss.  He learns from Violetta's maid, Annina, portrayed by the exceptional Lauren Decker, that Violetta has been selling her possessions to pay their bills.  He runs off to the city to remedy the situation.  As he leaves, the masterful Zeljko Lucic enters the scene as Giorgio Germont, Alfredo's father. He has come to persuade Violetta to give up his son, as he has a daughter who is about to be married and whose fiancée will call it off if her brother is living with a courtesan.
What is remarkable here is that the focus is on what society will think, not condemning or berating Violetta. From the first moment, Mr. Germont recognizes she is a good person who genuinely loves his son. Mr. Germont appeals to her compassion and concern for the well-being of others.  Her status as a fallen woman will taint them in some circles.  But her status as a fallen woman doesn't earn her condemnation or rudeness or bad behavior from Mr. Germont.  It's really remarkable for the time, and most likely reflects the love Dumas put into his memoir of his lost Marie, and the singing here between the powerful Lucic and the equally powerful Birsan is some of the best in the opera.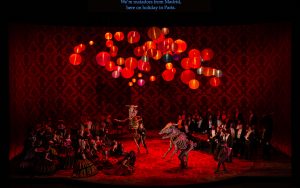 Violetta leaves, returning to her former lover, the Baron Douphol, wonderfully portrayed with great dignity by Ricardo Jose Rivera.  She attends a themed party thrown by her friend, Flora, the luminous Zoie Reams. The women arrive at the party dressed as Spanish ladies.  A party of dancers reenact a bullfight and there are some truly remarkable bull puppets on stage, all designed by Cait O'Connor.  Alfredo arrives in a jealous rage and humiliates Violetta by repaying her the money she spent on their household by throwing it at her in public as if paying her for her services. His father arrives and condemns his horrible behavior, siding with Violetta, as does everyone else. Again, a remarkable thing for the era, and something that makes this opera so very easy for a modern audience.  It's a story of a courtesan that isn't tainted by hateful misogyny. Violetta is a good person and everyone agrees she should be treated well.  Alfredo is thrown out and the Baron challenges him to a duel. Violetta despairs he'll never understand how she sacrificed herself for him.
In act three Violetta is dying in her Paris bedroom. Her doctor speaks reassuringly to her, but tells her maid Annina it is too late and Violetta has only hours to live. Violetta asks Annina to give half her remaining money to the poor. It is Carnival time and there's a celebration going on outside, but she is too weak to see it. She clings to letters written to her by Mr. Germont, telling her that he's told Alfredo of her sacrifice, but as Alfredo wounded the Baron in their duel, he's been traveling abroad.  Mr. Germont vows they will both come to see her soon.
Violetta knows she's dying and here Ms. Birsan is absolutely glorious as she sings the powerful "Addio del passato".  It is an absolutely riveting performance both vocally and in her superb acting and the audience at the Lyric hung on every note.
Annina comes back in followed by Alfredo, and the joyful Violetta tries to rouse herself.  She asks to go to church to praise their reunion and to try to live, but she is too weak. She and Alfredo profess their love.  Mr. Germont arrives and his horrified to see her so ill. Violetta gives Alfredo her locket and tells him to give it to his future wife as a token of love from a woman she'll never meet, but who will be praying for her happiness always. Suddenly, Violetta's pain is lifted and she tries to rise, only to collapse, dead of her disease.
There was a standing ovation, of course, and you'll give one too when you run out to see this production. Tickets are available at the Lyric box office.
Photography by Todd Rosenberg