Creation comes in many forms. Perhaps the two most important things human beings create are art and human beings. At least, those are the two forms of creation at the center of How to Catch Creation by Christina Anderson, directed by Niegel Smith, and currently being produced in its world premiere at the Goodman Theatre.
Griffin has a problem: he wants to be a father, but he's a single black man who just finished serving 25 years for a crime he didn't commit, so getting approved for adoption or surrogacy is no simple task, in spite of his sweet and caring nature. Riley has a problem, too: her painter boyfriend Stokes just got rejected from his 13th MFA program and has fallen into a depression.
Caught in the cross-hairs of these two problems is Tami, Griffin's best friend and the head of the art department at the school where Riley shows up demanding to know how Stokes needs to improve to be accepted. On the other side of the century, writer G.K. Marche struggles to balance domestic life with her girlfriend Natalie with churning out the 1960s novels that Stokes, present day, has become obsessed with. Sound complicated? Don't worry; Anderson's clear writing makes the interwoven storylines easy to follow.
It helps that the story is grounded in perhaps the most authentic friendship I've seen onstage: that of Griffin and Tami, who've supported each other through their darkest hours and who've come out with the knowledge of exactly how to push each other's buttons while knowing that underneath, a deep platonic love holds them together. Keith Randolph Smith (Griffin) and Karen Aldridge (Tami) have an irresistible chemistry from the first scene, and it's impossible not to root for them, and their friendship, to succeed. Meanwhile, Maya Vinice Prentiss is bold and unapologetic as Riley, who is so bright and appealing it's hard to look away from her.
There's something Angels in America-esque to the story, too, with parallels drawn between sets of characters using side-by-side scenes and overlapping dialogue, a technique that's chilling when it's done right, and here it's done right. Set design by Todd Rosenthal makes this possible with a pair of rotating sets, which create parallel spaces for the parallel scenes, as well as offering a unique kind of scene transition as the sets do full rotations side by side while action takes place. Further adding to the transitions and the world of the play overall is sound by Joanna Lynne Staub and music by Justin Ellington, which incorporates beats with the clicking of a typewriter in an alluring combination.
How to Catch Creation is like one of those layer bar recipes on Pinterest; at first glance, it seems like you're getting a layer of cookies and another of brownie, but once you really start to dig in, you find the layers of cake, frosting, chocolate chips, shredded coconut, and blondie that make you realize this is no run-of-the-mill dessert—this is something special. Packed with smart writing, great acting, and beautiful design, How to Catch Creation is a decadent play not to be missed.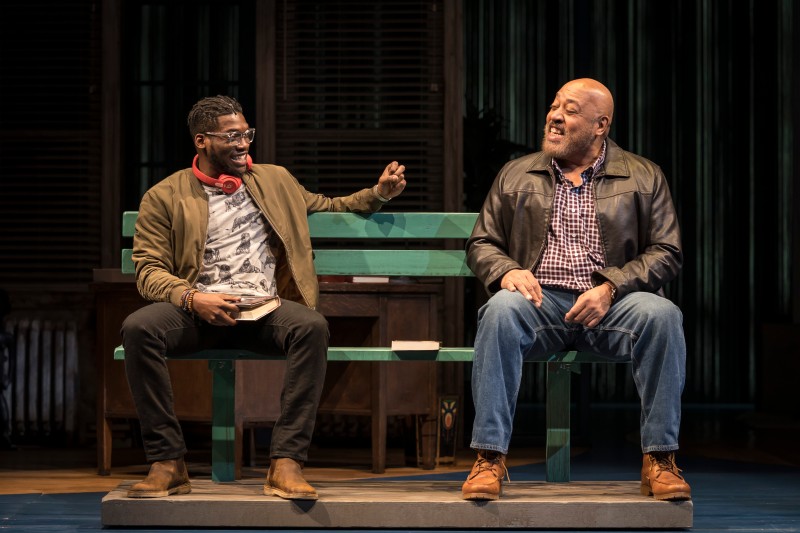 Ticket Information
Location: The Goodman Theatre, 170 N. Dearborn
Dates: January 19-February 24, 2019
Tickets: $20 – $70; subject to change. Available at The Goodman Theatre's website, by telephone at 312.443.3800 or at the box office (170 N. Dearborn).
All photos by Liz Lauren.