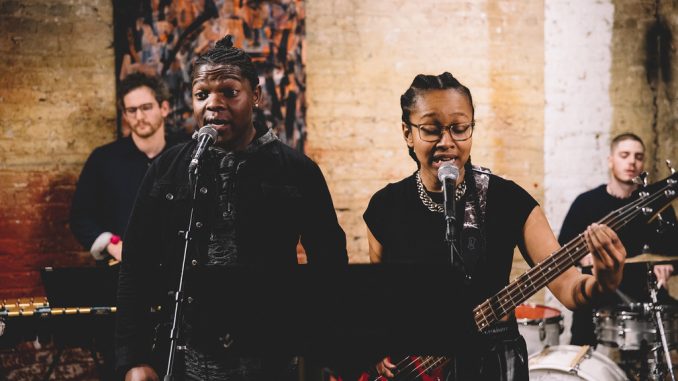 On January 20, 2019, composer, singer, producer, complex collaborator and multi-instrumentalist Ayanna Woods performed as a guest of Fulcrum Point New Music Project's (FPNMP) Aux In: All In series in a program called All Ayanna at Fulton Street Collective, 1821 W Hubbard Street, Chicago, IL. The Yale-educated Woods has notably worked with Manuel Cinema, Third Coast Percussion, and the Chicago Children's Choir, and creates compositions that  "explore the spaces between acoustic and electronic, traditional and esoteric, wildly improvisational and mathematically rigorous."
Woods, who regularly performs at Constellation, has a lovely rich and mellow voice, plays a mean bass guitar, and thoughtfully introduces each piece. She composes both vocal and instrumental works that run the gamut from atonal/stark through spatial and breathy to sparkling and rhythmic and include rock/pop infused classical lullabies.The evening opened with softly inspired improvisational music by Sam Hasting, whose guitar sounded like an acoustic piano, and Eddie Burns, whose soft percussion grew in intensity before devolving into silence; they ushered in the diverse musical offerings that followed.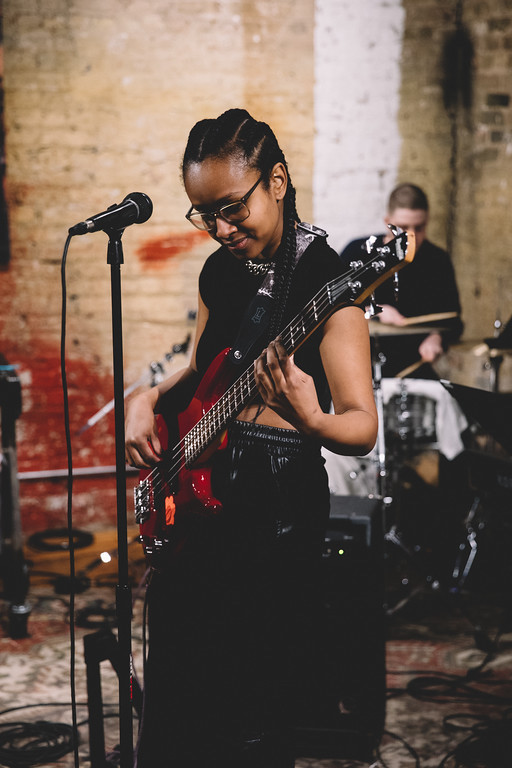 The program featured sets by guest artists ZRL(Zachary Good, violin; Ryan Packard, vibraphone; Lia Kohl, cellist) performing Woods' unusually phrased original compositions; Woods singing with the chime-voiced Akili Butler and impressive  tenor Julian Terrell Otis; and Ayanna solo and evocative in her songwriting project Yadda Yadda. In addition, Chicago's vibrant Youth Poet Laureate E'mon Lauren recited her own deeply personal and rhythmic works.
In discussion with FPNMP artistic director Stephen Burns and Woods, she described  her music in terms of  "structured improvisation, vulnerability, metric modulations." This is a complex thinking artist, whose questing mind explores and produces a rich panoply of sound. Watch for her- and get out and hear her music!
AuxIn: All In is a series of pop-up concerts connecting rising professionals with emerging musicians throughout Chicago. Held in clubs and bars, each mixer features a unique line-up of new art music designed to stimulate curiosity and conversation.
Discoveries: Hear & Be Heard is a free, interactive contemporary music series that connects contemporary composers with the passionate public and engage them in lively dialogue about the creative process in programs filled with interactive contemporary music.
FPNMP's distinguished ensemble performs the featured compositions, giving life to the composers' intentions. Afterwards, audience members and musicians enter into a dialogue about the composers' inspirations and explore how music communicates feelings and concepts in the most effective manner. Then audience and musicians can share their insights, impressions, and feelings at a reception with wine, soft drinks, and appetizers.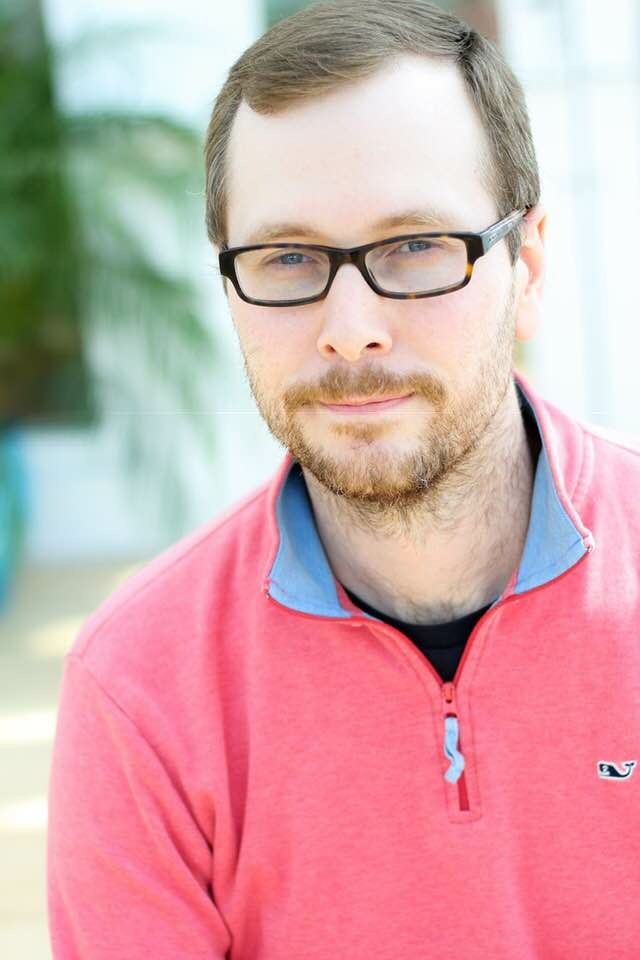 This reviewer had the opportunity to interview interview percussionist John Corkill, Instructor of Percussion Studies at the Merit School of Music and Loyola University Chicago, and an Aux  Board Member of FPNMP who advised that he "Is taking a lead role in curating and programming the Aux: Inseries as well as one of the Discoveries concerts." He added, " I have and will be performing in a few of the shows as well."
As to his goals for the two series, he advised, "The hope is to attract a new generation of working professionals who are new music thrill seekers or are looking for new artistic experiences. Further, we want to create a community of artists, audience members, patrons, who are open to discussion and engagement with one another about different artistic experiences. Basically, we want to cultivate an environment in which everybody's curiosity will be given free rein."
Corkill added, "We want to provide performances in non-traditional performance venues or budding arts spaces; this will allow for engagements in multiple neighborhoods throughout the city. It also facilitates the concept of pop-up concerts; people can attend in a casual way, have a drink, meet new people, and ask questions!"
He reflected, "It's important to find programming that balance on 'the fulcrum point', that provides accessibility and openness to engagement with musical forms/genres that might be perceived as more abstract or adventurous. For instance, our first Aux-In focused upon ambient music.  We used some transcriptions of Radiohead tunes paired with works by composers Christopher Cerrone (Pulitzer Prize Finalist), Richard Reed Parry (Grammy Award Winner/Indie rock composer and instrumentalist), Timothy Andres, and Peter Garland. The goal was for the works to share a common thread of ambient music, but to see the variety of musical genres/fields that these composers create, and how much crossover exists within these genres.  I have always felt that most people are interested in getting out of the house to experience something adventurous and new, but sometimes providing some familiarity or common ground help motivate that decision to give something a try."
Corkill continued, explaining the relationship between the FPNMP main series shows and the 2 series, "We try to program the Aux:In and Discoveries events as natural offshoots from the main FPNMP shows.  Our September Discoveries show focused on solo flute works by Latin composers and performers in preparation for the main series show in October with FPNMP collaboration with Javier Alvarez and electro-acoustic music. Our November Aux-In focused on electro-acoustic music featuring music for electric guitar and percussion that also led into the main series Peace Concert in December and intertwined the Juju exchange, FNMP members, and the Chicago Children's Chorus directed by Josephine Lee.
As you know, January focused on Ayanna Woods, a former Chicago Children's Chorus member and a budding new music composer, artist, singer, who worked in many genres.  March will pick up from that with a Discoveries show about improvised music featuring Ryan Packard  and Flux Bikes (Rob Frye and Ben Lamar Gay) that will allow audience members to get a deeper insight into the makings of that kind of music through discussion and audience participation.  FPMNP main series will be doing improvised music with film.  Our April Aux:In then focuses on blending notated music with improvisation using bubble wrap, paper, etc through acoustic and/or processed amplification, which will setup for the main series show focusing electroacoustic works, followed by a June Discoveries show curated by Lia Kohl."
Corkill summed up by pointing out, "Similar to the main FPNM series, our aims are strongly rooted in inclusion and diversity of composers, performers, artists featured on the series exploring and asking 'What is New Music' through contemporary compositions, improvisation, electronic music, interdisciplinary collaborative works and much more".
The next Discoveries event will be Ryan Packard & Flux Bikes, March 1, 2019, from 8 p.m. to 9 p.m at The Fulton Street Collective, 1821 W. Hubbard St. #307. Tickets are $10.
For more information to all the great programming of Fulcrum Point New Music Project, go to www.fulcrumpoint.org
Unless otherwise noted, all photos by Julie Dietz