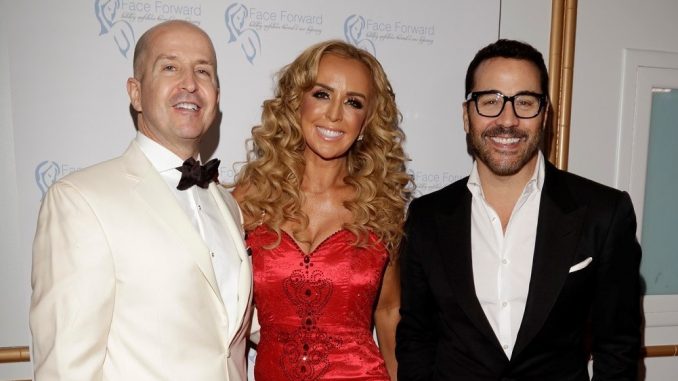 Deborah and Dr. David Alessi, founders of the Los Angeles nonprofit Face Forward, are on a mission to make a difference in the lives of women, children and men who have been victims of domestic violence, human trafficking and other cruel acts. The organization has provided pro bono physical and emotional treatment to survivors since 2007, and funds from their annual gala allow them to continue their invaluable work benefiting victims through education and rehabilitation.
The average cost of each patient runs approximately $5,000, so events are key to raising much needed funds for airfare, accommodations, medicine, aftercare, surgery center fees, therapy and meals while patients are in Los Angeles.
This year's La Dolce Vita-themed gala, which took place at The Beverly Wilshire Hotel, included award-winning actor Jeremy Piven, who hosted the event and started off the evening with his much anticipated comedy routine. Guests had the opportunity to bid on luxury getaways from Micato Safaris and Crystal Cruises, a one-of-a-kind experience at Niyama Private Islands Maldives, and priceless gifts from Roberto Cavalli and Mont Blac Executive Car Service.
Other Hollywood VIPs included Lana Parilla (Once Upon a Time) who presented the "Beacon of Hope Award" to Caitlyn Jenner, Sara Gilbert (Rosanne), AnnaLynne McCord (90210), Christine Devine (FOX 11 News) who emceed the red carpet affair, and Grammy award-winning artist, Ne-Yo, who closed out the evening with an unforgettable performance.
The star-studded affair raised over $500K, and will greatly impact the organization's new expansion of providing reconstructive surgery and counseling services to war veterans.
Since Face Forward's inception in 2007, the organization has worked with community leaders around the world to identify victims of violence who are working toward recovery, yet carry the burdening physical evidence of past abuse. Face Forward does more than just provide pro bono reconstructive surgery to adults and children who have suffered traumatic and severe physical abuse; they also create a welcoming and safe environment for these survivors to start a fresh new life, and reclaim their confidence. The organization co-founders, Mrs. Deborah and Dr. David Alessi, both donate their time and skills 100% to the organization to provide Face Forward patients with the necessary surgeries and counseling services. Face Forward is a 501(c)(3) non-profit organization, and funds raised by the organization help with ancillary costs, travel expenses for patients including airfare, accommodations, transportation, nursing aftercare and more. For more information go tofaceforwardla website
Photo credit: Rony Armas