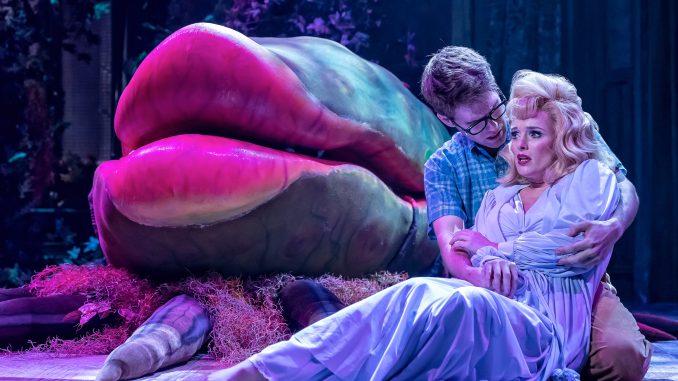 Days after seeing Drury Lane's Little Shop of Horrors, what stuck with me were the capillaries.
Audrey II may make its adorably ominous debut as a little potted bit of felt, no bigger than one of my late grandmother's aloe vera plants. But by the end of Act I, Audrey II has grown to the size of a horse… and its lovingly sculpted lips are so detailed, they have capillaries etched across the expanse of Audrey II's very demanding, very hungry maw. The puppeteering by Matthew Sitz and the sensually deadly vocals of Lorenzo Rush, Jr. combine to make Audrey II both thrilling and funny, a genuine threat to Seymour and Audrey, but one that makes the audience giggle giddily when it growls, "Feed me all night long."
Until Audrey II makes its entrance, the Skid Row set is appropriately dingy: Kevin Depinet's Mushnik Flower Shop appears to be coated in a layer of grime from years of decline and neglect, its windows hung with ill-treated horizontal blinds missing several slats. It's hardly a surprise when Mr. Mushnik (the always terrific Ron E. Rains) takes out the cashbox and blows away a cloud of dust. Occupying their own equally sad corners of the shop are shy, awkward Seymour and dreaming Audrey. While I understand that Little Shop is, by design, a lighter musical, one based on a pulpy sci-fi movie full of songs that ape the smooth sounds of 1960s Motown and crooner pop music, when Kelly Felthous and Will Lidke make a meal out of "Suddenly, Seymour," it made me wish there were at least one more duet for the two of them to share.
Indeed, Felthous is fairly incandescent as Audrey. Dressed in competing floral and feline patterns, rushing about in precarious heels, she's a woman mistreated by her nogoodnik greaser dentist boyfriend Orin Scrivello, D.D.S. (Steven Strafford, also a riot as a parade of time-period-and-genre appropriate one-off characters, including one seemingly based on Charles Nelson Reilly), but not lacking in hope.  Her conversation with the glamorous musical trio doing double duty as "urchins" (Melanie Brezill, Candace C. Edwards, and Melanie Loren, a flawless unit) leading up to a soaring "Somewhere That's Green" give a glimpse into what might have been had Audrey had more sisterhood and support in her life.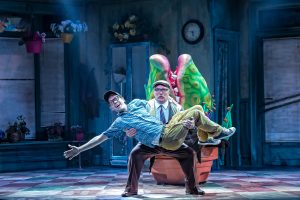 The show is enjoyable–an autumnal experience equal parts funny and ooky–but I suppose there's a reason my focus, in the end, drifts back to Audrey II's capillaries. In the final number, "Don't Feed the Plants," leaves the audience with the suggestion that the danger of Audrey II and all it represents–greed, the baser instincts of humanity–are still out there, waiting for each of us, and it isn't as though the production hasn't led us to the moment via the text, but it gave me pause as the number moved along towards the end of the show to its dark conclusion. Not every revival needs to be entirely viewed through the lens of the now, but it almost felt as though this version too closely adhered to preceding stagings. Thinking over some of the subtext suggested by abusive Orin as Audrey II's first victim and the transition of the three African-American leads from girl group to aimless residents of Skid Row, perhaps some more pointed examination would have given the production more heft, truly giving the comedy some sharp, sour edge.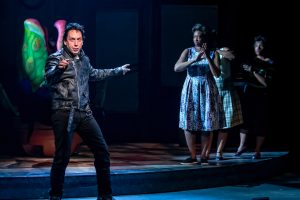 Drury's Little Shop is a fine production with strong attention to detail–again, back to those eerily realistic capillaries in Audrey II's lips–with strong performances by both leads…but at its conclusion, it left me (if you'll forgive the wordplay) hungry for a little more.