For me, Oktoberfest is one of the festivities that not only celebrates German tradition but also is a reminder that fall is just around the corner.
Hofbrauhaus Chicago kicked off its 6th annual Oktoberfest celebration on September 14 whose celebrations run through October 28.
It was my first time at Hofbrauhaus and walking in, I didn't expect a space that was so large. In addition to the  large communal dining areas, there was also a bar, stage, outdoor space, and gift shop. Hofbrauhaus prides itself on being Chicago's on-site German microbrewery.
Once seated I was looking forward to trying some of the food. Along with the regular menu, there are daily food specials. I'm glad I started off with a pretzel that came with Obatzda cheese, sweet mustard and onion mustard. It was yummy and would go back for the pretzel and Obatzda alone. After that came the Oktoberfest "Roast" plate which was pretty tasty too. The plate consisted of  a bavarian pork & beef specialty with Spätzle, vegetables and red cabbage. Unfortunately, I got full quick otherwise I would have loved to try the apple strudel or their black forest cake. It looked pretty good on other diners' plates.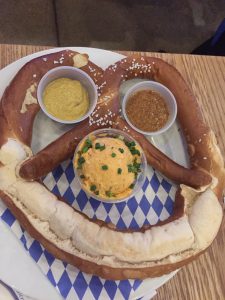 Hofbrauhaus adds to the ambience and experience by having lively entertainment. Playing at the Oktoberfest kickoff were the Keg Tappers. From playing traditional tunes to more modern ones, there was something for everyone. There that night was Skates, the Chicago Wolves mascot which the youngsters seemed to like along with Chicago Wolves President Mike Gordon who tapped the the keg for the seasonal "Oktoberfestbier" which is brewed onsite and is inspired by the original Hofbrauhaus in Munich.
It was a fun experience, and though I wasn't initially thrilled about communal seating, the entertainment with the Keg Tappers made sure everyone had a great time, encouraging patrons to stand on their seats bonding with linking arms, sing alongs, and they even paraded through the aisles preceding the keg tapping ceremony.
With an extensive food menu and beer, there is something for everyone. Along with the great entertainment and ambience, I will be back for sure and recommend it to anyone else too.
Hofbrauhaus Oktoberfest celebration includes a variety of authentic live  entertainment, family friendly activities, and celebrity keg tapping ceremonies every Friday night. During Oktoberfest, patrons will have the opportunity to participate in the famous "Masskrugstemmen" which is a stein holding contest. "Masskrugstemmen," which loosely translates to mean "the lifting of a liter mug of beer," in which the beer filled stein remains parallel to the floor using one arm only. The competitor who holds it out the longest is the winner.
Hofbräuhaus Chicago is located at 5500 Park Place in Rosemont's Parkway Bank Park. For more information about their location, gift shop and Oktoberfest festivities visit their website here.