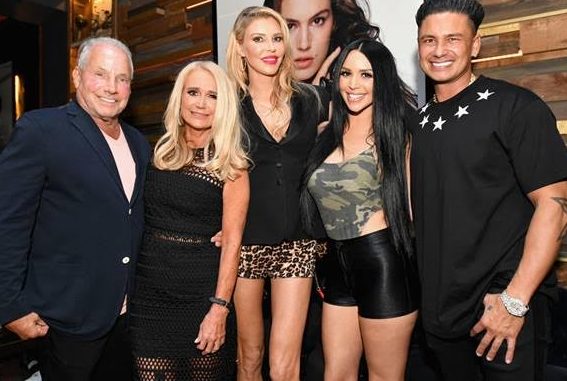 Paul "DJ Pauly D" DelVecchio is not entirely searching for love! The Jersey shore star opened up to Splash Magazines at the Marriage Bootcamp: Reality Stars kick-off party at Hyde cocktails in Hollywood, about his 5-year-old daughter Amabella Sophia, what he looks for in a partner, and his party tips!
"I see all my traits in her. She's running around, she's going to be a prank champion already. She knows everything already, she's smart," DelVecchio admitted to PeopleMagazine. "She also knows that I'm on TV and that I'm a DJ. She wants to do the same thing."
The show follows the lives of 6 celeb couples as they try to strengthen their relationship, communication and overall wellness. Throughout the course of the show celebrities are pushed to the limits and put through the ringer – all for love. The outcome, hopefully a promising successful relationship that is stronger than ever. Unfortunately, not everyone comes out on top. This season featured Pauly D and Aubrey O'Day, who had been on the show previously, tried the show for round 2, however their relationship did not stand the test of time.
"Some people just aren't right for each other and we learned that. I'm currently single and having fun touring, which is a lot to handle," Pauly D explains. When asked what traits he looks for in a partner, "loyalty, family values, sense of humor and they have to get my lifestyle." Easy as that! You wanna get with DJ Pauly D, meet him in Vegas with a bottle of Dom P!
Also in attendance, Puma and Quani from Black Ink Crew, who looked more in love than ever! The show must have strengthened their relationship as they walked the carpet barring a very noticeable baby bump! "We are 4 months pregnant, so the show must have worked," Puma quipped! "We understood each other a bit more since the show, we had to understand why we were talking to each other the way we were speaking to each other," Quani added. "The best piece of advice was from Dr. Ish Major and Dr. Venus Nicolino – which was learn to love, listen, and validate."
WE tv's hit series, "Marriage Boot Camp Reality Stars," premieres Friday, September 7 at 9:00 p.m. ET/PT, returns for its highly anticipated 11th season with a brand new house of TV's most dynamic couples.  Celebs include: Aubrey O'Day, Pauly D., Desiree Hartsock, Chris Siegfried, Kim Richards, Wynn Katz, Puma and Quani, Momma Dee, and Ernest. Be sure to check out the madness as this season as it will showcase a whole new series of exercises and drills that will shake the couples to their core.