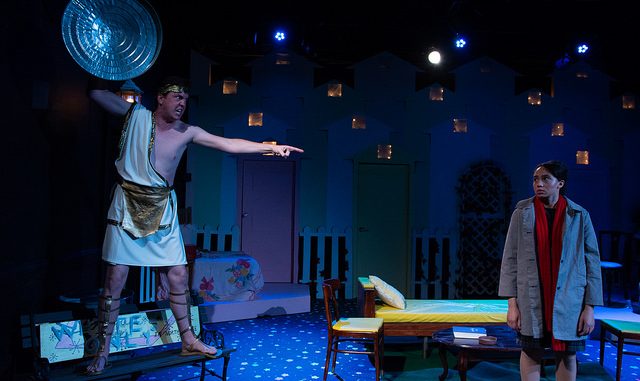 BLISS (or Emily Post is Dead!) is currently in production by Promethean Theatre Company at The Athenaeum Theatre, 2936 N. Southport, Chicago, through August 25, 2018 as part of a joint/rolling world premiere with San Diego's Moxie Theatre and Los Angeles' Moving Arts at Atwater Village Theatre.
Written by Jami Brandii, directed by Anna Bahow, the play is performed by a small, tight cast dealing with everyday issues between the sexes that have gargantuan meaning in their lives. The venue is the fictional city of N. Orange, New Jersey. The work has ancient mythic/tragic underpinnings, and yet keen timely social relevance. A simple set composed of 3 home settings/a doctor's office and outdoor park area in the early 1960's becomes a joint crucible for a concentration of ancient curses, a feminist fight against patriarchal takeover of heaven and earth, and racial prejudice.
The plot brings together 4 "modern" women in the 1960's, each an incarnation of an archetypal Greek tragic figure, with a frankly modern version of Cassandra. This princess of Troy rejected and was thus cursed by Apollo (the god of music, truth, prophecy, healing, light, sun, etc.) to have accurate visions that nobody believes. Prescient and dour, she's a mirthless yet truth-talking black secretary, wielder of influence, forecaster of doom.
The other characters are:
Clementine/Clytemnestra; as Clementine she's a housewife whose husband slew their "imperfect" daughter and then forced her to be sterilized; she is in love with the physician who performed the surgery. In mythology, Clytemnestra kills her second husband Agamemnon AND the Trojan princess Cassandra.
Antonia/Antigone; as Antonia she is the sole survivor of a family, all of whom have died tragically; she lives with an abusive uncle who ties her up and beats her for dating a black boy. Antigone means "in place of one's parents"; she dies by suicide.
Maddy/Medea; as Maddy, she's an Anglo/Hawaiian who ran away with a soldier causing her family members to die of grief. Maddy it is who tries to conform to Emily Post's "Etiquette", tries to fit herself and protegé into the "appropriate" behavior demanded of a woman. Medea was the first wife of Jason (of Argonaut fame) who slew her children when he took a younger princess to wife.
Dr. Smith/Apollo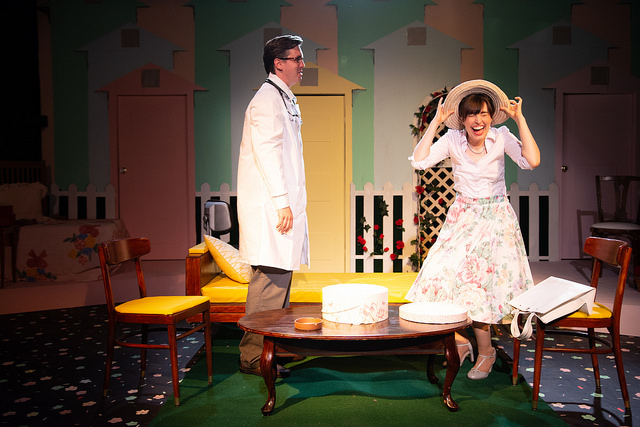 The problem with the piece was in the script. The iconic facts adduced above were not readily deducible from the script. If one did not have a strong background in Greek mythology, one would never have recognized the significance of certain characters, let alone appreciated the gist of aspects of the plot. Even knowing the basic facts about- for example, Antigone- does not shed light on the spin given her actions in BLISS. Since the mythic figures are indeed part of universal stories, one wonders why the need for introducing them at all; why not simply incorporate their significance into the "modern" versions?
The play was very well acted with more than a hint of underlying farce; the women characters believable, sympatico, the men much less so, but that was clearly the point. Indeed, it is the well-directed actors that hold one's attention throughout the somewhat tedious back-and-forth nature of the action. Impressively, the women in the script gave off a very strong sense of shared purpose and sisterly affection- even beyond their shared bottles of "mother's little helper". Each of the women had a unique personality and, yes, a unique destiny, and each in her own right took matters into her own hands. Told in pointed, well-shaped prose, the script delivered enough intriguing human pathos to be well worth the price of admission.
Featuring Jamie Bragg as the determined, dauntless Clementine; Kaci Antkiewicz as the stoic life-changing Cassandra; Kellen Robinson as the fearless Antonia; Alice Wu as the fascinating hypomanic Maddy; and Jared Dennis in a dual role as Dr. Smith/Apollo, the first vapid yet sinister, the second multi-dimensional and self-absorbed.
Thanks to the production company that includes Jeremiah Barr, set designer, who gave us a segmented space for all; Charles Blunt, lighting designer, who transformed day into night; Carrie Campana, costume designer, for truly wonderful dresses and Apollo's hilarious toga'd/sandaled garb; and Sadie Tremblay, sound designer for great period rock/pop ballads.
For information and tickets, go to prometheantheatre website
All photos by Tom McGrath Photography