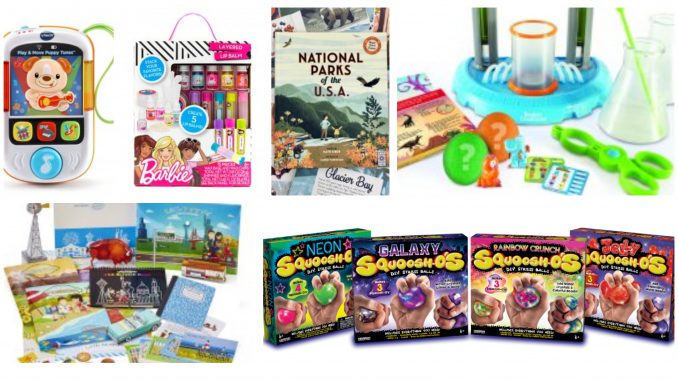 All items listed from most to least expensive.
Tentsile T-Mini Kidz Hammock
The T-Mini Kidz is a streamlined, lightweight mesh, two-person hammock perfect for those with kids and families. This entry-level model can be used in the garden, at the park or on the family camp out. With no knots or rackets to contend with, simply thread the webbing straps through the WebLocks and adjuster buckle, pull to tighten and press to release. The hammock is fully collapsible, packing to 30 x 14 x 14cm / 12 x 6 x 6in and weighing just 2kg/4 lbs. The hammock holds up to two adults or several kids with a maximum load of 200kg / 440lbs. Whether for the kids or adults, the T-Mini Kidz means no more lumpy, bumpy, wet or muddy ground and a whole new level of comfort.
$150  Buy now!
TushBaby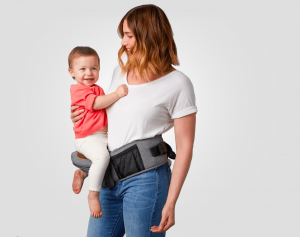 Carry your kid. Stash your stuff. Save your back. That's the premise behind the new TushBaby is a unique, strapless baby carrier that helps you carry your infants and toddlers comfortably — and easily access the things parents need. Ditch the sacks, packs, and annoying strap-ins. TushBaby is a soft and simple baby seat that sits right on your hip. One safe, sturdy buckle to put it on. Boom, that's it. Stash diapers and wipes in the storage beneath the seat. Access your keys, phone, and pacifiers in the side pocket. Attach toys to a loop in the front. And fold it right up for easy transport. Leave your clunky carrier, purse, and diaper bag in the minivan. TushBaby is made with high-quality fabric and YKK zippers (classy), lined with a plush pad around the abdomen for you (comfy), and has a squishy memory foam seat for your baby's little tush (oh how cute).
$89  Buy now!
Easy Baby Traveler Florida Keyes Starter Set of 4
Four Change Me, Dress Me, and Feed Me (regular AND insulated) Travelers organize any bag into a diaper bag. Travelers are flexible allowing them to fit in almost any diaper bag, purse or backpack.  Insulated Feed Me Travelers .  Change Me, Dress Me, Feed Me Travelers when full are approximately the size of a half gallon of milk, measure 10″x6″x5″ and hold at least a day's worth of baby/toddler supplies.
$65  Buy now!
Francesca Tencel Embroidered Frill Dress
Blu & Blue is an eco-friendly and sustainable clothing line for kids ages 0-16 years old. Made from butter-soft fabrics, Blu & Blue is comfortable, adorable and affordable. Perfect for a classic back-to-school look, Blu & Blue is a must-have brand for kids.
$63.95  Buy now!

LampyPets Giraffe – Pokey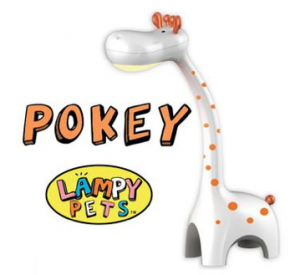 Fun, friendly, and functional lamps sure to brighten up your child's room!
$59.99  Buy now!
National Parks of the USA
Discover the beauty and diversity of America's great outdoors in this tour of its most iconic national parks. Explore Florida's river-laced Everglades, travel down the white water rapids of the Grand Canyon, trek across the deserts of Death Valley and scale the soaring summits of the Rocky Mountains with this book that brings you up close to nature's greatest adventures. Packed with maps and fascinating facts about the flora and fauna unique to each park, this fully-illustrated coast-to-coast journey documents the nation's most magnificent and sacred places—and shows why they should be preserved for future generations to enjoy.
Parks include: Acadia, Badlands, Big Bend, Biscayne, Bryce Canyon, Channel Islands, Death Valley, Denali, Everglades, Glacier, Glacier Bay, Grand Canyon, Great Smoky, Mountains, Hawaii volcanoes, Isle Royal, Mesa Verde, Olympic, Sequoia and Kings Canyon, Virgin Islands, Yellowstone and Yosemite.
$30.00  Buy now!
Super Kid!
In this super-cool personalized story, your child dives into an imaginary comic world to become the superhero! Each letter of your child's name represents a super special quality; and the day on which your child was born determines their power. Upload a photo of your child's face, to be displayed as the main character on each page! Personalize this comic-style story with the child's name, photo, birth date, skin tone, hair color, and a special message for the dedication page. You can also personalize the book for up to three additional family members, with a photo of their face, their name, skin tone, and hair color. Kids will soar to new heights of imagination and confidence! The gift set includes a cape and mask.
$29.99-39.99  Buy now!
Beaker Creatures
Beaker Creatures adds a layer of experimentation, engagement and STEM education to the world of collectibles. Kids can discover dozens of unique and adorable collectible characters including aliens, sea creatures, bugs and dinosaurs through simple lab experimentation. A unique Science Lab set, complete with flasks and experimentation tools enables kids to reveal collectible figures from within dissolvable eggs that can be purchased individually or in two-packs.
$24.99  Buy now!
Stitch Fix Kids Gift Card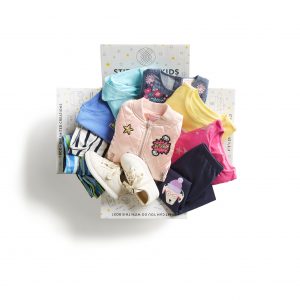 Stitch Fix, the leading online personal styling service, is now available for Kids! Every Kids Fix will include 8–12 pieces of clothing and accessories, making it easy for parents to stock up on head-to-looks and shop less often. Items will be handpicked by a Stylist to match a kid's size, style, needs and budget.
$20 – $10000  Buy now!
Tad's Fridge Phonics™
Make learning the alphabet exciting with Tad's Fridge Phonics™! This interactive toy introduces your child to the letters of the alphabet and the sounds they make, helps build vocabulary and exercises fine motor skills. Place one of the 26 musical letter tiles into the letter slot and press down for three modes of play that reinforce letter names, phonics and word skills. Three frames can be customized with your own photos and images, for a unique, personalized play experience. With its magnetic base, it's great for fridge play in the kitchen.
$19.99  Buy now!
Dr. Eureka
The brilliant Dr. Eureka has important experiments for you to complete! Pick a challenge card, 3 test tubes and 6 colorful balls to solve his scientific formula. Carefully move your materials from tube to tube without dropping them, and position them as illustrated on the challenge card. This brainteasing party game can be played solitary or competitively. The high quality components and the creative concept make it a challenging game for the whole family.
$19.99  Buy now!
Brain Connect
THINK FAST, ACT FAST! Be the first to complete the challenge and get your brain back on track. Quickly slide and connect your thoughts into the right order, then, be the first to complete the correct action to win. These sliding puzzles have 16 different start and stop points, so creating a clear train of thought is always a new and exciting challenge. A clever twist on classic sliding puzzles, this game is perfect for solo solving or racing against friends!
$19.99  Buy now!

My First Learning Tablet™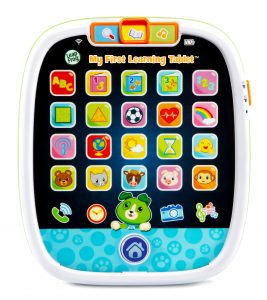 Tap, swipe and experience a learning light show with My First Learning Tablet™. This kid-tough toddler tablet feels like mom and dad's with a home button and 20 app icons that introduce letters, numbers, shapes, animals, colors and more. Five icons on the bottom of the tablet include phone, clock, Scout button, camera and music player for role-play excitement. Tap the apps in Explore, Learn or Music modes for a variety of playful activities. Press the animal apps to learn fun animal facts, choose the 123 and ABC apps to explore numbers and letters, learn colors with the rainbow app and more! Every button lights up and activates a unique pattern of lights, colors and sounds. Touch and slide fingers over the screen and the little tablet will create special sounds and a multicolor light show. Learn and play with Scout and friends.
$17.99  Buy now!
Grandad Mandela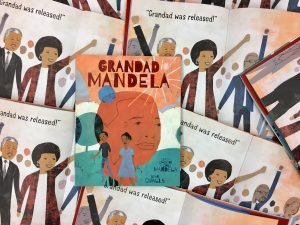 Nelson Mandela's two great-grandchildren ask their grandmother, Mandela's youngest daughter, 15 questions about their grandad – the global icon of peace and forgiveness who spent 27 years in prison. They learn that he was a freedom fighter who put down his weapons for the sake of peace, and who then became the President of South Africa and a Nobel Peace Prize-winner, and realise that they can continue his legacy in the world today. Seen through a child's perspective, and authored jointly by Nelson Mandela's great-grandchildren and daughter, this amazing story is told as never before to celebrate what would have been Nelson's Mandela 100th birthday.
$17.99  Buy now!
Barbie Layered Lip Balm
Create custom lip balms with the Barbie Layered Lip Balm kit! Mix multiple fruity flavors to create crazy layered lip balms. Swirl the flavors to create a tie-dye look, layer them to create a color-blocked look, or keep it simple and add a little shimmer to a single-colored lip balm. Keep your lips soft and moisturized while unleashing your creativity! name each lip balm with a creative spin like Berries & Barbie or Tropical Teresa! Recommended for Barbie lovers ages 6 and up.
Kit Includes: 5 lip balm tubes with labels, 4 flavor droppers, 1 shimmer dropper, 1 gel base tub, 1 bag of wax chips, 1 measuring cup, 1 plastic spoon, 1 stirrer stick and easy-to-follow instructions
$16.99  Buy now!
Princess Cupcake Jones Saddles Up!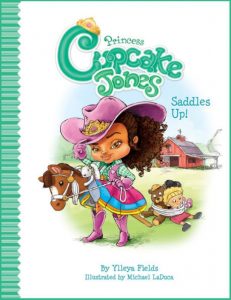 Princess Cupcake Jones loves adventures! Bored with her regular playtime activities, Cupcake goes on her own adventure to ride her pony, Lacey. But before she can begin her ride, she needs to saddle up her pony. This became a greater challenge that she expected and she got stuck in the process. The author delivers an engaging story that helps children and families understand that helping one another is important, no matter how big or old you are. Each illustration has the traditional 'hidden word' that children delight in finding in all books in the series.
$16.95  Buy now!
101 DIY Baby Food Pouches: Incredibly Easy Recipes for Reusable Pouches
Feed your baby better, save money, and waste less with the homemade puree recipes in 101 DIY Baby Food Pouches.  Ideal for parents always on the go, 101 DIY Baby Food Pouches includes instructions for filling your own pouches and—you guessed it—101 recipes to inspire you. DIY food pouches are cheaper, healthier, and eco-friendly—the perfect solution for busy families.
$15.99  Buy now!

Bright Lights Soccer Ball™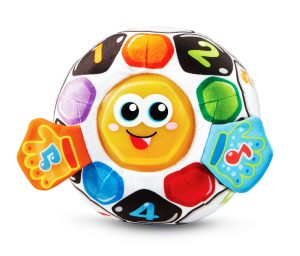 Left or right, up or down, roll the Bright Lights Soccer Ball™ all around to hear music and sounds and listen to the friendly ball encourage playtime. Press the happy light-up face button to hear playful phrases and three songs that introduce opposites and numbers. Kick, pass or shake the ball to activate the motion sensor and hear fun sounds and music, or touch the soft crinkly hands and give the ball a hug. The ball is hand washable and ready for fun. Kick up some fun with this lovable and huggable soft soccer ball!
$14.99  Buy now!
STEAM Play & Learn
Preschoolers will love tackling these 20 fun, easy-to-follow step-by-step projects as they learn about STEAM topics (science, technology, engineering, arts, and math). Topics include symmetry and how light bounces to create reflections with mirror mandalas, diffusion and capillary action with tie dye towels, structural framing and bracing with marshmallow structures, and electrical currents with salty circuits. This cross-subject approach to learning will prepare young children for the subjects they will soon learn in elementary school and beyond. Each project features simple instructions and large, full-color photos, to make each one enjoyable and fun for both kids and parents.
$14.95  Buy now!
The Tukor's Journey
Siblings Mitch, Tony, and Jovi discover that mysterious creatures called Grezniks are close to achieving their mission: blowing up Earth and shattering Life to bits. Over the centuries, Grezniks have nearly succeeded many times. But each time, their efforts have been foiled by Tukors and their allies. Now, Grezniks are closer than ever before, and no one knows if any Tukors are left in the world to stop them.
The Tukor's Journey is an epic action adventure. Chock-full of faraway lands. Volcanoes. Mountains. Tundra. Tropical forests. Raging rivers. Steamy geysers. Farms. Big cities. Tractors flying at the speed of sound. Blue stones that defy the laws of physics. And lots of real life creatures. And Grezniks. Vicious. Deadly. Unfathomable strength and speed. Seeping through the world unseen–slippery, crawly, swift. Soon they'll be ready to blow up Earth into tiny pieces. Three kids are unexpectedly invited to help defeat the Grezniks, but will they have the courage to join the battle?
$11.99  Buy now!
Minbie
A unique solution to generic nipples that can result in nipple confusion and the bottle taking-over.  Minbie's nipple nurtures a proper breastfeeding latch and strengthens breastfeeding coordination. It also encourages babies to feed with their instinctive breastfeeding technique. Minbie offers a BPA-free, anti-colic & an anti-reflux bottle system.
Price ranges depending on size $10.00+  Buy now!
Mindo Kitten
The Mindo Collection consists of 4 clever puzzles; can you collect and master them all? Play solo, or combine them and race your friends. No matter which version you choose the rules are the same: turn and flip the double-sided tiles until you have recreated the color pattern on the challenge card. They only fit one way into a 3×3 or 4×4 grid, so think and plan carefully. 60 different challenge cards and 4 levels of difficulty ensure hours of brain teasing fun!
This kitten themed solo puzzle is the paws-itively adorable version of Mindo! Bella and her kitten friends infuse the brain teaser with a colorful dose of cute.
$9.99  Buy now!

Play & Move Puppy Tunes™
Press the Play & Move Puppy Tunes™ music button and start grooving! This adorable dancing puppy rocks, sings and plays the guitar. Explore the drum, piano and saxophone buttons while listening to 30 melodies in classical, jazz and pop music styles. Then, press the music button to hear three songs. Two colorful lights flash with the music, attracting your baby's attention. Grab this music player and never miss a chance to dance!
$9.99  Buy now!
Little Passports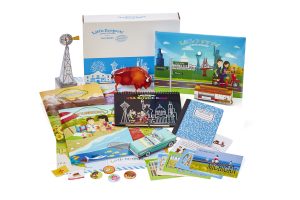 At Little Passports, subscriptions create those opportunities and spark the imagination! These products deliver discovery and adventure to children of all ages, and they've also built a wonderful community of parents, grandparents and educators that share that vision. Little Passports offers four subscription packages: World and USA Editions, Early Explorers and a new Science Expedition.
$6.50-29.95  Buy now!
BooginHead
Get a Grip! Thanks to "Mompreneur" Sari Davidson, keeping tabs on baby essentials is a cinch! BooginHead helps busy people get a grip on parenthood with Stylish Baby Essentials. Keep pacifiers, soothers, toys, and teethers close, clean, and ready for baby. Are you over pacifiers and teethers ending up on the floor? Or does your kiddo get a kick out of playing fetch with a sippy cup? You need PaciGrip, PaciPals, Bandana teethers & so much more. With patented grip material, the BooginHead products will be your little saviors!
Now more than ten years in business, BooginHead products are well-loved by parents everywhere for their unmatched high-quality construction, stylish patterns, versatility, and attractive price. They come in officially licensed collegiate designs and even Super Heroes!
Starting at $5.50  Buy now!
Mandala Rock Art from Horizon Group USA
Create colorful, mandala designs with Mandala Rock Art! Transform ordinary stones into vibrant works of art with this all-inclusive kit. Follow along with the instructions to learn how layered, textured mandala designs. Combine acrylic paint with dimensional paint to create art that really pops! With 2 pounds of stones in various sizes, you can create tons of rocking' crafts! Rock Art offers kids a great source of creative fun. For outdoor display, be sure to add an exterior varnish to protect your designs from the elements. Recommended for mini artists ages 6 and up.  Additional themes available include: Marbled, Galaxy and Metallic
$5.00  Buy now!
SQUOOSH-O'S Jelly D.I.Y. Stress Balls
Create D.I.Y. stress toys with the Jelly SQUOOSH-O'S kit! Combine simple materials to create your own stress balls that are fun to squish and squeeze. Add clear expanding water crystals and to colorful balloons for a jiggly, jelly-like effect! Creating SQUOOSH-O'S is a fun, hands-on activity to relieve stress, express creativity, and strengthen motor skills. Recommended for ages 6 and up.  Additional themes available include: Rainbow Crunch, Neon, Scented and Galaxy
$5.00  Buy now!
POPFIZZ Make Your Own Unicorn Surprise Bath Bomb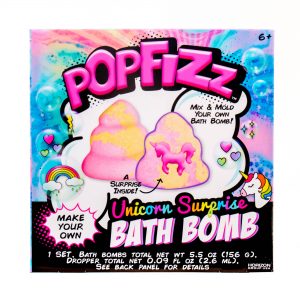 Make your own Pop Fizz Unicorn Surprise Bath Bomb! Create a colorful, sparkling bath bomb to bring your bubble baths to the next level. Learn how to mix a single-colored or multi-colored bath bomb, add some essential oils for relaxation and a little coconut oil as a great moisturizer. Mold your bath bomb and when it's dry and ready, pop it in the water. Watch a fizzing, bubbling color explosion before your eyes as your unicorn figurine is revealed! Sink into the ultimate relaxation as the Blue Raspberry essential oil fills the room. Recommended for ages 6 years and up.  Additional themes available include: Mermaid Surprise, Alien Surprise and Hidden Dragon
$4.99 – $6.99  Buy now!
Pink Elephant Organics

Once you experience the luxurious, yet affordable clothing line from Pink Elephant Organics for your little princess, nothing else will measure up. We all want the absolute best when it comes to our little ones, so look no further than Pink Elephant Organics who designs the most fashionable AND comfy clothing for girls. They have absolutely cornered the market in styles that she will want to live, sleep, eat and play in!
Varied  Buy now!
Adora
Adora makes gorgeous dolls that are fully machine washable!! Yep, if your favorite cutie hits the dirt, just toss it in the washing machine at Grandma's and it is good as new. Take it one step further and purchase the Giggle Time Baby Gift Set complete with baby carrier for on-the-go adventures.
Varied  Buy now!
Vitamin Friends
We all want what is best for our children. We give them lots of love, feed them healthy food, and give them a vitamin every morning. You'd think taking a vitamin would be a good thing. But did you know most gummy vitamins contain gelatin (made from animal parts) which isn't absorbed well and can stick to teeth and cause cavities? Vitamin Friends makes the highest-quality gummy vitamins without gelatin, giving your kids, and the rest of the family, all the goodness of supplements without the downside of gelatin and other unnecessary chemicals.
Vitamin Friends relies on pectin, not gelatin, to create its non-sticky gummy vitamins. Pectin comes from citrus peel so it's 100% natural, high in fiber and an ingredient that our bodies respond well to. Pectin does not melt like gelatin when exposed to high temps. Most people don't realize that Gelatin is a mixture of peptides and proteins extracted from the skin, bones, and connective tissues of animals such as domesticated cattle, chicken, pigs, and fish. Most Vitamin Friends products are vegan (some have honey), 100% are vegetarian.
Prices Vary  Buy now!
*All images courtesy of respective companies. – Splash Magazines is not paid for this content though some of the items are linked to affiliate links.