Evanston Made celebrated its five year anniversary during the month of June, with a record number of Evanston creatives sharing their work with the public. There are still a few days to catch this exhibit.
Lisa Degliantoni, founder of Evanston Made, is thrilled at the support, energy and excitement for Evanston creatives. "We've had more than 200 artisans sign up this year, 40% more than 2017. The EvanstARTs study in 2012 found that Evanston has 10 times the national average of creatives living and working in a city of its size in North America. The Evanston Made initiative has raised awareness and engagement for those creatives!"
Curators Mat Rappaport and Anne Stevens join Evanston Made this year with Side/lot Experimental Video Showcase. Evanston filmmakers were invited to submit 3-minute shorts.
Community Partners like the Frances Willard House continue to support artists with collaborative projects.
The Evanston Art Center commissioned an art installation "Sell Me Direct" by Erin Hayden (Newcity 2018 Breakout Artist) and Jeff Robinson, available for viewing in June on the exterior east-facing wall in the parking lot. "Sell Me Direct" explores the colloquial language of our urban context in their work. (See feature photo)
The most popular Evanston Made event, the Artist Studio Tour, celebrates an impressive list of studios. More than 60 studios are open to the public, with maps online and in print, distributed throughout Evanston. Painter Amanda Evanston (image attached) joins this year with her new studio/gallery space on Chicago Ave.
Founded in 2012, Evanston Made was the brainchild of local arts advocate, Lisa Degliantoni. With a deep appreciation for creatives living and working in the community, Degliantoni wanted to create a community initiative that celebrated and elevated the work of creatives. Beginning with an Artist Studio Tour, Evanston Made now includes Evanston Made Kids, Artist Talks, Evanston Made Pop Up Shop, Evanston Made Group Show and more. Visit evanstonmade.com for a full list of events.
Attending the open house for Evanston Made at the Evanston Art Center, I was impressed by the attendance, and, of course the range, quality and quantity of item that were produced by the those creatives who live and work in Evanston.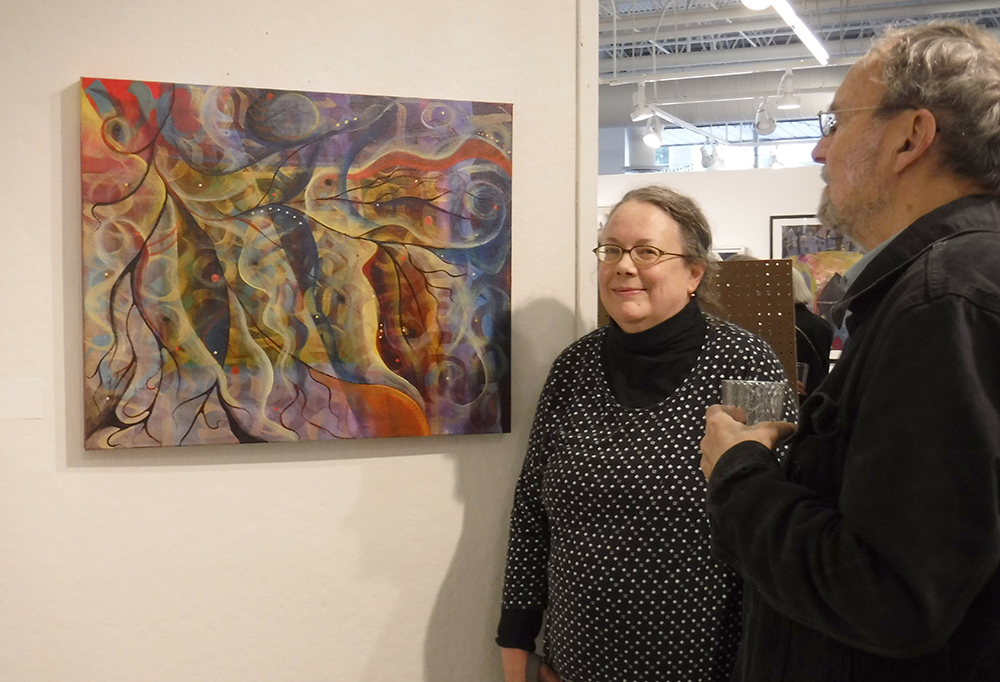 I had the opportunity to talk with Karen Daughtry whose unusual painting caught my attention. It is acrylic on canvas, 24×30, with many layers of calligraphy under the abstract colors. Karen explained that, "The saying I depicted here is one that was on a plaque in Carl Jung's study. In Latin it says: Vocatus atque nonvocatus, Deus aderit ..which I rendered I rendered it in the painting as "Bidden or unbidden the Divine is present".
Karen offers a class in which you, too, can create paintings using this technique.
For more information, go to The Evanston Made Website Evanston Made website
Karen Daughtry offers an ongoing series in 5-week chunks at the EAC on Saturday mornings, and it's only $140 plus I give you nibs and snacks and other goodies and we get to play with the letters, and learn a lot, and have fun. Learn more at the EAC website.
Photos: B. Keer