Though Neil Gaiman's Neverwhere is, by genre definition, a fantasy, residents of Chicago will recognize the location at the heart of the story: a transit system which is home to both 9-5 commuters and the most economically and medically vulnerable, an Above and Below where the lost are in plain sight and yet invisible to most.
Richard Mayhew's fiancée Jessica off-handedly tells him not to pay attention to a lady wounded and in peril, and he instead springs into action… which sets him off on a hero's journey through darkness, self-doubt, and danger in Lifeline's remounting of Neverwhere, which, despite a fairly dense 2 ½ run time packed with equal parts mythology and exposition, is a timely and engaging exploration of what magic can happen when a person makes an effort to see the unseen and reach out.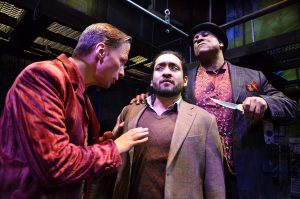 John Henry Roberts (Mr Vandemar), Jose Nateras (Richard Mayhew), LaQuin Groves (Mr. Croup) (Photo: Suzanne Plunkett)
Similar to last season's fantasy adaptation, A Wrinkle in Time, the innovation to transform Lifeline's small space into a multidimensional world is impressively front and center. Alan Donahue's various doors, hidey-holes, catwalks, and use of video projections (he was also responsible for turning Mercury's new Venus Cabaret space into a slice of New York in Company) explode and expand the space convincingly, and the puppet design by Mike Oleon gives the actors rats and pigeons and an exciting 2nd act monster to play against.
Equally captivating in their monstrosity are LaQuin Groves and John Henry Roberts as Misters Vandemar and Croup, respectively, who had the audience laughing despite themselves as a duo of terrifying cutthroats. Their interplay–one direct and literal in his enjoyment of the visceral elements of torture and murder, the other providing great bricks of monologue that took me back to Al Swearengen of Deadwood –gave the 2nd act a much needed goosing. The targets of their pursuit, Jose Nateras as Richard and Samantha Newcomb as Lady Door, also give terrific performances. Nateras is adept at nonverbal comedy–a casual wave given during an introduction to yet another otherworldly character was particularly inspired, not to mention several reluctant, awkward scoots down a pole leading to the Below–and he pivots believably into a warrior with "fire in his eyes," as another character describes it.
                          Samantha Newcomb as Lady Door (Photo: Suzanne Plunkett)
Much like Lifeline's winter effort, Anna Karenina, the necessity of explaining a large cast of characters and the complex plot, as well as giving the various actors the occasional hefty monologue, can sometimes create uneven pacing and energy. In both cases, it's difficult to imagine where the script could be pared down or condensed further. As with any fantasy author (L'Engle, Gaiman… perhaps not Tolstoy), fans of the original text will find quarrel with any compression or omissions, even as theatergoers get a little restless and squirmy.
Director Ilesa Duncan, working from Lifeline ensemble member Robert Kauzlaric's adaptation, posits that the bravery to reach out and help someone or to triumph over one's own fears and self-doubt is greater than or equal to that required to fight great beasts , persistent, enthusiastic assassins, and conspiracy. Her goal to reflect 2018 America in the staging and story is largely (not bigly) successful and makes for a thought-provoking and frequently exciting, hopeful slice of summer theater.
Neverwhere has been extended and now runs through August 12 at Lifeline Theatre, 6912 N. Glenwood Ave. Tickets may be purchased at the Lifeline Theatre Box Office, 773.761.4477, or by visiting lifelinetheatre website.