Even with a sure bet like Hubbard Street Dance Chicago, it doesn't hurt to shake things up — and few choreographers shake things up like Ohad Naharin, artistic director of Israel's Batsheva Dance Company.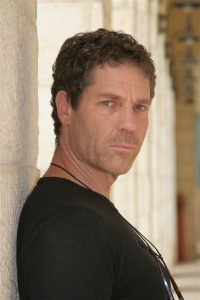 Known for his fluid Gaga movement language, which unlocks a fresh dance vocabulary, and for his accessible, interactive creations, Naharin offers Hubbard Street's impeccable dancers a chance to loosen up, and the company takes full advantage of that freedom in Decadance/Chicago, the latest incarnation of Naharin's Deca Dance series, which he recreates every 10 years.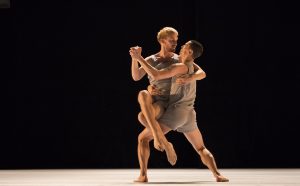 The performance weaves together segments from the choreographer's past works — Anaphase (1993), Zachacha (1998), Naharin's Virus (2001), Three (2004), Telophaza (2006), George & Zalman (2006), Max (2007), Seder (2007) and Sadeh21 (2011), which builds on his wildly popular Minus 16, which had its U.S. premiere at Hubbard Street in 2000. By remixing existing pieces, Naharin is doing much more than reheating leftovers; he is a master chef, whipping up a fresh creation. "When I organized [Deca Dance]," said the choreographer, "the result became as coherent as the original, if not more."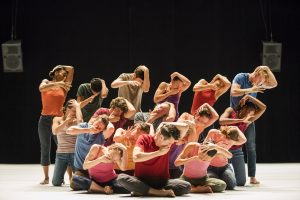 The performance opens with dancers in a cluster, some seated, some standing, as if assembled for a group portrait. Their first, beguiling movements are all about their arms, which bend and move en masse, the angles of their elbows evocative of a living Hebrew alphabet. When the dancers move on their legs, they may be bouncing or leapfrogging or even limping, graceful and awkward at the same time, magical and mysterious. There are also moments of utter stillness, the dance equivalent of silence within a symphony.
An eclectic mix of music informs the segments. In one segment, dancers in one-shouldered black dresses move to the 1972 poem "making it," by Charles Bukowski, a series of restarts that repeat and add words, like a kinky version of "There's a Hole in The Bottom of the Sea." In another snippet, dancers in long-sleeved ivory leotards and black tights gyrate to middle eastern music like a giant human keyboard played one note at a time: one of Naharin's trademarks is to give space to individual dancers to express themselves apart from the group. The mix of segments engaged the audience with their variety, with only one snippet, danced to Ravel's Bolero, falling a little flat.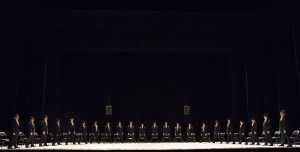 The audience could barely wait for Minus 16, with many audience members aware that at one point in the interactive piece the dancers walk off the stage and into the aisles, with each dancer coaxing an audience member onstage. The first time I saw Hubbard Street perform Minus 16, I was among those chosen. The experience was exhilarating, but those not chosen should be equally happy, because they have the advantage of seeing what's happening on stage — I went back to a repeat performance after my first experience, just to see that. What the audience sees is a spontaneity and diversity of body types that's not part of a typical dance concert. Grandmothers, stock brokers and hipsters (those categories could represent a single person) bounce between the dancers like pinballs on a game table, their random movements and varied clothing a lively contrast to the dancers, clad in black suits and fedoras.
But just as some diners refuse to go to cook-it-yourself restaurants, preferring to leave themselves in the hands of a chef, it is not a bad thing when the conscripts from the audience leave the stage and leave the dancing to the professionals. That's when the dancers arrange themselves on folding chairs in a semicircle and launch into "Ehad Mi Yodea" (Who Knows One), a traditional Passover song amped up by the rock group Tractor's Revenge into a zealous chair dance that turns into a strip tease, a Hasidic dance gone wild. In the midst of the fervor, only the dancer on the far right (David Schulz) keeps his shirt on and moves to a different drummer. That freedom to be different sums up Naharin's genius.
Decadance/Chicago
Hubbard Street Dance Chicago
Through June 10, 2018
Harris Theater for Music and Dance, 205 E. Randolph St., Chicago
Running time: 1 hour, 50 minutes with one intermission
Tickets $25–$110 at (312) 635-3799 or Hubbard Street Dance
Performance photos: Todd Rosenberg