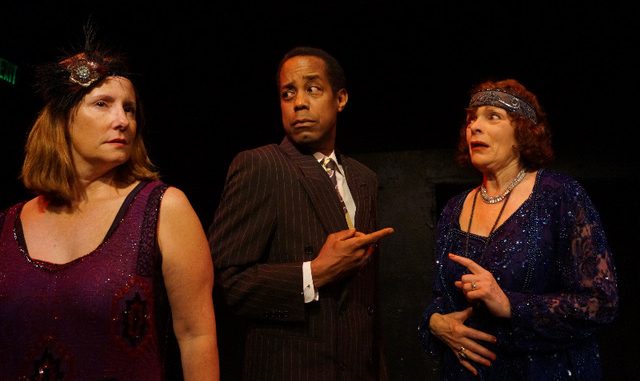 Margy LaMont [Andrea Hutchman] is the best known most successful madam of the sex trade in Montreal, Canada. One of her best customers, a British Naval Officer is in love with her and he wants her to marry him. Then she meets Jimmy Stanton [Ryan Philips] who also instantly falls in love with her and who also has the big advantage of being heir to huge estate. But what can she do? Her opinion of men in general has been shaped by many years in the sex business, meaning she holds men in very low regard and also the fact that she knows that she will never be able to erase her past and may not even want to.
By the end of act one the story has shifted to a Caribbean island and the audience is treated to one of the very best scenes of the entire show, a musical and dance performance with a sensational performance from the entire cast.
As the story continues to develop a lot of people who have known Margy professionally in Montreal are shocked when they meet her again either in the Caribbean or later in a plush mansion.
In every aspect the show is quite intentionally exaggerated. For example the behaviors of the house service staff are in the extreme. Likewise so is the behavior of a clearly corrupt cop as well as other characters. I believe the point is to emphasize the truly comedic aspects of the show. "SEX" debuted on Broadway in 1926. It was written, produced and direct by Mae West well known not only for her writing and acting but also for her true enthusiasm for sex. While "SEX" was a box office hit, Mae West was arrested and convicted for obscenity and spent eight days in jail.
I am confident that neither Director Sirena Irwin nor Producers Jocelyn O'Keefe and Kevin Comartin will be put in jail for this production of "SEX." But yes the show definitely has its bawdy moments and clearly is intended for an adult audience but in my view falls far short of any reasonable understanding of the word "obscene." What it genuinely is is funny, even hilarious. Yet it does also stimulate deeper thought.
Driving home from the show my friend and neighbor and TV actor [Shameless, et.al.] Victor Onuigbo and I vigorously discussed "SEX" and the commercial form of sex, prostitution. One question was can prostitutes ever stop and return to "normal" society? I believe not based on having met thousands of prostitutes mainly as a very young Marine serving in Asia, But then Victor raised the question of societal hypocrisy and why are women scorned but not the men? Great question and one at the very least alluded to in the play "SEX."
But while the show does raise some very significant questions about our society the show's purpose I believe is primarily to entertain with abundant comedy and that it does and does well.
"SEX" is on the Main Stage at the Hudson Theatre, 6539 Santa Monica Boulevard, Hollywood, California 90038 now through June 17th, 2018. Show times are Fridays and Saturdays at 8:00 p.m. and Sundays at 7:00 p.m. Ticketing is available online at: buzzworks-sex website or at the Hudson box office.
Enjoy the SEX but do leave the children at home.
Photo credit:  Rich Hutchman
Also check out: ronirwin website