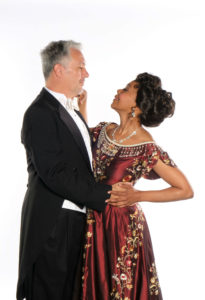 By Kathy Carpenter
Cygnet Theatre is located in the heart of Old Town in San Diego. A popular tourist area filled with gift shops, Mexican restaurants and yes a delightfully cozy theatre, which is currently playing A Little Night Music through April 22, 2018.
Cygnet theatre gives us A Little Night Music, romance and fantasy fulfillment – charming, elegant, and delightfully delicious. Three romances. The three smiles of the summer night. One for the young, one for the fools and one for those who remember. A lite operetta with beautiful waltz music.
Stephen Sonheim and Hal Prince began their third collaboration proving they could create something both commercial and adult. What they found was the Ingmar Bergman movie, Smiles of the Summer Night, turning the film into a musical. Mismatched couples, longing, and regret. Themes most of us can identify with, bringing them together with a score of waltz variations.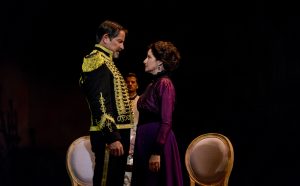 Turn of the 19th century, Sweden, The show opens in the home of Frederick and Anne Egerman. A man with a much younger wife. He finds himself drawn back to an old flame. His son about to become a priest is secretly in love with the young wife. The third romance is the old flame's current lover, and his wife who knows and still loves her husband.
Sean Murray is both director, and Frederick A real treat to watch such talent. David S. Humphrey, plays Carl Magnus, the old flames lover. I've raved on his acting before, and he does not disappoint Always a treasure. Sandy Campbell, plays Charlotte, his wife, and my favorite character The person you can't help but root for. Also, in this show Nick Eiter, appears as Henrick, the man studying religion. A versatile actor, doing some serious roles. Bringing the, solemnity off the spirit to the role. Karole Foreman, plays Desiree Armfeldt, the flame. You can definitely see her voice won this role. I've never heard a more beautiful rendition of Send in the Clowns. Anise Ritchie, plays the perfect grandmother. Two girls share the role of granddaughter, Faith Nibbe, and Ava Harris, who played the part the night I watched. Katie Sapper, plays Anne. Winning us over before the night ends.
The cover of the program shows a gorgeous dress worn by Desiree and believe me it's even more stunning in person I cant remember seeing such a magnificent dress in a play in a long time. The costumes are wonderful. Charlotte also has a fabulous hat I would love to own. But where would I where it? Thank you Jeanne Reith for adding the right touch of ambiance The stage set is simple elegance.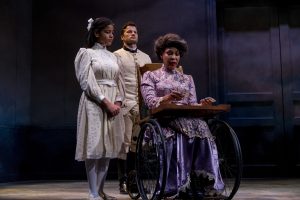 My favorite number in the show is "A Weekend in the Country.".
A beautiful score fills the air played by six accomplished musicians. The music of Stephen Sonheim. That's enough for the price of admission. But of course the musical is so much more. Time away for our stressful lives, in a simpler era.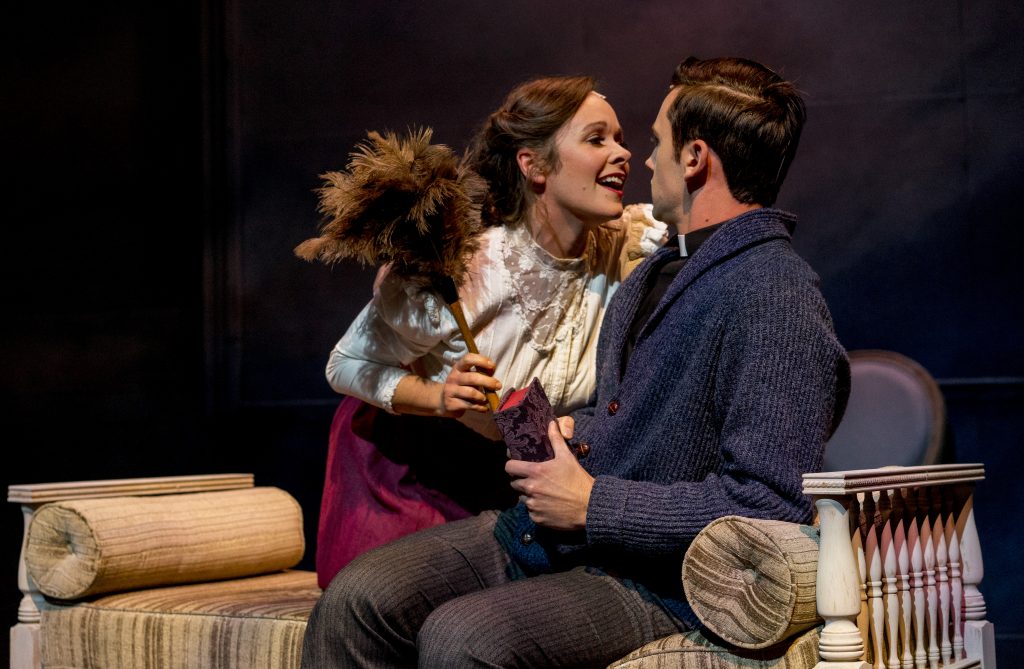 A Little Night Music
March 7, – April 22, 2018
Cynet theatre
Old Town San Diego
4040 Twiggs St.
619.337.1525