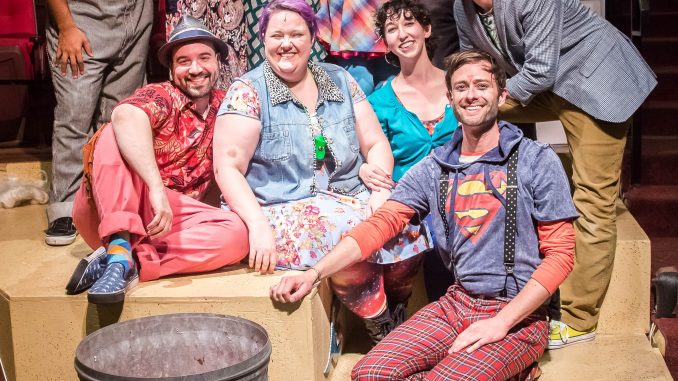 Since "Godspell" translates to "good story" (Anglo-Saxon) and "good news" (classic Greek), GODSPELL should be offering some portentous information to all of us. Based on the Gospel of Matthew (with some forays into other Biblical Gospels), GODSPELL was first the brainchild of John-Michael Tebelak and represented his Master's thesis project for Carnegie Mellon University. Tebelak's play was first performed, as you might expect, at Carnegie Mellon in 1970. When headed to off-Broadway the following year, the producers hired Stephen Schwartz to write a new song score – and so the current GODSPELL was born. 1976 saw GODSPELL performed on Broadway, crediting Schwartz as composer/ lyricist and Tebelak as playwright. In 1977, Schwartz was nominated for a Tony Award for his original score.
But despite its New Testament tale, GODSPELL is also a child of its times, replete with hippies and a '60's take on gospel music, folk rock, and even vaudeville. Songs like "Day by Day" and "Save the People" became hits, and GODSPELL was released as a motion picture in 1973 starring Victor Garber as Jesus and David Haskell as John the Baptist. The musical has been revived numerous times, with its most recent 2018 renaissance at the Glendale Centre Theatre.
The Voice of God introduces GODSPELL, so you can be sure that this will be a Biblical story of some significance. And so it is, as it recounts the life of Jesus (Tyler Hodges) from his initial meeting with John the Baptist (Chance Dean) to his final moments on the cross. As serendipity would have it, the play performs during the Easter season. Jesus collects his disciples, each of whom represents a very specific personality type. The diverse crew serenades the audience with a variety of modern music, often set to lyrics from traditional hymns. GODSPELL is presented in a series of parables offering key messages for the assembled masses.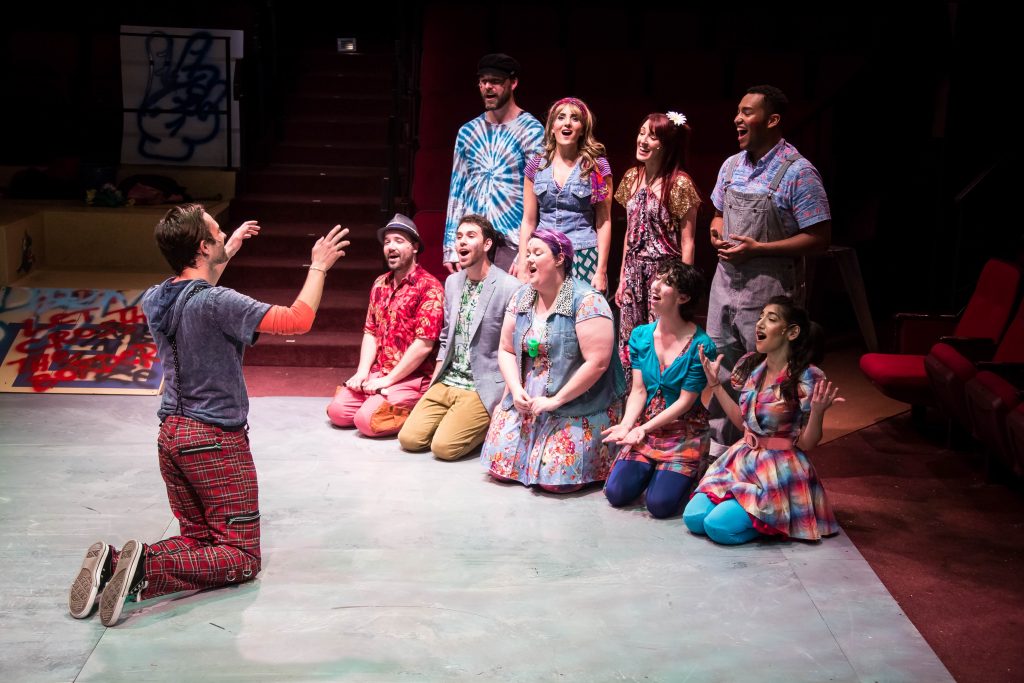 Kudos to the energetic and enthusiastic cast who represent both Biblical icons and '60's flower children as they strum guitars and dance with gleeful abandon with painted faces and motley regalia. Director Zoe Bright and music director Steven Applegate form a tight union as they helm the cast through the saga of Jesus' life. Paul Reid's choreography keeps the cast on their toes with competent assistance from Melody Andrews' sound and Angela Manke's quirky costumes blending two very different eras. If the play sometimes seems a bit preachy, it is the nature of the Biblical account.
GODSPELL runs through March 25, 2018, with performances at 3 p.m. on Sundays and at 8 p.m. on Mondays, Tuesdays, and Wednesdays. The Glendale Centre Theatre is located at 324 N. Orange Street, Glendale, CA 91203. Tickets are $34 ($28 for seniors and $20 for children). For information and reservations, call 818-244-8481 or go online.