You generally associate the Marriott Theatre in Lincolnshire with broadly crowd-pleasing fare like last season's Mamma Mia! And Singin' in the Rain. But their inclusion of Ragtime in this season is straightforward commentary on the present moment in U.S. political history.  It is simultaneously about everything that makes America strong, diverse, and innovative and shooting a deliberate shot across the bow of the America Firster's running our present government.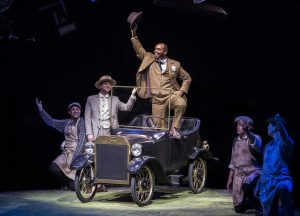 Based on E.L. Doctorow's novel with a score by the writers of Schoolhouse Rock –who taught every human being of a certain age in the United States how to sing the preamble of the Constitution–it's a highly political show.  Set in the last Gilded Age when yellow journalistic, sensationalist media scandals whipped up frenzies that distracted from the ways in which America was failing parts of its population, it's the story of an upper-crust white family who are forced to confront how America is changing and the new people its struggling to embrace, an educated black man and his girlfriend who are attempting to gain the respect they deserve, and a Jewish immigrant in search of the American dream.  It's the sort of story designed to make Stephen Miller, Steve Bannon, and Donald Trump cry and is perfect for this moment in history when all the same issues have returned to haunt us.
If you share the America First worldview, don't go to this show.  It will upset you.  If you believe in an America where diversity is strength and xenophobia and racism are to be wiped out through shared humanity and giving one another a hand up instead of a slap down – you will be with your people.  The show has strong opinions and this production serves the script.
It's also an absolutely exceptional production in every way.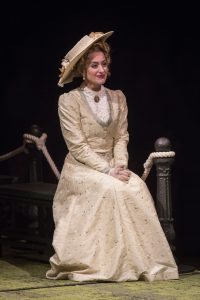 If you know anything about Doctorow's novel, you know that the story contains tragedy, but also triumph, and this production ably serves the story with perhaps the strongest cast I've ever seen at the Marriott. The four principals Kathy Voytko as Mother, Benjamin Magnuson (no relation) as Tateh, Nathaniel Stampley who bleeds righteousness as Colehouse Walker  Jr. and Katherine Thomas as Sarah, ably filling the very, very big shoes of Audra McDonald in the role, lead a cast full of standout performers appearing variously as upper-crust New Yorkers, union activists, immigrants at Ellis Island, and scrappy residents of Harlem.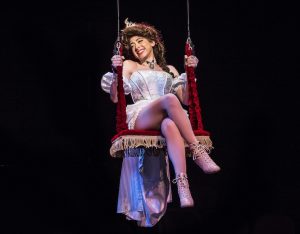 The weakness of this show is that it packs in so very many of these plot elements to give a snapshot of an era.  There are three major storylines that tie together, but sometimes the "big events" of the time sections are more distracting than anything else.  The personalities like Henry Ford, J.P. Morgan, "Girl on the Swing" Evelyn Nesbit, and Harry Houdini certainly add the pop culture milieu of the time, but they don't really forward the plot all that much. The show might have been better served rounding out its three main plotlines a little more and focusing a bit less on the trappings of the era.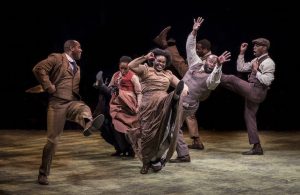 That said, when it gets to the heart of the three stories – the native-born Americans dealing with change, the up and coming African-Americans and the new immigrants and their struggle – this show earns its place in the American Musical Theatre Canon. There's a reason it was nominated for 13 Tonys the year it premiered and the score remains strong with showstopper songs for all the major characters, plus some of the minor ones and chorus members.
While her character is all about exposition and meta-commentary, Christina Hall as fiery labor agitator Emma Goldman has some really exceptional moments as does Michelle Lauto as Evelyn Nesbit, her whispy and frothy delivery is perfect for the ephemeral and tabloid-driven source of Nesbit's fleeting fame.  Keirsten Hodgens pops out of the chorus to wail a eulogy for Sarah "Till We Reach That Day" that is as good as the star's turn at "Your Daddy's Son."   Adam Monley plays a kindhearted but overwhelmed 19th Century man in Father convinced of the inherent goodness of the status quo even as he confronts its cruelty head-on.  And Patrick Scott McDermott As Edgar, the Little Boy, takes a part that could be overly cutesy or annoying and shows us a real boy who could be our neighbor today.  The ensemble baseball piece, "What a Game!" is a highlight of the show.
While Marriott always hires incredible talent, this is probably the strongest ensemble I've seen there overall.  Every single human on that stage is absolutely bringing their A game the entire time. The show is powerful, despite the unevenness of the book and that has a lot to do with the people making sense of something that could be incredibly fragmented.
Kudos also to the design team, Jeffrey Kmiec (Sets), Jesse Klug (Lighting), Theresa Ham (Costumes) and Robert E. Gilmartin (Sound).  And to director Nick Bowling, who took this sprawling piece and made it make total sense.  As always, the singers are beautifully supported by the Orchestra conducted by Patti Garwood.
This show also works incredibly well in the round. With segments of the stage rising up and sinking down, a working Model T (golf cart, I'm sure) on Stage and minimal props, it transforms from ships, to Atlantic City boardwalk, to New Rochelle mansion, to Harlem music hall, or Lower East Side tenement with ease.  The costumes are splendid and period appropriate.
As it is referenced, I'd like to put a shoutout here for Hal Roach, the actual creator of the Our Gang comedies, which are attributed to Tateh at the end of the musical.  Hal Roach was an Irish-American from Elmira, NY, who saw Mark Twain (an Elmira resident for many years) at a young age and was inspired to make comedy.  He wasn't an immigrant, though he was the grandson of immigrants, and his people are mostly shown in Ragtime as inveterate racists who harass the African American characters and beat up the immigrant ones. It was Hal Roach who saw a multi-racial group of kids playing outside and thought to put a group like that on film, giving us Spanky, and Buckwheat and Darla and all the rest.  He created the first contracted African American star in films, Ernie Morrison, and helped pave the way for more black actors. He employed writers like Frank Capra, and Walter Lantz, creator of Woody Woodpecker.  It's a shame to steal his credit as Ragtime does because he shared its vision of a truly integrated and equal America where everyone's talents are utilized to make a greater whole.
That's exactly what this production does. You should go.