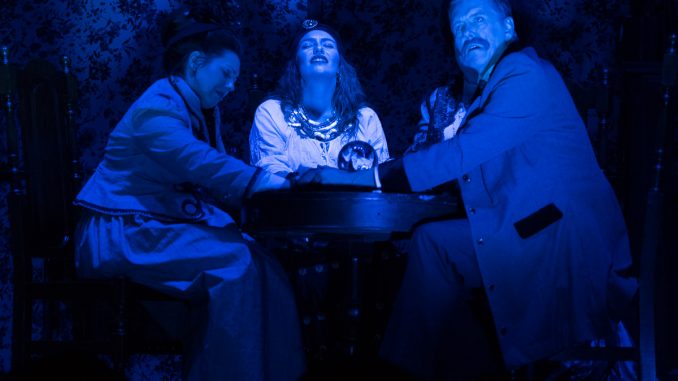 Josh Shaw, Co-founder and Artistic Director of the Pacific Opera Project (POP), is always coming up with new ways of presenting old things. Usually these are new takes on old pieces, as well as huge productions turned into small operas and are very entertaining as well as affordable, and the popularity and growth of the little opera company that could is astounding. Not only is the house always packed, but the production quality of the shows and caliber of the performers is also continually improving.
Currently at the Highland Park Ebell, as well as the Miles Playhouse, Santa Monica, POP is offering two short pieces to get us in the mood of the Halloween-Day of the Dead season. The first, The Monkey's Paw, was originally a short story written in 1902. Over the years it has been adapted as a theatre, radio piece and television show, as well as one other operatic adapation in 2009. POP's production has been composed and written by a very talented and busy composer on the rise, Brooke DeRosa.
DeRosa sticks with the original feel of 1902 with a simple story of a mother, sung by Marina Harris, father played by Phil Meyer, and William Grundler as the son living in a cozy little house in England. An old friend and Sergeant Major (Ben Lowe) brings joy and then disruption to them when he introduces a magic omen, a monkey's paw, to their simple life. Although the Major says the omen will bring three wishes, he also strongly advises them against using it –as it also brings misfortune. When the Major thinks about it, it makes him blanche and he throws the monkey's paw into the fireplace with strict warnings for the family not to try it. But the family's curiousity is highly aroused. When he leaves, they salvage it from the fire then begin their journey cautiously but gleefully which will lead them into death and despair.
The banality and slow pace of the dialogue, which is all acted and sung wonderfully by the performers is very predictable. The spookiness comes not so much in any quick surprises but in the horror the audience develops in waiting for the other shoe to drop. It comes in the skill of the writing and the agility and talent of the cast to heighten every moment in this world. Very engaging to watch. A perfect delivered little fable.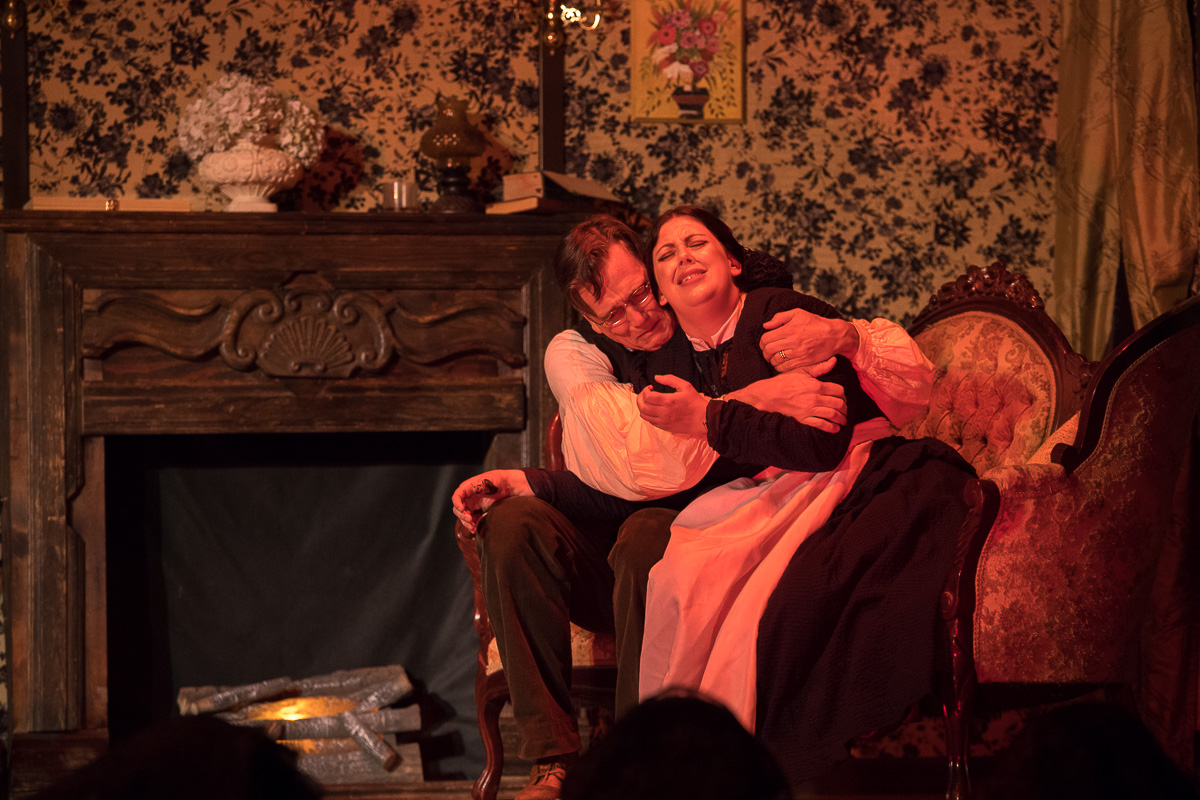 Musical accompaniment for this as well as the second piece are provided by master pianist Douglas Sumi. At times the score is reminiscent of those in the early silent movies. The costumes by Maggie Green are perfectly suited. The one room living room set is wonderfully designed by Josh Shaw. ….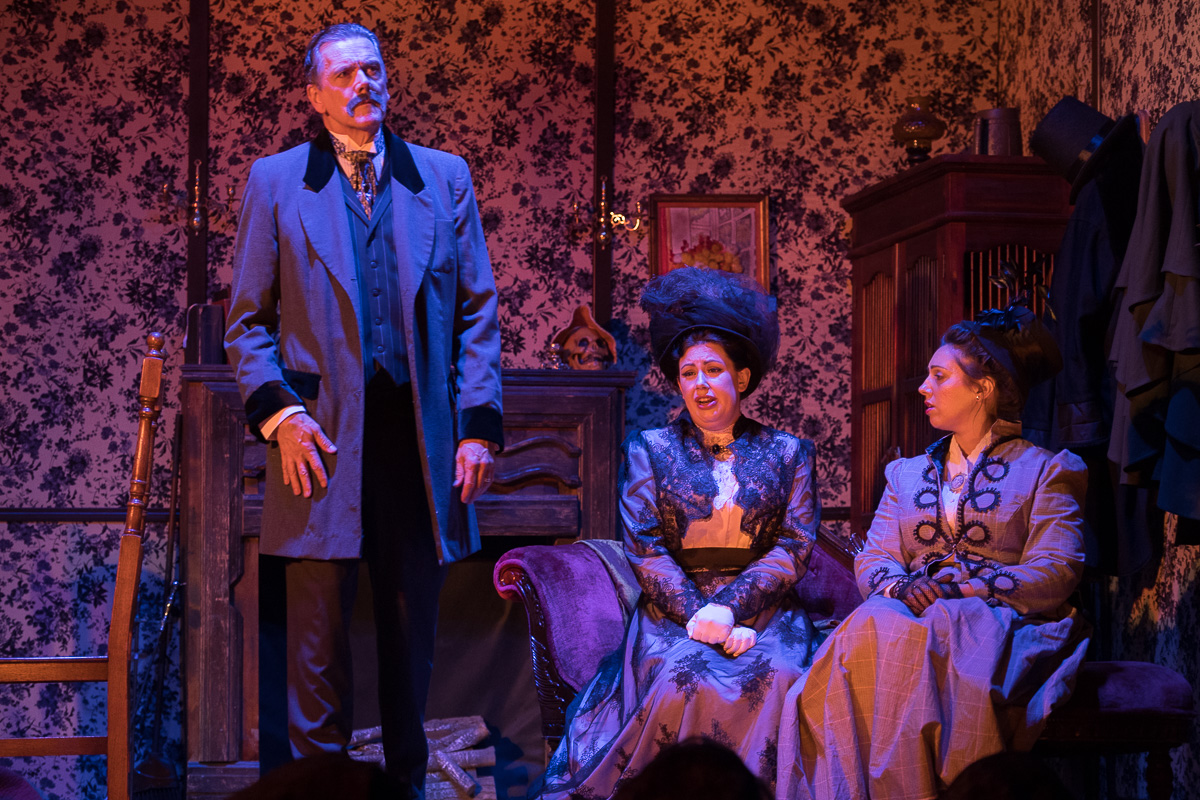 The Medium is a short American dramatic opera commissioned by Columbia University in 1946. It's the story of a fortune teller, her clients and her family. It is creepy because a fake seance calls up the beloved dead of the clients who are so eager for a sign from their dearly departed children that they will willingly go along with whatever hoaxes Madame Flora (played by Maria Domiique Lopez) drums up. In her private life Flora abuses her daughter Monica (Chelsea Friedlander) and is violent toward a mute young man Toby (Daniel Samuel Childs) she brought back from the streets of Budapest to assist in her séance act.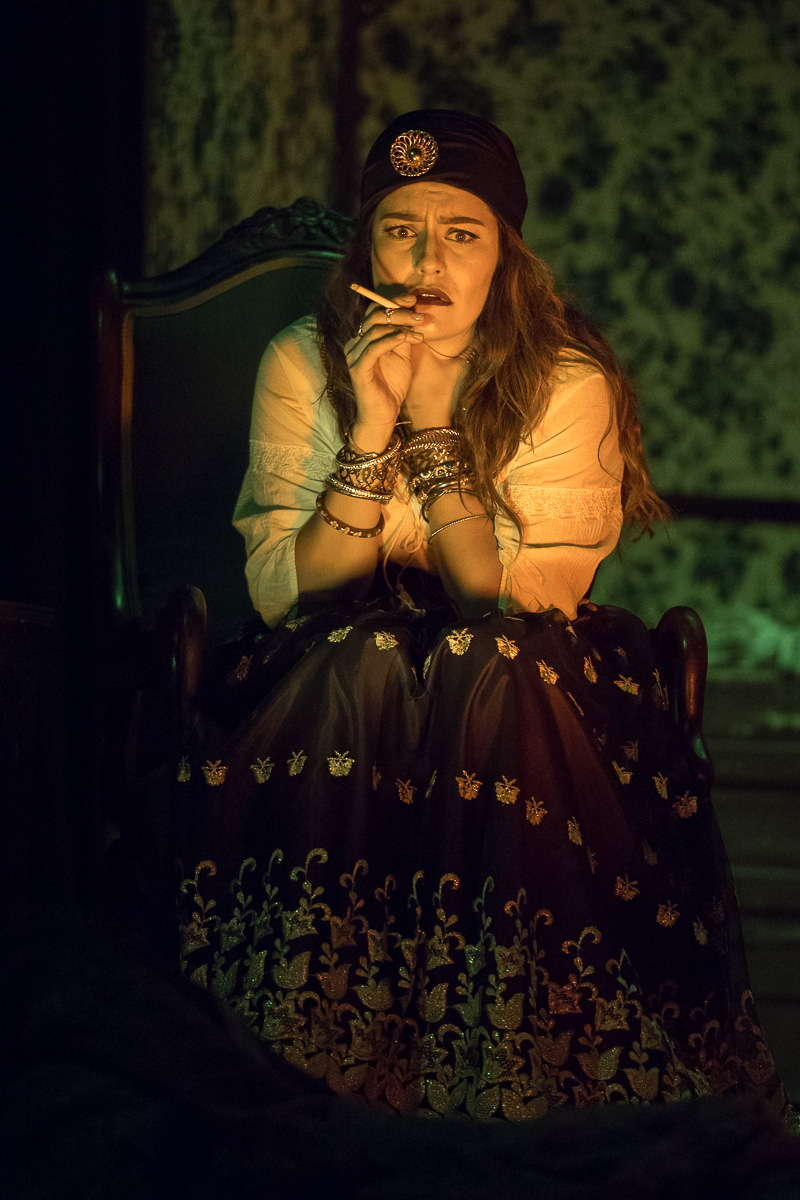 Flora becomes affected by her work, fearful of demons and paranoid to the point of murder. Her daughter Monica is a loving girl who obeys her mother and plays and falls in love with her Hungarian friend. Believing she has felt a real demon –or a demonic Toby, Flora drinks and rages with herself before beating Toby and kicking him out of the house against Monica's pleas. Later she takes out a gun.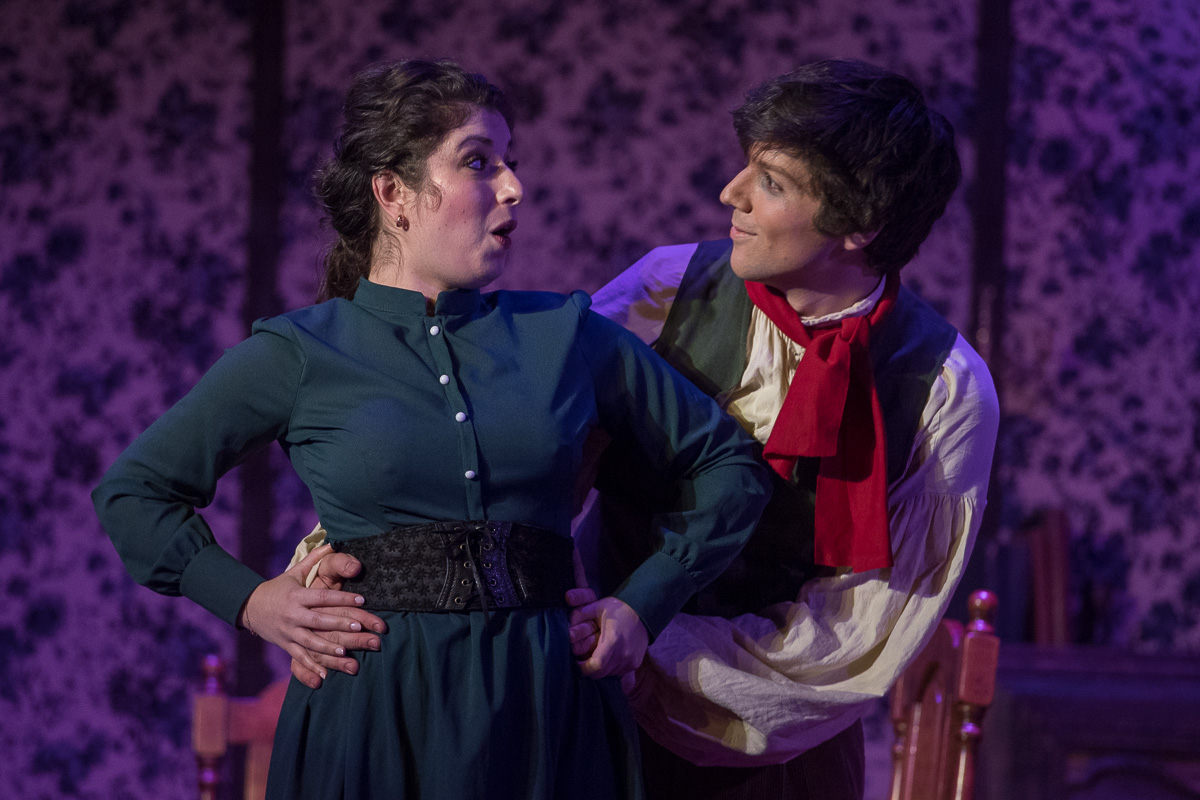 It is a bit long and drawn out affair as Flora goes deeper into madness, but it is played to a tee. Difficult arias and negative emotions with big actions on stage. Lopez as Flora never misses a beat and take the stage with her singing, ranting and raving in a real tour de force.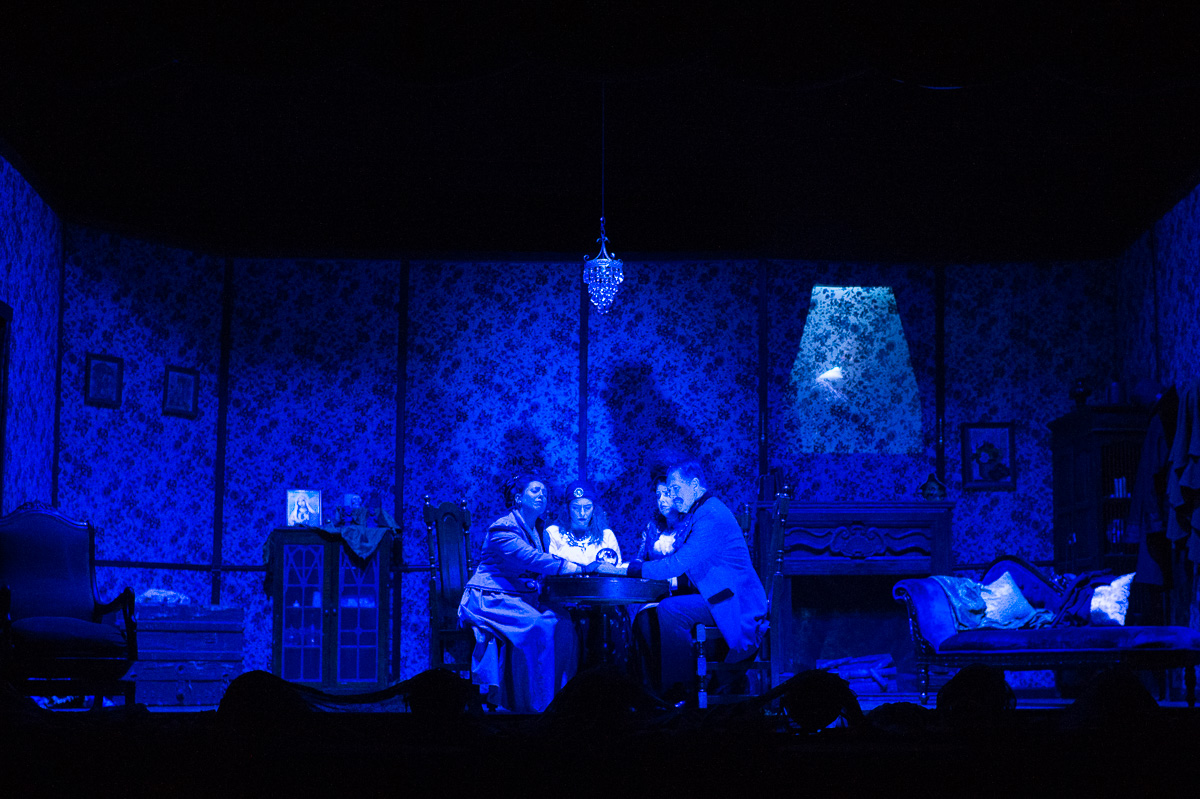 In The Medium as well as The Monkey's Paw, every character is a beautifully accomplished singer, especially Friedlander as Monica. Ariel Pisturino, as Mrs Nolan. And in their new roles for Mother and Father from Monkey's Paw Phil Meyer and Marina Harris as Mr. and Mrs. Gobinueau did not miss a beat either. The set was similar to The Monkey's Paw although ingenious moveable panels were installed for walls where the séance action and blood could happen. Costumes were also well imagined.
This is certainly a unique way to celebrate these holidays, and I think these odd little operas would give many Angelenos a kick, a thrill, or at least a tingle up their spine.
Photos by Martha Benedict
Georja Umano is an actor, journalist, and animal advocate.
Three more shows! FOR TICKETS: (323) 739-6122
Or       in**@pa*****************.com
Miles Memorial Playhouse
1130 Lincoln Blvd.
Santa Monica, CA 90403
Fri., Nov. 3 at 8pm
Sat. Nov. 4 at 8pm
Sun. Nov. 5 at 3pm