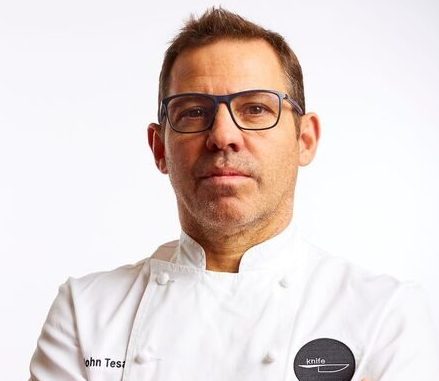 Like many individuals, I love a good home cooked meal! To have a nice piece of perfectly cooked steak is near perfection, an art form, and not to mention quite challenging. I was able to speak to Chef John Tesar, about his latest endeavor "Knife: Texas Steakhouse Meals at Home," about how he grabbed the bull by the horns to discuss the perfect steakhouse in a state that shows no mercy (when it comes to meats) – Texas. 
Tesar has been called "the single most talented cook I ever worked with" by Anthony Bourdain, he was a contestant on Bravo's "Top Chef," not to mention all of the praise garnished from Food & Wine and The New York Times, The Today Show and The Early Show – needless to say Tesar is "a chef's chef!"
"KNIFE: Texas Steakhouse Meals at Home" challenges readers to turn their kitchen into a savory Dallas-style steakhouse serving only the most tender meats. "I initially thought the critics were gonna kill me," Tesar jokes of his quest to perfect the art of cooking steaks. "I went on a quest and went to almost every great steakhouse in the country to find out what they had and didn't had. I tried to find interesting facts as well. A lot (of the steakhouses) were overpriced and took a different approach to dining so I tried to put a spin on it." 
In his first-ever cookbook,

 

KNIFE

 

reveals Chef John Tesar's secrets to cooking the purest, beefiest, most delicious steak you have ever tasted. Infused with the flavor of Texas and Tesar's culinary genius,

 

KNIFE goes "Back to the Pan," and shows his method for cooking the perfect steak. "In the book we discuss the technique of dry aging steaks so the quality appears on the plate," Tesar explains. "I wanted to bring authenticity, quality, integrity to the restaurants, but you can try at home."
If you're not a fan of steak or meats for that matter, don't worry, there is PLENTY other recipes that are equally mouth watering. Recipes for: lamb, pork, veal, and the best burgers ever complete with recipes for his signature sides: Roasted Okra, Avocado Fries, and Bacon Jam, and foolproof versions of classic sauces. With recipes for your favorite juicy cuts of meat, as well as techniques for making some of the best dishes from underrated cheaper cuts,

 

KNIFE is devoted to the celebration of steak in every form.

"To say I could have planned the outcome or how this book is relevant would be (insane,)" shares Tesar. "I could not have planned it out, the book manifested itself through hard work and dedication and is for the home cook!"
With
two acclaimed restaurants in Dallas area under his belt that have been named among the best in the country by 
Bon Appetit
, 
Eater
, and 
Esquire,
Tesar has no plans on slowing down. Shortly he plans to open two more restaurants in the Plano area, another in Fort Worth, as well as 
expanding to the Colorado region. 
"KNIFE: Texas Steakhouse Meals at Home" is currently on sale online for $29.99, as well as in your neighboring bookstores such as Barnes & Noble. Sharpen your skills in the kitchen and pick up your copy today!