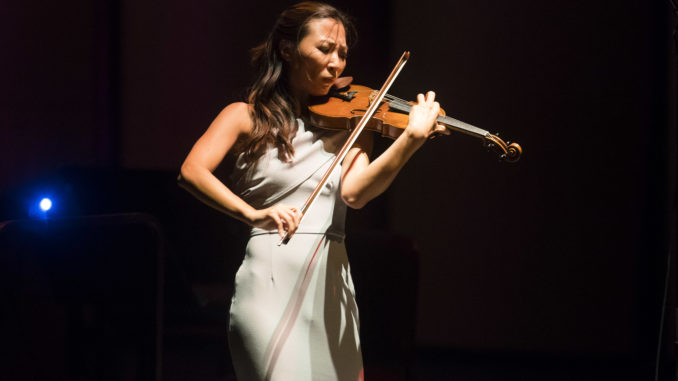 On October 2nd, 2017, the Chicago Symphony Orchestra opened its 2017-2018 MusicNOW series with a 20th Anniversary concert. Hosted by current Mead Composers-in-Residence Samuel Adams and Elizabeth Ogonek, it featured 8 pieces of music, the works of 7 previous Composers-in-Residence, 4 of whom (Shulamit Ran, Mason Bates, Augusta Read Thomas and John Corigliano) were present and took the stage briefly after their works were played.
As always, before the work of each composer, a video with a question and answer session/interview about their work was projected for the audience. The focus of each video was a description of each composition, some comments about works in progress, and the power of the Chicago Symphony Orchestra residency to shape a composer's trajectory and to effect greatness.
The performers:
–Cliff Colnot, Principal Conductor
-22 musicians from the Chicago Symphony Orchestra and Musical Guests:
-Featured soloists: Baird Dodge, violin; Stephanie Jeong, violin;
 Brant Taylor, cello
The composers, years in residence with the Chicago Symphony Orchestra and pieces performed were as follows:
-Anna Clyne, Mead Composer-in-Residence 2010-2015;  "Fits + Starts", for tape and amplified cello, 2012; featuring Brant Taylor, cello:
The British-American composer, a specialist in acoustic and electro- acoustic music, was nominated for the 2015 Grammy Award for Best Contemporary Classical Composition.
"Fits + Starts" begins with discordant notes, then continues with both the taped music and virtuosic Taylor ultimately capturing "a sense of the Baroque". Taylor could be seen playing the cello with his fingers as well as the bow. The taped portion is made up of reorganized harpsichord, cello and viola recordings, and the piece runs the gamut of expression.
 -Shulamit Ran, Composer-in-Residence 1990-1997; " Birkat Haderekh" (Blessing for the Road), for clarinet, violin, cello and piano, 2015.
The Israeli-American pianist and composer won the 1991 Pulitzer Prize for Music for "Symphony", 1990.
After enthusiastically describing her newest project, a full-length opera entitled "Anne Frank", Ran explained that in "Birkat Haderekh" there is a moment where the music takes a turn; she learned to heed where the music itself "wants to go". It's a stark and mysterious work, intense and fraught, yet sentimental.
-Osvaldo Golijov, Mead Composer-in-Residence 2006-2010; "Mariel", for cello and marimba, 1999.
This Argentinian professor and composer of classical music is widely known for both his vocal and orchestral work.
Golijov explained that "Mariel" was inspired by the death of his friend, a young mother breastfeeding her baby, in a car accident. Even without this description, the piece was infinitely sad, although ethereally lovely, with the eerie and hypnotic sounds of the marimba evoking the departing souls while the cello drenched the auditorium with Brazilian melody.
 – John Corigliano, Composer-in-Residence 1987-1990;
"A Black November Turkey", for string quartet, 1972.
 "The Red Violin Caprices," for solo violin, 2003; featuring Stephanie Jeong, CSO Associate Concertmaster:
The American composer of classical music, most of which has been for symphony orchestra, is known for his wide stylistic repertoire. He has won the Pulitzer Prize for Music in 2001 for his "Symphony No. 2", 5 Grammy Awards, and the Academy Award for Original Music Score in 1999 for "The Red Violin".
"A Black November Turkey", noted Corigliano, takes its title from a poem by Richard Wilbur, and has a strong, almost angry noise as of calling fowl. There is a sad and even tragic quality to the music.
The violin chaconne "The Red Violin Caprices", a technically demanding and intense piece stunningly performed by Associate Concertmaster Jeong, is filled with variations on a "troubador-inspired" theme, rapidly switching between sensuous and dark motifs.
-Mason Bates, Mead Composer-in-Residence 2010-2015; " The Life of Birds", for flute, violin, clarinet and cello, 2008.
The Grammy nominated American composer, recently named the first ever composer-in-residence to the Kennedy Center for the Performing Arts (for the 2017-2018 season) is known for his "innovations in orchestration and large-scale form", including the use of electronics in orchestral compositions. He's also a DJ of electronic dance music and his body of work is performed as often as that of any modern composer.
In "The Life of Birds", elements of parakeet calls and other birdsong melodies were set forth in 5 diverse movements, light-hearted and elegant in tone, "a study of miniatures".
-Augusta Read Thomas, Composer-in-Residence 1997-2002, Mead Composer-in-Residence 2002-2006;  "Carillon Sky", 2005; featuring Baird Dodge, violin.
This prolific American composer of orchestral, choral, chamber, solo instrumental and vocal works, is a Grammy-award winner and Pulitzer Prize nominee.
"Carillon Bells", conducted by Colnot, described by Thomas as "an entire violin concerto in 8 minutes," was infused with the sound of many different varieties of bells, and a sense of contained improvisation. Thomas noted that "trust in the skills and taste of the original soloist, Baird Dodge, inspired me to allow" the violin the option of composing and performing a short cadenza within the rubric of the composition.
-Marc-Anthony Turnage, Mead Composer-in-Residence 2006-2010; "No Let Up", for flute, two bass clarinets, two soprano saxophones, brass trio, drum kit, piano, and bass guitar, 2002-2003.
Turnage, appointed a 2015 Commander of the Order of the British Empire for his services to music, is a classical composer of prodigious output; his work includes numerous chamber and orchestral pieces and 3 full-length operas.
"No Let Up", referred to humorously by Turnage as "minimalist and nasty," conducted by Colnot, melded a Stravinsky-esque feeling with a rhythmic jazzy sensibility. It's intense, exciting, energetic, and a lot of fun!
This was a very well-curated event, a look-back at "new music" in the forefront of its time from composers whose works have withstood the test of time, and a harbinger of the innovations yet to be enjoyed. For information on and tickets to the next concert in the MusicNOW series, on November 13th, featuring Vijay Iyer and Wadada Leo Smith, as well as all the great programming of The Chicago Symphony Orchestra, go to www.cso.org
All photos by Todd Rosenberg