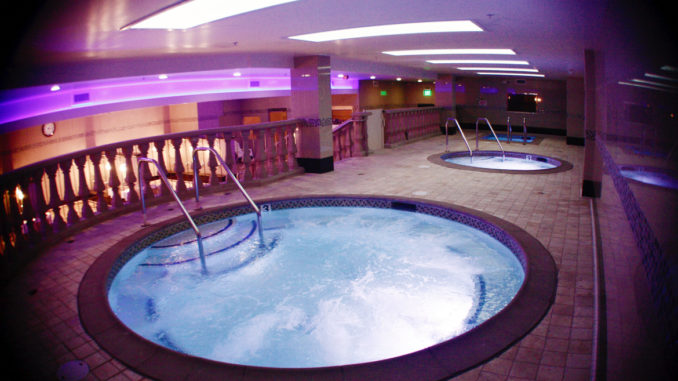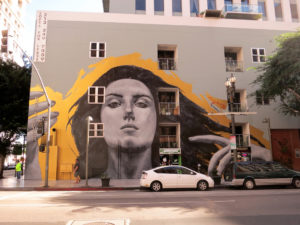 I have been a loyal resident of Downtown Los Angeles for nearly 13 years, and I have watched, in amazement, its extraordinary transformation.  From dreary and bleak to hipster and chic, DTLA has become the happening destination for everything food, fashion and fabulous. Every day, it seems, a celebrity chef of note is opening some new gastropub, a trendy designer clothing boutique is taking residence on Broadway or Spring Street and a new café serving organic matcha green tea lattes with steamed hemp milk is packed with millennials ardently blogging on their laptops.  I live upstairs from two popular neighborhood bars, The Falls and Spring Street Bar, and at night, their patios are packed with revelers sipping cocktails and absorbing the dynamic energy of our hood.  As someone who grew up in New York City, I love the noise, the people watching and the unique sense of community that only DTLA brings.  So, I thought it would be fun to post a series of pieces, highlighting some of my favorite haunts in Downtown Los Angeles.
This is Destination DTLA- BEAUTY
SPA
Spa Palace 620 S. Union Ave. Los Angeles, CA. 90017  P: (213) 637-0000
Although DTLA adjacent in Westlake, Spa Palace is my new favorite place to spend a day off in all of Los Angeles.  I have been a loyal patron of Korean Spas for nearly 20 years, and when my go to spot in Koreatown closed, I had a panic attack and went on a search and rescue mission to find its immediate replacement.   (The one in need of rescuing was me, as my go to Korean spa had become my sanctuary of relaxation to tune out my stress from my day to day work life.)   Upon arrival, you pay the required $25 per person admission fee, (Check Groupon as they often provide a deal for a discounted entry fee), you receive two towels and a robe, and enter a luxurious wonderland of pure unadulterated pleasure.  Spa Palace features the women's only spa area of Jacuzzis, a cold dip bath, showers, steam and sauna,
the co-ed Jimjilbang– traditional Korean kiln saunas and hot relaxation rooms including the Himalayan Salt Room, Loess Soil Room, the Gold Room, the Ice Room, etc.,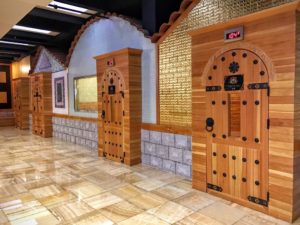 an enormous co-ed swimming pool with Jacuzzi spas and a cocktail bar in the basement,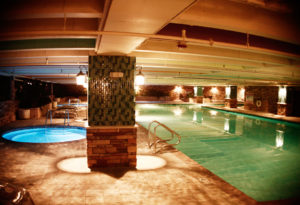 a restaurant serving delicious traditional Korean fare, a workout room, and they even provide complementary valet parking! However, please note, if you are at all shy or body conscious, then this is probably not the right environment for you as bathing suits are strictly not permitted in the women's only spa, and women walk around completely naked.  Make sure and try one of their signature body treatments.  My personal favorite is the Milk and Honey Scrub.  I don't want to spoil it for you by describing the treatment in detail, but trust me, it is sensational. Prices range from $25 to $220.
MANI/PEDI
The Nail Parlor 125 E 6th St. Los Angeles, CA 90014  P: (213) 622-1400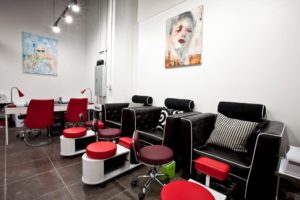 I have been a loyal patron of the Nail Parlor since they first opened in 2013.  Sichan and Jeffrey are my go to technicians for my gel manicure, and both specialize in highly detailed nail art.
I always try and request Nico for my pedicures, as I was cursed with my dad's toenails which unfortunately curve into horrific ingrowns, and Nico is an expert in cutting them out.  The Nail Parlor is a good and moderately priced funky neighborhood salon. Prices range from $3 to $60 per service.
MANI/PEDI PLUS
Polished Nail Bar 215 W. 6th St. Los Angeles, CA. 90014  P: (213) 266-0077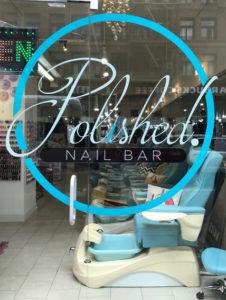 Polished Nail Bar is a fantastic new family owned addition to the neighborhood.  I have tried several of their services including a gel manicure with nail art by Jessica, a pedicure by Charlie which was simply perfect, and an eyebrow shaping and facial by Tammy.
All of my services were excellent, as each technician pays scrutinizing attention to detail, but I must give particular kudos to Tammy and her fantastic facial.  She utilizes the very latest in multifunction facial machines to steam, suck and zap away blackheads and blemishes so that the end result is the very best that it can be.  And all for $55 for an hour for her deep cleaning facial!  Next time, I'm trying her eyelash extensions! Prices range from $5 to $80
HAIR SALON
Salon Pure 117 E. 6th St. Los Angeles, CA. 90014  P: (213) 624-7873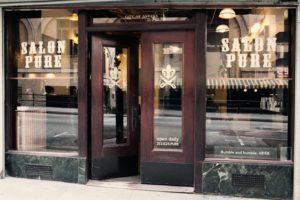 Salon Pure is a fantastic local neighborhood salon in the Historic Core.  Although I have only been three of four times myself to have my hair sculpted into a fabulous up do for an awards season fete, several of my friends and neighbors absolutely swear by Salon Pure.  One of their specialties seems to be nontraditional hair coloring as I see countless DTLA hipsters rocking a multi colored unicorn ombre
or bright fuchsia or emerald locks.  If you wish to try out a new salon, their prices are reasonable for the industry and each time I pass by and peek in their window, their chairs are always full which is a great sign for a good hair salon.  Prices range from $15 to $150 and up depending on specific needs post consultation.
Hair Removal – Sugaring
Hey Sugar 112 W. 9th St. Suite 525, Los Angeles, CA. 90015  P: (310) 400-0073
I had read numerous times about the trend of Sugaring for hair removal, but had yet to personally experience it. When I learned on Yelp that a Sugaring salon had recently opened in DTLA, I promptly sent a message to schedule an appointment; it is bathing suit season after all.  After a 10 minute phone consultation with salon owner Colleen Osborne, I secured my booking at Hey Sugar, a quint studio located in a commercial building in Downtown's Fashion District.  As I undressed for my Brazilian, I watched Colleen prepare my ball of organic sugar paste by stretching it between her fingers like salt water taffy.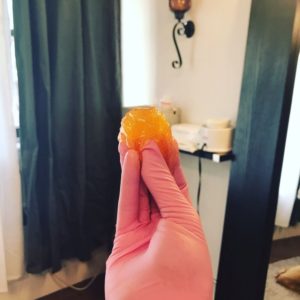 As she proceeded with my treatment, she explained that Sugaring is an ancient form of hair removal, first practiced by the Egyptians.  The process, in retrospect, was far less painful and evasive than traditional waxing, though slightly odd feeling in comparison, and post being Sugared, I can honestly say that I am now a convert! And with a first time client price of $29 for a Brazilian, you have no excuse to not give Hey Sugar a try!
Hair Removal – Waxing
Wax Candy 756 S. Main St. Los Angeles, 90014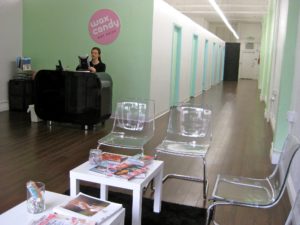 Wax Candy is a cute little DTLA salon, offering waxing services period.  I have been to the shop several times for a Brazilian, upper leg, eye brow, upper lip and chin, and each experience was as quick and pain free as waxing can be.  What I particularly appreciate about Wax Candy is their strict no double dipping policy.  Their technicians use fresh azulene wax which is poured into individual paper cups for each client, so there is no possibility of cross contamination.  And when you are having your lady parts waxed, you really want the cleanest possible environment and process.  After your service, make sure ad grab a couple of sweet treats from their well stocked candy bar.
Photos courtesy of the business' Yelp or Website
Prices range from $9 to $55.
Tracie May Wagner is an LA based fashion, lifestyle and luxury publicist and the Fashion Editor of Splash Magazine.